The Panicked Plaid Walking Dress, circa 1897
After Georgian Picnic, I got to start my new job! It's a bit more complicated than anticipated, but otherwise it is working out well. The only tangle is that Saturday hours are required. Many Guild events are on Saturdays, so I was worried I would have to miss the December events, Lantern Light and Candlelight. Lantern Light was actually a last minute event. We were invited on the fly to attend for free if we all come dressed in 1890s garb. I love the 1890s! And free? Everybody loves free!
When the schedule rolled out at work the following week, however, I was scheduled to work that Saturday. It broke my heart, but Lantern Light was off the table. The Thursday before the event, the schedule suddenly changed and I got the day off, but by then other plans had been made, so I still missed it. I was, however, now free to attend Candlelight. I planned to wear my 1856 day dress since I thought it was "Christmas-y" enough to fit the mood. Plus, December events are frequently frigid, so yards of heavy quilting cotton would be a welcome haven from the chill.
But the seed of discontent had been sewn by my missed 1890s opportunity and the unruly Texas weather only helped that discontent grow…
Saturday, December 6th
(7 Days until Candlelight)
The forecast predicts that the weather, which has been unbelievably warm for December, will continue to prove the existence of global warming throughout the week. Highs are listed in the low 70s through the following Saturday. I wonder if six yards of quilting cotton is the wisest choice.  I have that summery cotton 1890s dress that's much lighter. Maybe wear that? No. It's too spring-like. I want to be festive! There's a new Walmart down the road with an awesome fabric department…no! There's no time! Plus, my 1850s dress is super cute.
Maintain the course, Lizzie! You're too deep in already, what with this new job. You don't have time to make anything new. No more last minute sewing!
Becky is a busy bee at work and has no time to sew, so we troop over to the neighborhood Goodwill to put my Easy Edwardian thrifting tutorial into action. Hallelujah! The perfect lavender formal skirt appears! One flouncy silk shirt, pair of perfectly plum pumps, and a swanky sheer jacket later and we have the perfect basic Edwardian lady! We part discussing hats hats hats. I love hats…especially 1890s hats.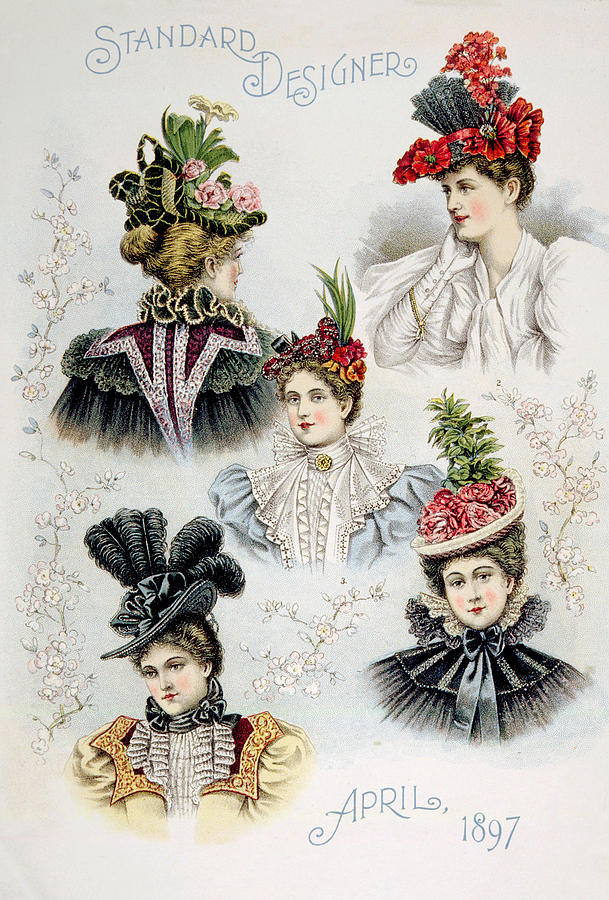 Sunday, December 7th
(6 Days until Candlelight)
O…M…G…This Walmart polysatin looks so fabulous! And look! A matching plaid! I need this plaid. It is sooooo 1890s!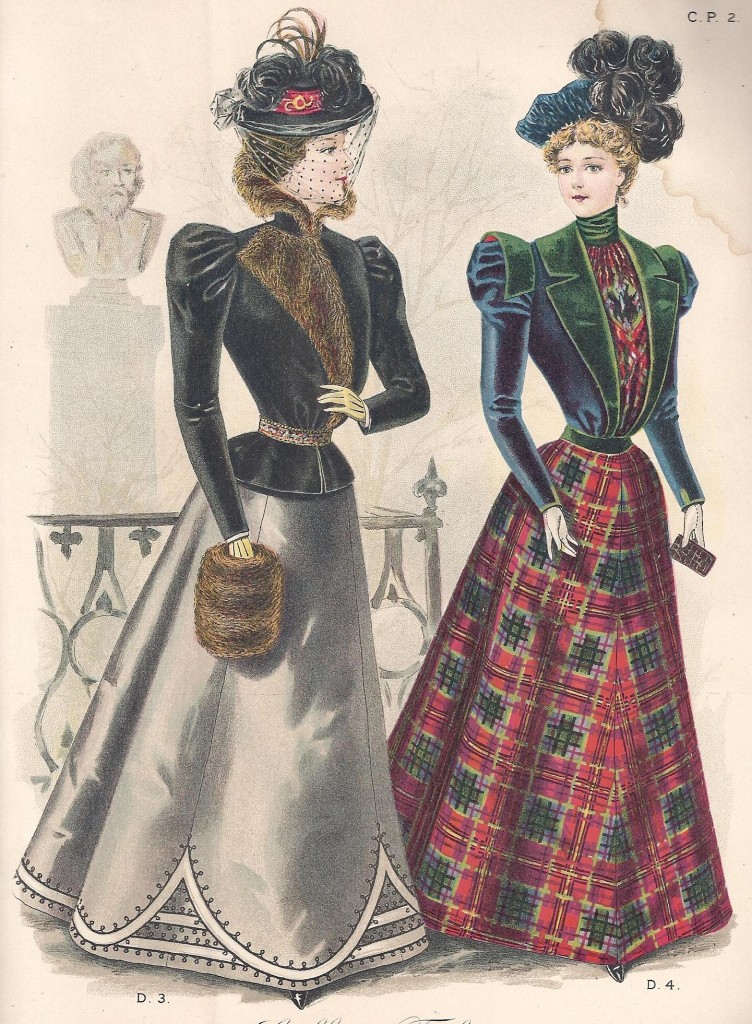 The Delineator January, 1898
I'll just stash them together since they're practically made for each other. It'll be a good project for later. Can I get some help in the fabric department please? Thank you. Is it okay if I start stacking bolts here? Fabulous!
Ahem! What? Nope! Nothing to see here! Carry on!
Monday, December 8th
(5 Days until Candlelight)
Wow, is my head stuffy! I hope I'm not getting a cold…
Tuesday, December 9th
(4 Days until Candlelight)
Yup. Cold. Dammit.
Wednesday, December 10th
(3 Days until Candlelight)
Becky is going Edwardian. Chris is (was) going in his blue Edwardian coat. I wanna match eras! A stupid idea this close to the event, but–themes! Plus, I have this awesome, festive plaid that is just screaming holiday without being too kitschy. Yup! Totes making an 1890s dress! Simplicity 4156 has lots of pieces, but I've made it before and I've refined the pattern to the point where it fits pretty well. Sewing the skirt would take up a big chunk of time, though. Time for some thrifty cheating!
I have a red satin formal skirt I used for my Edwardian hack, and it matches pretty well. I'll just use the bodice portion and forgo the skirt. But housework first. I'll start tomorrow.
Thursday, December 11th
(2 Days until Candlelight)
2:34 pm: Wow, work was a bear! I'll just lie down for a short nap to recover. Better take some medicine, too. I should probably lay out my pattern pieces fir–ZZZZZZZZ….
5:53 pm: Whoa, I did not mean to sleep that long. Time to meet Becky at Hobby Lobby for hat decorations. Feathers! Flowers! Fabrics! Trims take the most time to shop for, at least in my case, plus, you can never have too many ostrich plumes!
Chopping up a cheap Christmas wreath yields the perfect touch of Christmas cheer for my hat, too.
Friday, December 12th
(1 Day until Candlelight)
10:00 am: Probably should not have slept this late…
1:30 pm: HOLY COW HOLY COW HOLY COW! I HAVE 24 HOURS TO GET THIS DONE.
<abject panic and flailing for about 2 hours>
Maybe I'll just wear my 1856 dress after all. But that would be quitting. I ain't no quitter!
3:40 pm: Hmmm…I don't really want balloon sleeves this go-round. Mutton sleeves sound better. Internet tutorials to the rescue! There are lots of methods, but I need to stay simple. The easiest two are the vertical slash for a very full, tapered sleeve and the curved slash that concentrates that fullness at the top:
Leg of Mutton Sleeve Pattern Diagrams, circa 1940
The vertical slash method is on the bottom.
Leg of Mutton Sleeve Pattern Diagrams, circa 1940
The "Gill" method is on the left.
They produce very similarly shaped results, but I don't like the amount of fullness the vertical slash method creates down the length of the arm when used for long sleeves (for short puffs it should work just fine). Both would be correct, but the more fitted forearm of the "gill" method is much more flattering. The sleeves take almost a full yard of fabric by themselves!
I would have gone bigger, but there was no time to do another mock-up.
4:50 pm: All pattern pieces cut! I scrounge for lining and end up having to line the sleeves in cotton rather than net, so they won't puff as much as I like. If you can, flatline mutton sleeves with net if your fabric is soft and drapes. Crisp fabrics usually don't need it, depending on how you want the final result to look. Another option is to make 1980s-esque shoulder pads. I had time for neither, so my sleeves flop a bit. Oh well!
5:50 pm: Time to go to dinner with the family and go to Journey to Bethlehem at church.
9:40 pm: Chris drops me off at the house on his way to Magic the Gathering.
1:15 am: There's so much to do! The lapels are giving me lots of trouble because I've worn out the needle and I have no more! Chris has the car way across town, so buying a fresh one is a no-go. I hand crank the needle through the thick lapel interfacing, which works great….until I realize I've just sewn one lapel backwards! Crap.
2:26 am: THE NEEDLE BREAKS.
2:27 am: Wailing and gnashing of teeth.
3:15 am: Chris picks me up after Magic the Gathering and we buy fresh needles from Wally World.
4:40 am: Bed.
Saturday, December 13th
(The Day of Candlelight)
9:00 am: Alarm goes off.
10:00 am: I decide I needed to make life even more complicated by adding a faux belt front to the bodice insert. I bought the buckle off eBay about a month ago for a few dollars. I didn't really know why I bought it at the time, but it works perfectly. Must have been fate! Also the hand of fate: I have a red silk shirt from Goodwill to recycle into a belt that pretty closely matches the skirt color.
11:30 am: Insert done. The collar came up an inch short, but there is no time! Hide it with a brooch…
12:05 pm: The peplum requires a ridiculously long piece of facing. I don't have time to hand-tack it to the lining. Iron-on hem tape that sucker!
1:25 pm: Sleeves done.
1:30 pm: Wait, I was supposed to be curling my hair this whole time?! Noooooooooo! I forgot!
2:00 pm: Becky arrives and we get her all gussied up.
3:15 pm: Chris is hollering at me from downstairs that we need to go and I am still sewing feathers on my hat. Also, he has decided to go in his western vest rather than in his more formal vest and one button has fallen off. Sew it on while stuck in Dallas traffic.
4:55 pm: Arrive late, but look oh-so-fabulous! (Sorry for making you wait, Jen!)
1910 on the left, 1897 on the right!
Our cozy little group, complete with a pair of handsome gentlemen!
Photo courtesy of Festive Attyre (and the woman who so kindly took the photo for us!)
Photo (filtered B&W) courtesy of Festive Attyre
Photo (filtered B&W) courtesy of Festive Attyre
Becky made her hat from a sun hat that she covered with velvet and trimmed with silk hydrangeas and sequined ribbon. Her first Edwardian hat-making project ever! The sequins caught the light so well.
Edwardian hats are large horizontally while 1890s hats are large vertically, so I went for big, tall feathers and flora. Like many 1890s hats, I put a big V shaped bow at the back to create the "setting hen" look that was popular at the time.
Festive 1890s Hat Cost Breakdown
Wool hat base – $18.95, Go-a-Hat
Fabric for band and bow – Scraps, so free!
Various greenery from dismembered wreath – $4.95, Hobby Lobby
Red feathers – $1.99, Hobby Lobby
Cream plume – $3.99 Hobby Lobby
Total: $29.88
Photo courtesy of Festive Attyre
Panicked Plaid 1890s Dress Cost Breakdown
3 yards navy polysatin – $6, Walmart
1 yard plaid cotton – $1, Walmart
Red silk shirt for belt- $2.15, Goodwill
Gilded brass belt buckle – $4.49, eBay
Red formal skirt – $5.49, Goodwill
1/4 yard interfacing – A gift, so free!
White beaded purse – Technically it's my sisters, so, um, free?
Total: $19.13
You might notice something missing from this list: fasteners! indeed, there isn't a single fastener down the front of the bodice! It's held together by the belt, brooch and two strategically placed straight pins, but thanks to the fit and front pleating, you can't even tell. Not bad for being totally on the fly!

Happy Holidays!
Reveling in Revers
The 1970s only dreamed of being this flamboyant!
I love lapels and collars. The bigger they are, the better! Toss in some velvet or fur and I will swoon!
Trompe l'oeil lapels by Hermes?
Yes please!
And this one?
We'll call this the "Margarita collar" because I'd wear it, but it might take a few margaritas to get me there!

Ladies have a large variety of fabulous lapels to choose from, but most men usually only wear lapels on business or formal suits. Apparel prior to the late 18th century was also seriously lacking in the lapel department. The 1780s decided that this lack of lapels was a crime and by the 1790s, men were wearing lapels so large they dwarfed the coat they were attached to! Not satisfied with just a single magnificent lapel, gentlemen and dandies layered lapels. A coat might have double lapels, resting over a waistcoat (or even two), also with lapels! Incroyables, fashion-obsessed youth with a flair for the outrageous, wore the largest and most ostentatious lapels of all: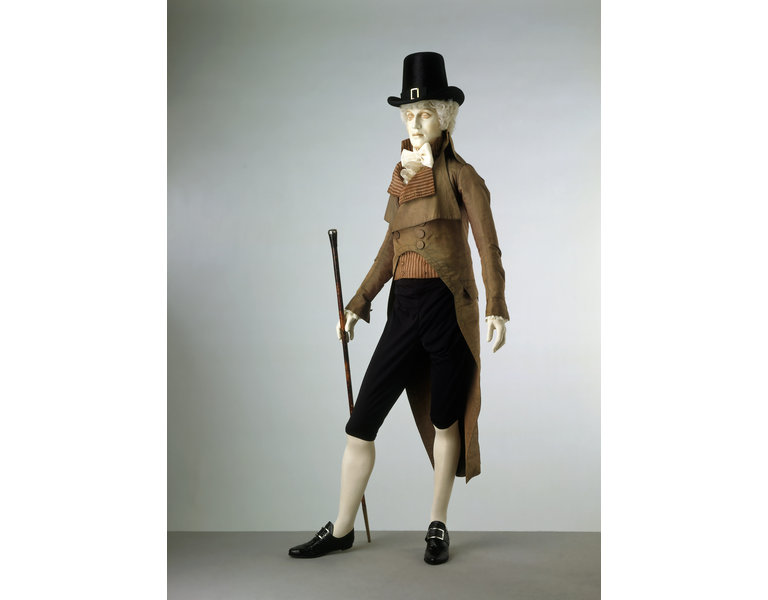 Tailcoat, circa 1795-1800
"Ha! Those lapels are so puny and insignificant I need an eyeglass to see them!"
A close up of an Incroyable sporting a jaw-dropping set of revers/lapels in an original engraving by Carle Vernet.
Thus began a golden age of menswear–the Age of Lapels!
Silk Tailcoat, circa 1790-95
"Portrait of General Louis Charles Antoine Desaix de Veygoux" by Andrea Appiani, circa 1800
While teh lapels themselves are rather tame, the layering makes them pop.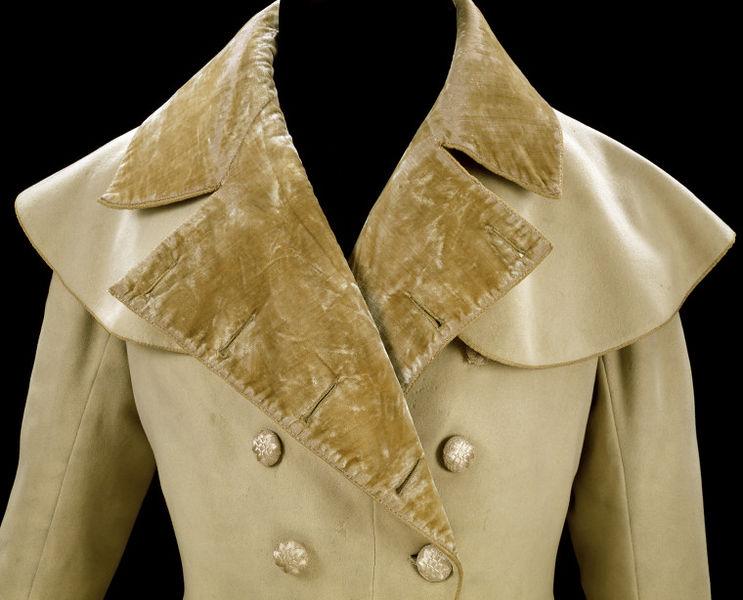 Wool and Silk Velvet Frock Coat, circa 1820-30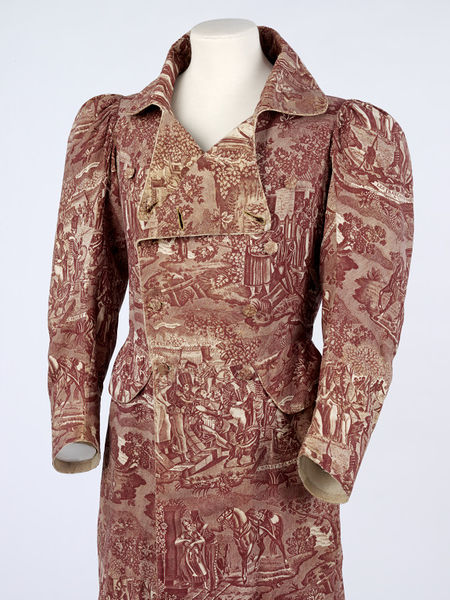 Man's Dressing Gown, circa 1820
Even at home wear in the 1820s had lapels! How sexy is this toile dressing gown?!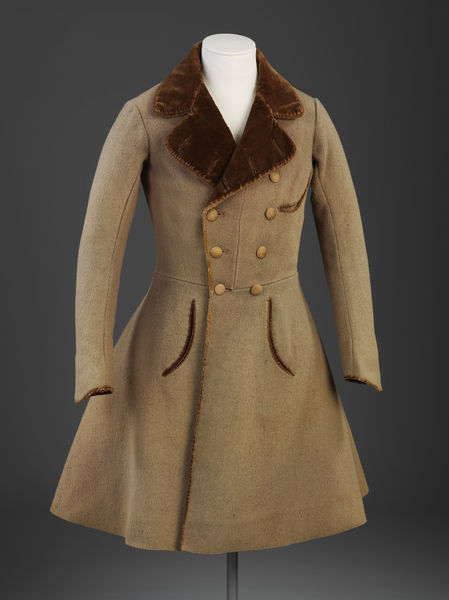 Wool and Silk Velvet Frock Coat, circa 1830-38
Modern menswear is all about making a man look as angular as possible, boxy, even. In the early 19th century, men's fashion was all about the inverted triangle. Layers of high collars on coats, waistcoats, and shirts –not to mention the massively wide stocks and cravats– combined with tight-fitting boots, breeches, and trousers further enhanced the top-heavy shape, which, admittedly, is not unlike an old-fashioned Barbie doll. Indeed, by the 1830s, you might even say the ideal male shape matched that of his female counterparts:
Fashion plate, circa 1829
Pouf sleeves made the shoulders look larger and nipped-in waists look even smaller. King George IV was rather barrel shaped, so he relied on a belt-like waist cincher to help firm up his middle for a more fashionable appearance. For other fashionable men, even wide lapels and pouf sleeves were not enough, so they, too, turned to corsetry to get the popular pigeon-breasted look. Many cartoonists enjoyed lampooning dandies, poking fun at how similar a man's dressing routine was to a lady's. Indeed, a fashionable man during the 1820s wore just as many layers as his female counterpart and put equal effort into his hairstyle, accessories, and cosmetics:
"Dandy's Toilette: Stays" by an English Satirist, circa 1818
I don't think a dandy would put his stays over the top of his trousers since it would make unbuttoning them impossible and block access to his fob pocket. However, he was quite wise to put on his boots before lacing up!
"Dandy's Toilette" by an English Satirist, circa 1818
The final look, though sadly lacking in lapel eye-candy. Still, he cuts a figure anybody, man or woman, might envy! The tailor/manservant is brushing down the tailcoat with a garment brush to remove any loose hairs or dust. Until sticky lint rollers were invented in the 1950s, no wardrobe was complete without a good garment brush (as this 1940s video will tell you).

The ultimate Lord of Lapels was none other than the dashing young Napoleon Bonaparte. Besides sporting large lapels, Regency, Napoleonic, and Romantic era coats were usually coated (Ha ha ha! Coated.) in buttons. A gentleman could decide for himself just how much lapel he thought was appropriate for the occasion. For example, Napoleon's coats were often worn buttoned to the neck for formality and warmth, but most were also decorated on the inside so he could fold back the lapels for some extra pizzazz!
"Bonaparte, First Consul" by Jean-Auguste-Dominique Ingres (based on a portrait by Antoine-Jean Gros), circa 1804
This painting has an interesting history (which you can read here).
BAM!
"Portrait of Napoleon Bonaparte, full-length, as First Consul" either by or copied from Antoine-Jean Gros, circa 1803
He must have really loved this particular coat/style because he is frequently painted wearing it in various states of un-buttoned-ness. Coat fronts designed to fold back into lapels displaying a fancy lining like this are called "revers." Wikipedia credits the term to the 1860s, but the technique was used long before then. The fanciest revers were worn by the French officers in the Napoleonic wars. Military fashion has always influenced civilian fashion trends and the luscious lapels of the upper military echelons made their way into the formal wear for non-military personnel soon enough. After all, who wouldn't want lapels/revers like these?
"Portrait of François Paul de Brueys d'Aigaliers" by an unknown artist
From the 1790s to the 1820s, the tailcoat was the go-to men's garment. Frock coats became fashionable in the 1820s and 30s. They are called frock coats because they have a full skirt around the bottom, unlike a tailcoat which is cut away at the front. "Frock" was originally a general term for loose outerwear for both men and women, but over the years, it developed feminine connotations. Indeed, many modern women's coats look identical to early 19th century menswear! Modern men's frock coats are still available, but they are more columnar than their 1830s predecessors.  If you are a slim-shouldered gentleman, you might be able to find the perfect Georgian frock coat in the lady's section of your local department store!
Lady's Fit and Flare Coat by Next
The 1820s and 1830s style of frock coat is now known as a "fit and flare peacoat" and if you find one with buttons that end at/above the waist and big, bold lapels–JACKPOT!
Many modern coats can be quickly modified to look more antique by "down-dating" the lapels. For example, a coat styled like the one above can be left unbuttoned at the top just like Napoleon's uniform. Add some decorative braid or velvet to the inside edges for glorious Napoleonic-style revers! A stunning fur shawl collar is another easy way to dress up a frock coat for late-Georgian costumes. You can simply tack a crescent-shaped piece of faux fur or a vintage fur collar to an existing coat to mimic the look of an elegant Georgian frock coat: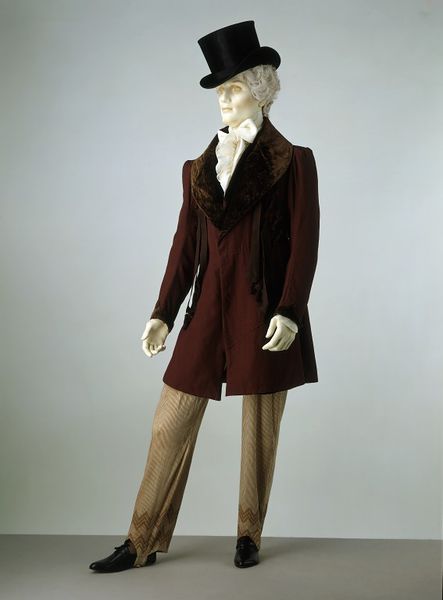 Winter Frock Coat with Fur Shawl Collar, circa 1828-30
Men weren't relegated to dark colors, either! While the most popular 19th century colors for men's coats were blue, brown, and black, there were exciting coats out there, too:
Silk Dress Coat, circa 1825-30
Day coats were generally subdued, but evening wear and dressing gowns were frequently bright and colorful.
By the time Queen Victoria inherited the throne in 1837, lapels had calmed down considerably. Large shawl collars stuck around, but the true golden age of ostentatious lapel tailoring lasted from about 1790 to 1835. If you aren't as enamored with giant lapels as I or an Incroyable might be, don't fret. There were many styles and sizes of lapels to choose from and many modern coats will work just fine as-is. For example, for Christopher's Georgian Picnic outfit, he just wore his everyday modern wool coat:
Large, full-length coats like this were called "great coats." They were often worn over tailcoats during the late 18th and early 19th century for extra warmth until frock coats came into fashion. You can read more about Chris's 1820s outfit here.
Honestly, a coat, waistcoat (vest), pair of slacks or trousers, and dress shirt is all a gentleman needs to start putting together a handsome Regency outfit. So go big, go small, or wild but don't go home because, seriously, ladies love a man in costume! Fancy lapels are just a bonus.
:)
________
Aaaaannnd….bonus picture of Alison's awesome Marat cosplay/costume with the most redonk set of leopard print lapels!
There are no words…
Check out her tumblr and deviantart pages to check out her fantastic cosplays, historical costumes, and more!
Also, here's a great suit-coat-to-tail-coat tutorial.