A Tiny Bit of Historical Hair Care for the Modern Woman
Young Teenage Girl with Sausage Curls, circa 1860
I have very greasy hair and always have. It's also fine, but dry at the ends, so I have to cleanse it every day yet hydrate it with heavy creams. Recently, I've delved into the world of alternative haircare. In my case, I've taken up co-washing, which uses conditioner as a "shampoo" that doesn't strip hair as badly as regular shampoo. It's basically alternative hair care for casuals, but so far, it's been working pretty well! A lot of alternative haircare methods remind me a lot of pre-20th century haircare methods. Before the great hygiene shift created by 20th century marketing, women didn't just style their hair differently than we do; they cared for their hair differently, too.
Lotta Crabtree, an American Actress
One of her defining physical features was her thick, somewhat unruly hair.
They used pomatums, powders, and oils frequently, but loathed to use soap on their hair because it is very drying and disrupts the natural system of oils in your hair, kind of a "hard-reset" for your scalp. In fact, soap was considered a last resort for only the most dirty of hair situations. If they were putting all that stuff on their locks and never using soap, they must have been pretty disgusting, right? Not necessarily.
Group of Young Ladies, circa 1870
I love this photo because it shows a variety of hair types, textures, and colors.
Remember that old tidbit about brushing your hair 100 strokes or so before bed each night? Everyone these days brushes it off (ha ha!) as a myth and screams that the 100 stroke method is horrid for you hair, causing split ends, flyaways, and even baldness! And they are right…but oh so very wrong.
You see, such claims are for women who wash their hair frequently with modern shampoos and use plastic brushes to detangle their hair. If you brush your modern-treated hair vigorously with one of those brushes, it will create static and lead to snarls and frazzed locks. But those that claim the 100 strokes is an outdated practice are ignoring the fact that many modern women have begun to go shampoo-free, just like our ancestors! How do they do it without their hair being weighted down with all that oil and gunk?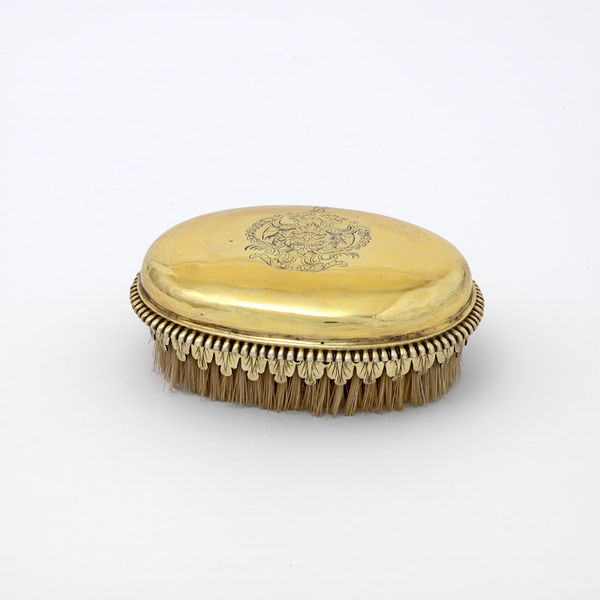 Natural Bristle Hair Brush from a Vanity Set, circa 1695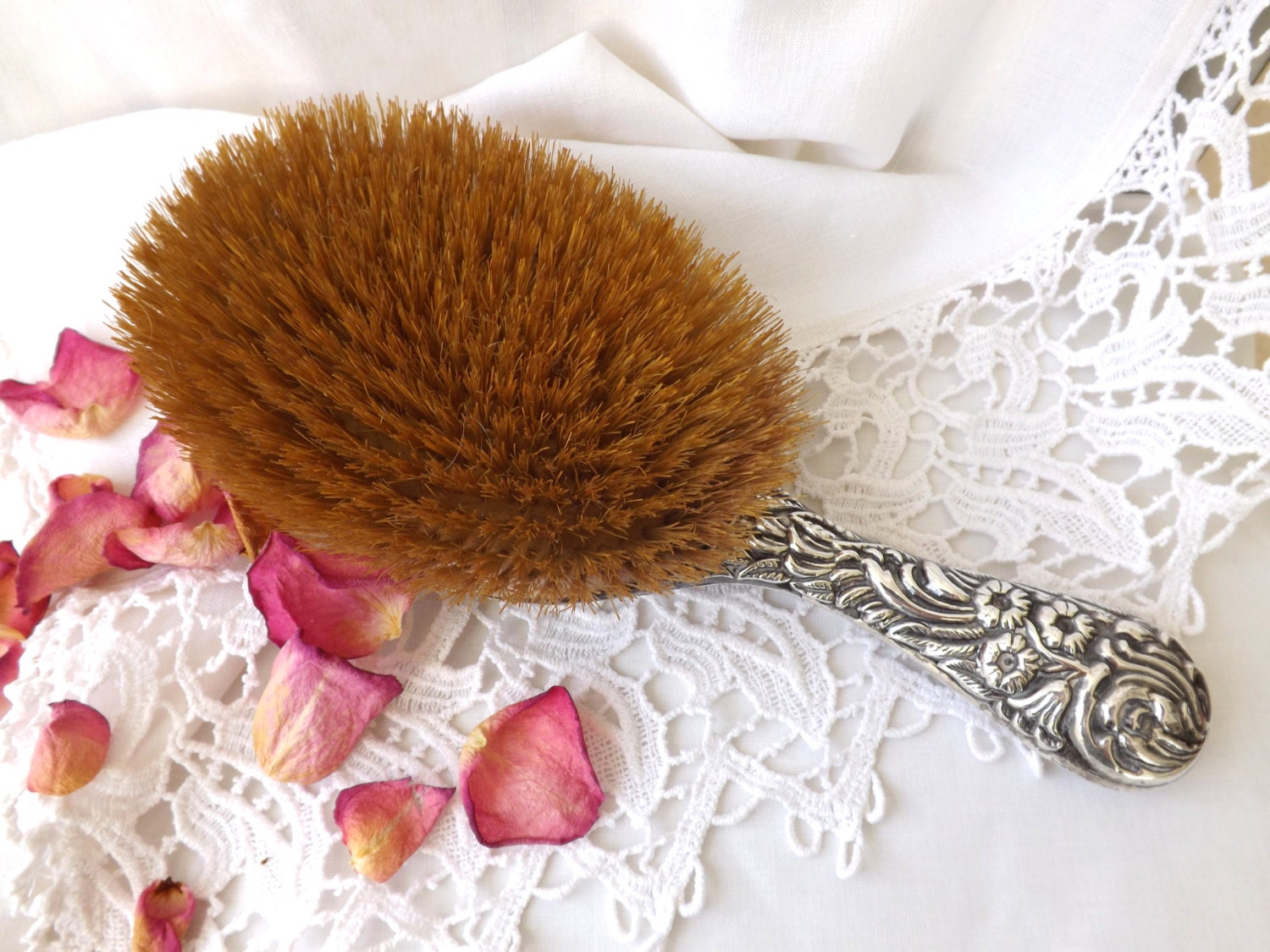 Natural Bristle Brush with Silver Handle, circa 1900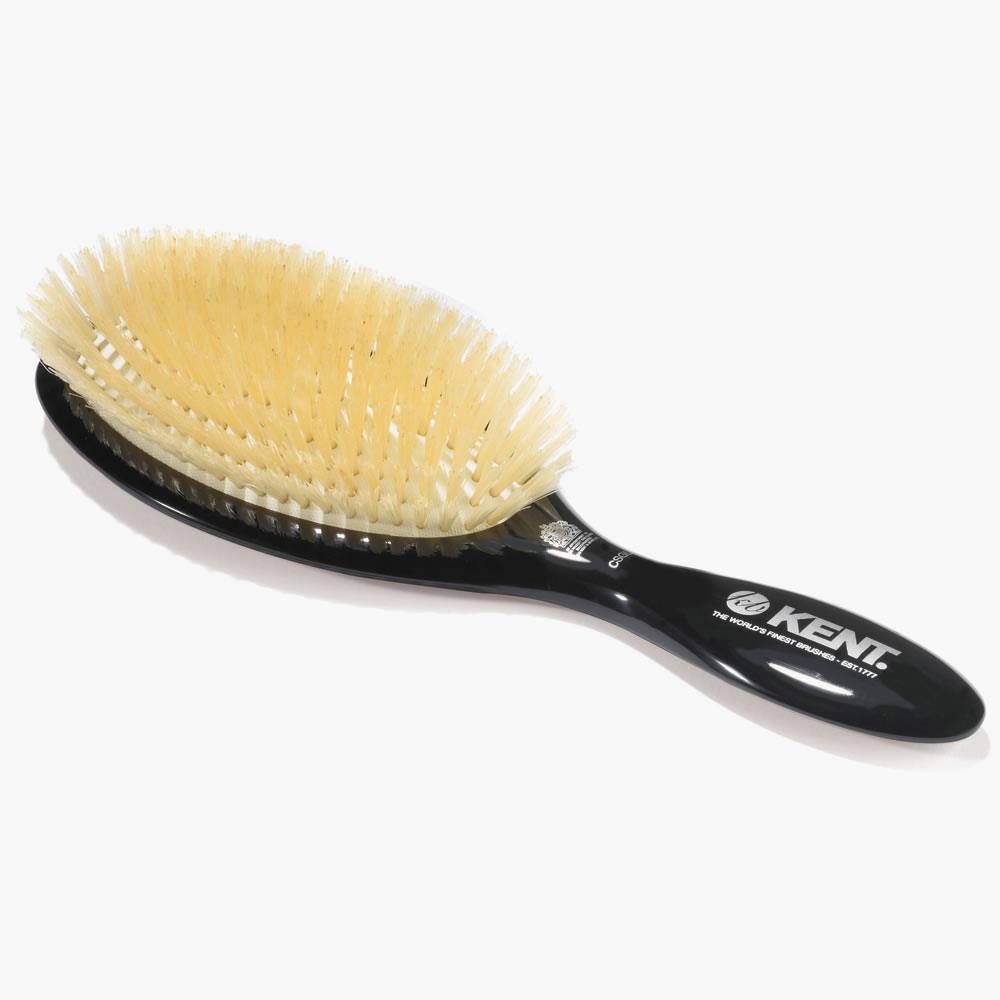 Modern Soft Boar Bristle Brush by Kent
Before plastic brushes became the norm, all brushes were natural-bristle brushes. A woman's vanity set would include one or two combs to take the tangles out of her hair, then a natural bristle brush to style and tame it. A bristle brush is not a detangler. It distributes the oils throughout your hair that would otherwise accumulate at the roots, smooths flyways, and cleans the dirt out of your hair.
"Aurelia (Fazio's Mistress)" by Dante Gabriel Rossetti, circa 1863-73
Unlike some of the modern "myth-busting" pages that recommend a sparse bristle brush, you actually want the opposite. A brush with a wide, dense pad of soft-to-medium bristles is much better for your hair than the tight, stiff clumps on many modern brushes, but it doesn't have to be as expensive as the uber-deluxe Kent brush above. I have a wood-handle, oval paddle brush from Conair that I got for $6 at Walgreens that works really well. Baby hair brushes are also a good choice if you have thin or brittle hair since the fibers are often softer than regular boar bristle (just make sure they are natural fiber and not plastic). You start at the roots and in long strokes, pull the brush down the hair shaft. It really does make your hair silky smooth, but it takes time, especially if you have long hair! 100 brush strokes is actually too few in some cases!
I've started using my boar bristle brush on the days that I don't wash my hair. I wake up an oily mess, but with 3 minutes of brushing in the morning and at night, it does it get very soft and the hair becomes slick, but not greasy.
"Princess Alexandra of Denmark" (later Queen Alexandra of England), circa 1861
A lot of historical hairstyles that would otherwise require lots of holding sprays or tight curls, like 18th century pompadours, 1830s sculpted buns, and 1870s updos, are easier to achieve with natural-state hair. Brushing your hair with a boar bristle brush also changes how your hair behaves. In many of the photographs of Victorian women with long hair, you'll notice that it's lightly wavy and feathers as it near the ends. In the modern world, we call this the dreaded tent hair! But healthy, long hair naturally takes this shape if properly cared for. It looks dry to us, but that's because we are used to applying heavy (often silicone based) conditioners on the ends while having stripped hair at the scalp. Our ancestors had the opposite situation: natural oils near the base that lessened down the shaft towards the ends.
Portrait of a Woman with her Hair Down, circa 1880
In fact, daily shampooings are relatively new. Up until the 1960s, women would wash their hair only once week or so. Here's a fabulous hair care video from the 50s demonstrating proper hair care for the era, including "frequent washing," which in this case means every two weeks!
I'm still technically in the transition phase during the process, so my hair gets oily, but I can tell my hair's developing texture is much different from my previous one. It looks much less like a Pantene ad and more like Victorian hair– smooth and close-laying on top and feathered at the ends. Thanks to over a century of being conditioned (ha!) to think that natural body oils are bad for us and that our hair should fluff four inches high on our scalp, it's hard to trade that squeaky, perky clean for your hair's natural character. Of course, results are not instant. First, your scalp has to adjust to not being super-stripped, so it will be enormously greasy for the first few weeks.
After your hair and scalp adjust to the new regimen, you may find out that your hair is entirely different than you're familiar with! Sadly, it will probably not give you magical curls or volume if you naturally don't posses those features, but people who fully embrace the historical or no-product haircare lifestyle report that their hair grows faster and doesn't suffer as much breakage as before. I don't think I'll ever be able to fully let go of my shampoo and conditioning ways, but for now, it's fun experiment!
Portrait of a Woman, circa 1870
Victorian ladies did not have access to hairspray, but they did use styling oils, waxes, and creams to help hold their hair in place if the natural sebum in their hair was not enough. They also had access to chemical treatments, but many ladies dared to risk them, especially since cosmetics were not as heavily regulated as they are today and could be quite harsh. Curling irons, however, were nearly universal and were heated near the stove or a lamp. You have to be really careful not to burn your hair with one!
Anyway, my point is that the 100 brush-stroke myth is not a myth. It just requires a specific tool as a caveat. A boar bristle brush is good to have for any occasion, not just for ladies who dream of floor-length locks! It's one of the simplest additions to a any hair care kit and comes in handy for regular small jobs like smoothing back hair for a sleek ponytail or getting a little natural loft in your roots. Everyone's hair is different, so what hair care methods work for one person may not work well for others. Fortunately, there are lots of different ways to care for you hair, and there is no right or wrong–only what works for you. Even if you still use regular shampoo and conditioner, using a boar bristle brush on your "off" hair-washing days works wonders!
 If you are interested in no shampoo/product haircare, there are lots of blogs, videos, and tutorials to help you, for example Tara Creel (who has hair similar to mine) has a full series on YouTube about her 1 year without shampoo journey. There are also plenty of blogs about historical haircare and cosmetics, like On Living History's series about 18th century hair products and styling.
There's a Tear in the Fabric of Time!

This is an FYI for all my fellow Renaissance researchers, costumers, and most importantly, Pinterest pinners!
"EUROPE'S BRIDE Margaretha von Valois" from The Lost Gallery on Flickr
There is a series of portraits making the Pinterest rounds labelled "Marguerite de Valois" or "Margaretha von Valois, 1572″ that, though they may bear a resemblance to other portraits of Margaret of Valois, are actually modern Photoshop artworks by The Lost Gallery and others. They are NOT genuine 16th century portraits, but you may recognize bits and pieces of them taken from other real, period portraits that make them very convincing at first glance. For example, in many of the modern images, the pose and dress are from the iconic "Portrait of a Young Lady Aged 21, Possibly Helena von Snakenborg:"
The portrait above is a genuine portrait from the 16th century.
This is another clever Photoshop piece entitled "DEGAGEZ! Marguerite de Valois" from the Lost Gallery. You can see that the bodice was taken directly from the previous portrait.
A seasoned Photoshop artist or research veteran who's stared at hundred if not thousands of period portraits will notice telltale flaws after a moment of looking. Yet, for the general layperson or even an avid history lover, some of these "paintings" are well done enough to sneak their way onto historical portrait Pinterest boards and Facebook posts. These are just two variations of the portrait; there are many others!
They are actually quite creative, but they are not good for use as historical sources. Indeed, they are quite fun as an exercise in historical plausibility. They are clearly convincing enough even with some obvious incongruities, and prove that, if you are not looking for a strict reenactment outfit and directly copying a particular portrait isn't your cup of tea, you could take the sleeves off of one dress, the hat off another, and put it all together with still another bodice and produce a very rich, pleasing outfit (kind of like Steampunk taking bits of different Victorian styles and mashing it up with modern or all the Elizabethan-fantasy mash-ups worn to renaissance faires. Tudorgoth/Ruffpunk, anyone?).
Still, always double-check your sources for things you find on the internet, especially Facebook and Pinterest where false information can spread more quickly than the truth!
These modern Photoshop portraits aren't the only pin masquerading as authentic.
Another mis-pin is this stunning art piece by Rozanne Hawksley, which is often mislabeled and subsequently re-pinned as one of Queen Elizabeth I's gloves:
Et ne non inducas (And lead us not) by Rozanne Hawksley, created 1987 – 1989
In reality, it's a beautiful piece of modern art made to imitate gloves of the Elizabethan era with a touch of dark imagery in the form of memento mori symbolism. The artist certainly succeeded in creating the look and feel of a true antique masterpiece!
Artwork seems to be a common source of misidentification, usually because people re-pin pictures without checking the source or giving an artist credit. Another art piece that often appears on Renaissance-era boards is this modern chopine by Susan Taber Avila:
"Pink Chopine" by Susan Taber Avila, circa 2006
To a researcher's eye, it's obviously a modern re-imagining of a 16th century Venetian chopine, but since most of the pins of this image do not link back to the artist's website or even the original image url, the source is completely missing from most pins. Somewhere along the way, this art piece was tagged 1600s 1700s chopine (likely noting the style influence of the piece). After that, people searched for 1600s chopine, this image popped up, and it was repinned without a second thought. Pinterest's page is a screen full of many small photos surrounded by many other similar photos, making it very easy to simply re-pin something and move on without expanding the file or double-checking the source. In addition, the Pinterest search function only scans keywords in the description and tags, not the source material for the image, so even if you are interested in this artwork as a fiber arts piece, you will have a tough time finding the artist! Clicking on an image never guarantees that you will be taken to the primary source of the image. Pictures can be pinned from anywhere on the web and often have been filtered through two or three websites prior to being added to Pinterest's archives. It can be a wild goose chase to track the original information down!
Movie costumes are another source of confusion, including this spectacular Rengecy dress that has been making the rounds as the real deal, but is actually a costume from the film "Immortal Beloved," a period drama with many beautiful costumes:
"Immortal Beloved" costume design by Maurizio Millenotti, circa 1994
The dress being worn by Valeria Golino as Giulietta Guicciardi during the film.
Fashion works in cycles: what's old eventually becomes new again! In the case of this dress by George Halley, the opposite happened. I don't know who first found this pinned as a Regency dress, but it took off. Though it has a high waist and square neck like a classic Regency gown, is actually from 1967!

George Halley Evening dress (nylon, silk, glass, metallic thread, plastic), circa 1967
There are lots of 1960s dresses that are great a mimicking a Regency silhouette (there are also 1960s gowns that look like they are from 1906 and even some gowns from 1906 that look like they came from 1806, so always check the source and your garments carefully). Once again, spreading misinformation is bad, but there is some good to be had out of it. If you happen to have a 1960s dress that happens to look like a Regency dress, voila! Instant costume!