Look at that waist! It's tinier than her neck! The wasp-waisted lady in the above picture is Polaire, a French actress. She was famous for being quite ugly, but with her waist corseted down to a microscopic 14 inches, she was the belle of the ball. Achieving a waist like this was no simple feat (as explained in this post). To properly train their waists, Victorian and Edwardian women didn't just wear corsets in public; they wore them to bed, too!
"When the eventual size is decided upon, three pairs of corsets are made, one for ordinary wear, one for special occasions, and another for night wear." -Wikipedia
During the 1870s and 1890s, tight lacing became fashionable and ladies often wore their tightened corsets day and night. But sleeping in a stiff day corset was uncomfy, making for a cranky Victorian housewife the next day. Night corsets had been around for decades, but they offered full coverage, similar to day corsets. Women who were not models, tight-lacers, or the fashionable elite needed a respite from the restraint of daily corsets in order to get a good night's sleep while still looking pretty. To address this, turn of the century ladies turned to fashionable night corsets made of fine, fancy ribbon.
"The ribbon corset is made of pieces of ribbon, as opposed to fabric. In 1901, a simple pattern of silk ribbon, two bones, and a busk was available, allowing women to construct their own ribbon corsets." -Wikipedia
These light waist cinchers were more like wide belts, serving to hug the figure rather than reduce it. This kept the waist from expanding too far– possibly undoing years worth of reduction work– while allowing the lady some literal breathing room. Ribbon corsets are also quite beautiful and were often made of fine embroidered silk or satin, elevating them beyond mere undergarments to lingerie status. I'm sure husbands appreciated the softness of ribbon compared to the solid mass of steel or whalebone just as much as their wives did!
By 1910, fashion began to turn away from  extreme tight lacing to the Empire silhouette reminiscent of Regency fashions. Tight lacing was going out of style as health-consciousness swelled in importance. By the time of the Titanic, ribbon corsets became even more popular, much to the relief of intestines everywhere. Sultry silk satin ribbon corsets were worn in the boudoir while sturdy cotton ones made sporting activities much easier. Ladies who had tight-laced for their entire lives still depended on the shapers to keep their figures well into the 1940s, until corsets were replaced by fashionable new girdles.These lovely corsettes, however, are still as beautiful as ever and are very, very wearable!
Sidney Eileen offers a comprehensive, step-by-intense-step on how to craft your own custom ribbon corset, just like Edwardian fashionistas did 100 years ago! You can find the 4 part tutorial here, with plenty of large pictures, to help you: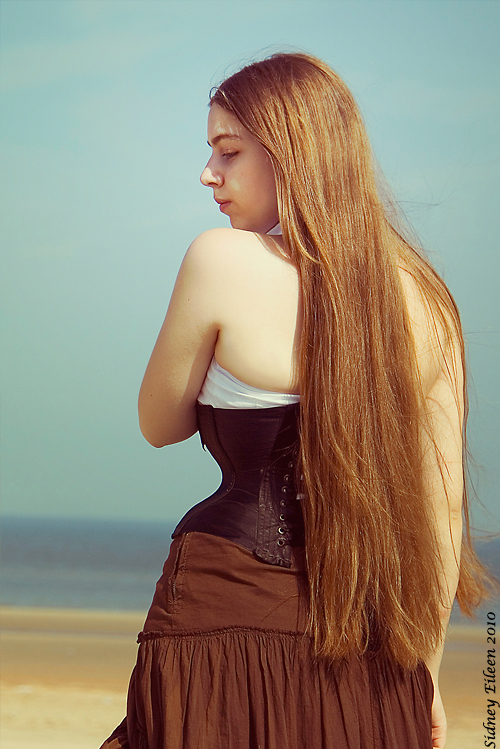 If sewing isn't your forte, there are plenty of telented seamstresses that are making delightfully decadent ribbon corsets even as you read this!   One fine corsetiere offering sturdy ribbon corsets is Desert Orchid Corsets. These fine creations feature heavy boning paired with soft satin ribbon to help keep your waist in check.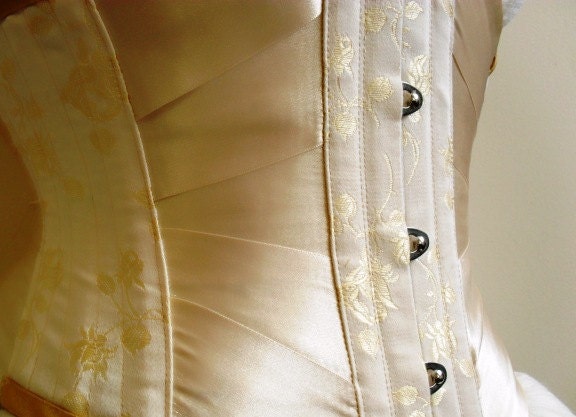 If you're looking for something a little less constricting with a pop of personality, HoneyCoolerHandmade on Etsy makes lightly boned ribbon cinchers starting at $105.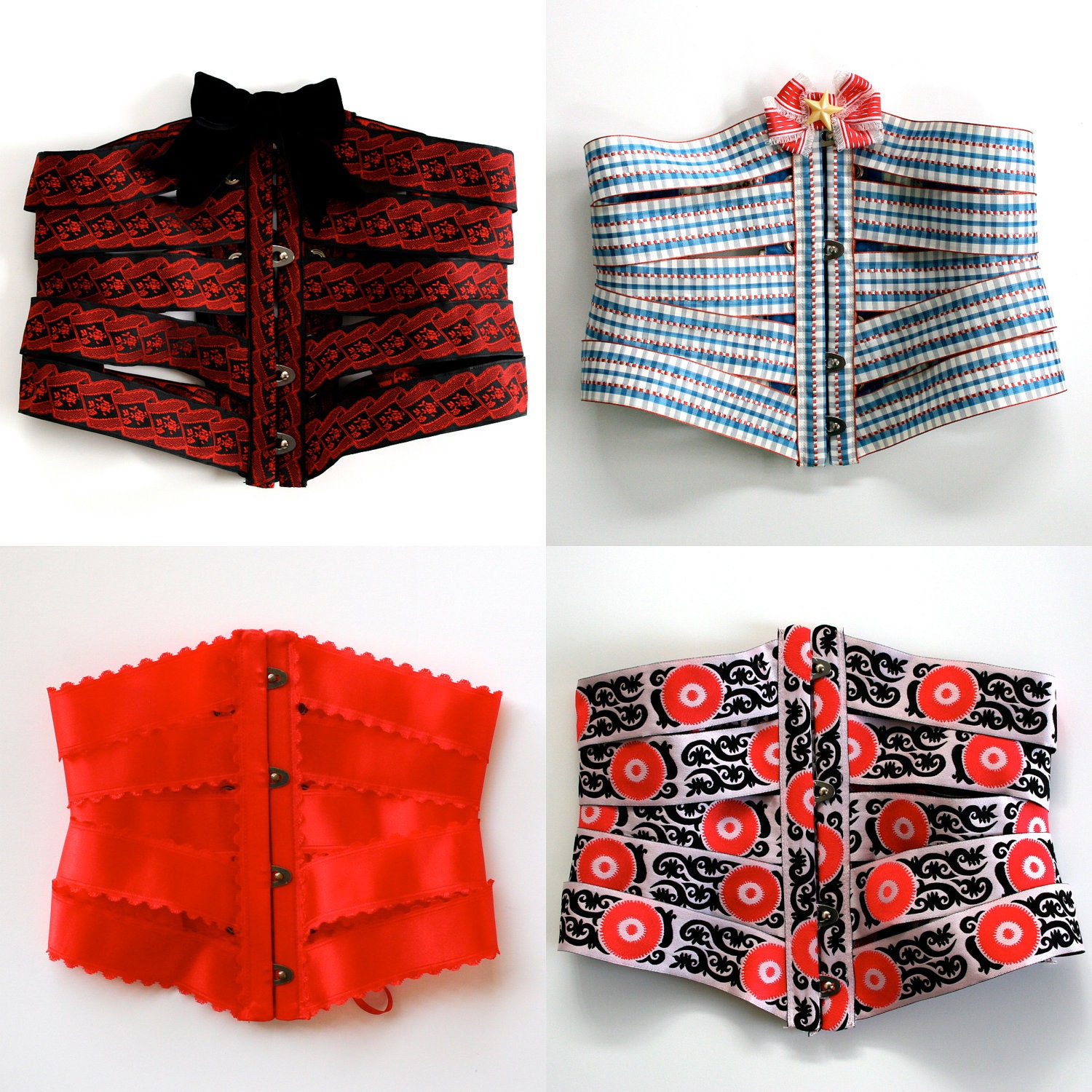 Perfect for those times when you're feeling a little saucy! Oops! My dress just happened to "accidentally" fall off. ;)
Happy Corseting!
Find out more about tight lacing practices in the 19th and 20th Centuries in my post Wasp Waists: The Ultimate Thin
Tinier than Thou
During the Victorian Period, corsets became an indispensable part of a woman's wardrobe. All efforts and styles– huge skirts, heavy decorated bosoms, wide belts– were made to emphasize the waist, whittling it down visually. For most ladies, a 26-24 inch waist was normal, but for some, the only limit was, seemingly, the width of their spine! Scarlett O'Hara in the book Gone with the Wind famously boasts about her tiny, 17 inch waist and Caroline Ingalls from the Little House on the Prairie series recalls how her husband used to be able to put his hands all the way around her waist.
In the real world at the time these stories take place, there were real ladies who practiced tight-lacing that had never before been achieved in recorded human history: the wasp waist, reportedly 20 inches or less in circumference. Some went even smaller– called a pipe-stem waist– that was stick straight and measured less than 16 inches! For comparison, the average female neck size (yes, NECK size) is 13-15 inches. Some ladies could have had waists smaller than the necks holding up their heads! The invention of the Gibson Girl furthered this ideal, but tight-lacing gained a controversial reputation from it's start.
There are rumors that many of the famous Victorian images of wasp waists were victims of what we would call "Photoshopping," where photographers would carefully shade away the sides of a woman's figure with a charcoal pencil , much as modern magazines do to their cover models with computer software. Notice how in the above photo it is solid black around her waist, leading some to claim it was treated after the photo shoot. While this waist may look physically impossible, it could very well be real if the model had trained long enough! The corset came under fire from health critics, feminists, and institutions since  tight lacing didn't just restrict simple movements like bending over to pick up objects or even sitting, but it alters the actual shape of the human body, re-arranging the organs and funneling the ribs into a cone shape. Many places claim that this isn't true and that a very small number of ladies actually participated, but as you see later, in that small number, great bodily changes do indeed take place!
But all the health buzz didn't kill the corset right away. In fact, tight corseting like this was fashionable well into the 20th century, culminating with the hour-glass figure popular in the 1950s. Many of the waspy models on the cover of men's magazines may not be wearing corsets for their photos, but their strictly defined waists and rounded hips bear witness to their off-camera corset training. (We can't all be Betty Bosmer!) The fashion died down greatly after that as "healthier" alternatives and changing lifestyles left the corset to history. The corset, however, did not disappear. Instead, it hid underground, becoming a fetish costuming staple, surging in popularity again with the turn of the millennium and the Neo-Victorian movement of the 2000s.
Today, there are still women out there who have wasp waists, even pipe-stems! They are all real! For example, this corset model, nicknamed Spook, has a ghostly 14 inch pipe-stem waist at her smallest:
In previous years, she attempted to break the world-record of the smallest corseted waist at 13 inches, but she has since stopped pipe-stem lacing and returned to much less restrictive wasp-waist garments. You can visit her newer site here where she breathes a little easier in a comparatively roomy 19 inch corset! (Makes the waistband of your skinny jeans feel a bit more comfy in retrospect, doesn't it?)
The next amazing model with a wasp waist is Laci (19-17 inches). If you read through her profile (warning, there are some risque pics, but no pornography, PG-13), you will find that she notes the change in her rib size from 69 cm before her foray into corseting to an astounding 53 cm after.
To achieve this sort of shaping takes a deep commitment to the fashion, involving time, effort, and support from family or friends. The corseting site from which these pictures are taken offer plenty of information for novices, including an outline of proper techniques that must be used, stressing that you cannot just strap yourself into a 18 inch waist. Achieving such a tiny silhouette requires a passion for fashion. For example, Laci wears her corset 23 hours a day, even while playing sports!
For more information on wasp-waists in the modern world, click here to visit C&S Constructions, custom corset-makers. Their professional site offers a wealth of information about proper lacing techniques, styles, and applications that most historical corset sites don't provide. They also provide information about male corsets, a fashion that began in the 1600s and flourished alongside ladies' corsets until the 20th century (often called "posture aids"), but the trend has been conveniently forgotten by many costumers today.
"For men, corsets are more customarily used to slim the figure. However, there was a period from around 1820 to 1835 when a wasp-waisted figure (a small, nipped-in look to the waist) was also desirable for men; this was sometimes achieved by wearing a corset." -Wikipedia, 2011
Whether you are a lady or a gent, costumer or casual, tight-lacer or comfort-seeker, there is a corset for you! You do not have to be extreme to be historically accurate since most corsets were used as a body support before the invention of the bra, not just for shaping. Wasp-waists and Pipe-stem figures are extreme, fascinating, astonishing feats of fashion, not the norm. Victorian corset models were just like the waif-like fashion models that strut today's runways: on trend and idealized. Look at them, by all means, but don't forget to check out "real folk" photos and sources as well to learn how the fashion epitomes were adopted by the everyday woman.
Happy Lacing!