March/April 2015

This month's FOTM is actually from March, but I only just got around to taking some pictures of her a few days ago. May I introduce, Miss L:
Miss L was snatched up at Historic Camp Bowie Mercantile in Fort Worth. Though it is listed as an antique store, well over half of the booths are selling modern decor, clothing, and crafts (which seems to be an increasing trend in antique co-ops). However, there are some antique booths to be found amid the maze of partitions covered in framed still life prints, crackle-finish mirrors, and inspirational quote signage. This lovely lady was hiding in a dolly pile-up atop a German dark wood hutch at the very back corner of the store. When I first found her, I nearly tripped over a dining set in my excitement. Her price tag, however, hurt more than my stubbed toe! Forlorn and bruised, I set her back down and continued wandering the store trying to get my mind off her pretty pink plaid dress and adorably askew blue eyes.
Silently judging you, resting bitch face victim, or holding a ridiculously long note on an invisible trumpet?
But love knows no monetary boundaries, so in a wallet-walloping moment, I flew back to her and paid her $85 ransom to a gruff grey-haired woman at the register.
Miss L is very handsomely attired. The main attraction is her brightly colored silk dress trimmed with lush silk velvet. It has a very full skirt and basque bodice- undeniably 1860s in silhouette.
She has tiny "alien" hands. Aren't they so oddly modeled? They are framed by velvet-cuffed pagoda sleeves with lace frills.
It's hard to tell from this photo, but the outside of the silk (top left) has, as is so often the case, faded while the underside has better maintained the vivid original hues. The skirt is cartridge pleated.
The bodice has four beads acting as "buttons" down the front. The dress has two later snaps added to the front (likely to replace missing hooks and eyes).
The back of the bodice. The seams all show signs of stress and fraying.

The inside of the bodice showing the tiny 1/8 inch seams. it is machine sewn except for the trims and hems.
Finding a lovely doll with a such a pretty outfit would be treat enough, but, just like a full-sized outfit of the period, Miss L's dress is supported by a full suite of minutely detailed undergarments as well– including a hoop skirt!
Miss L's outer petticoat is decorated with hand made broderie anglaise, a type of eyelet that was popular in the 1850s and early 60s.
The hoop skirt has a single hoop attached halfway down the length. The outer petticoat and hoop skirt share a single waistband. Both are cartridge pleated.
Underneath her petticoats, Miss L is wearing a chemise/corset cover tucked into a long pair of drawers (closed crotch, if you were curious). The drawers have four pintucks at the bottom of each leg and are trimmed in lace. A blue silk ribbon drawstring holds them on. They are sewn directly to her knees, so I cannot remove them to check the condition of her legs without cutting the threads.
I've been collecting dolls for most of my life, but I will confess that china dolls escape my expertise. Judging by the lack of detail, rather haphazard paint job, and general "bubbly-ness" of her hair, she appears to be a later Victorian model.
Her only marking is the number 0 on her back.
1860s china dolls generally have more delicate features and less voluminous hair with far more sculptural detail.
China Doll Head, circa 1865
In the 1860s, dolls mimicked the popular hairstyles, which were generally smooth at the top, parted, and had volume mainly at the sides and back.
Frozen Charlotte Doll, circa 1880
An early incarnation of the classic high-loft, low-brow hairstyle that would become fairly standard on china dolls produced into the early 20th century. The black-haired china dolls from this period remind me of Betty Boop.

Hertwig German China Doll Head with Molded Collar, circa 1890-1900
Mass-production for these dolls hit its peak around 1895. You'll notice that the hair is rather globular and the features are swiftly painted on, giving this dolly the same derpy look Miss L has.
Miss L's dense hairstyle, face mold, and other china bits are characteristic of mass produced German china dolls manufactured from about 1890 to 1910.
Her body is stuffed with sawdust. I know this because a) it was a popular stuffing material for cloth-bodied dolls and b) it ended up all over my desk.
It isn't unheard of to find an old china doll head on a newer body or a new head on an older body. Doll bodies and heads were widely available though mail order catalogs. If a child dropped mommy's (or even grandmother's) old dolly, they might have simply ordered a new, inexpensive replacement.
Clipping from the 1895 Montgomery Ward catalog advertising various sizes of plain china doll heads with painted hair and eyes.
Note: the doll in the illustration is actually a bulldog in a wig.
It's also entirely possible an industrious doll maker could have composed Miss L out of a variety of salvaged antique parts. The possibilities seem endless!
The mostly likely scenario, however, is a collector discovered that Miss L, an 1890s German doll, fit nicely into the clothes of a now-absent 1860s doll. A German 1890s doll by herself is cool, just as an 1860s doll dress by itself is cool. But united, their coolness multiplies exponentially, forming a gravitational pull that no doll/costume/antique obsessed shopaholic can resist. And by golly, it worked!
I don't have any kids myself, but after posting about the 1860s child's dress I found a few months back, I've gotten a few questions about making Victorian clothing for children. Usually, my lack of experience with sewing for children leads me to recommend asking someone else, especially if someone is asking for strict historical accuracy. However, I am not one to shy from any project. The 1880s are a popular costuming era thanks in part to lots of recent movies set in the era and the rise of Neo-Victorian fashion. I have a whole bunch of lovely fabric pieces that are too little to complete a full project for myself, but a child sized dress? Certainly!
Children's dresses in the 1880s were drop-waisted with full or pleated skirts with fairly straight bodices.
Cotton Dress for a Girl Aged 5-7, circa 1886-88
Silk Lace Dress, circa 1885
Wool Dress, circa 1880-90
This basic shape remained popular into the 20th century, especially during the 1920s, 1960s, and the 1980s. I was originally going to use one of the plentiful, adorable 1960s or 80s patterns like these to craft a dress: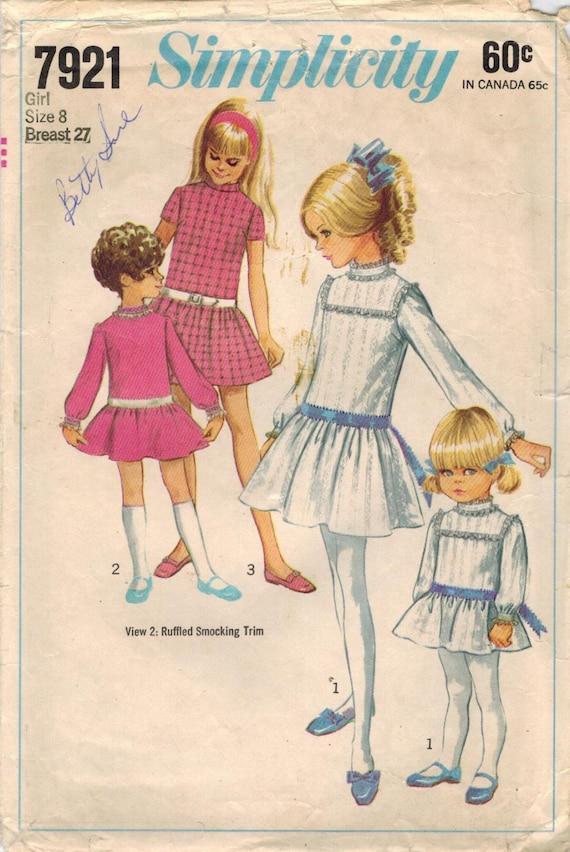 1960s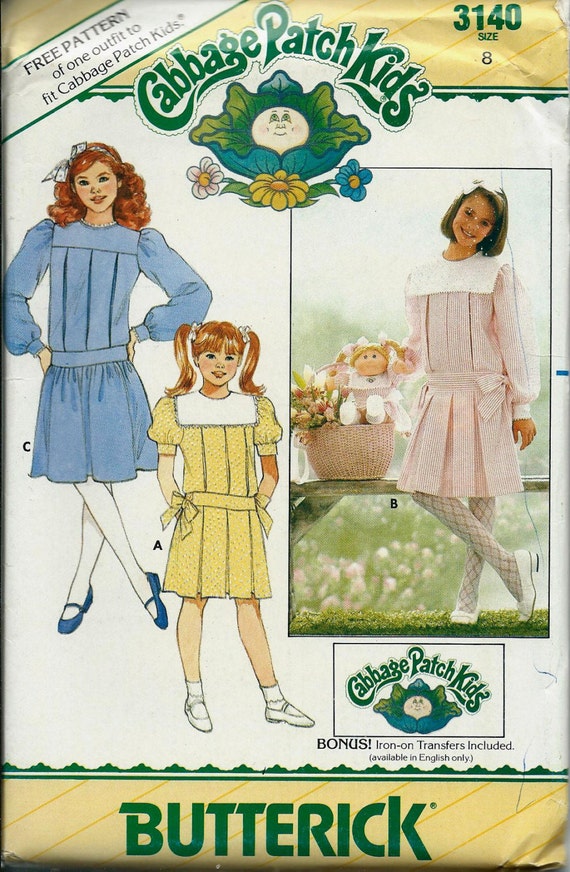 1980s
This is a bit more 1890s in shape than 1880s. The 1890s saw the bloused front come into fashion full swing.

I just couldn't settle on a pattern, though, so I just kept collecting them in my favorites on Etsy. Then, I was browsing in the pinnacle of American capitalism (aka Walmart) when I found this pattern:
New Look A6319: Child's Bias Dress and Jacket
Cute plaid? Adorable silhouette? Just the right amount of yardage needed? WE HAVE A WINNER!
The skirt construction is two giant circles, so probably not as historically accurate as pleats or gathers, but the amount of flare it creates is impressive.
The silhouette of the New Look pattern, though not perfect, reminded me of this antique dress I'd pinned earlier:
Child's Dress, circa 1880-90
I love plaid and it's pretty darn vintage looking in most cases, plus I had 3 yards of woven green cotton plaid that, though fairly thick, I thought would make a great dress. I also had some other scraps of lace, some ribbon, and a few button options that could work:
I ended up choosing the cotton net lace and the big, antique square buttons (a gift from my grandmother). Taking a cue from my 1860s child's dress, I decided to trim the dress with black velvet ribbon, too.
I followed teh pattern directions exactly except for the zipper in back and the sleeves. I left the zipper out since I planned to close it with hooks and eyes instead (though buttons would be a better option). I used the long sleeve pattern from teh jacket portion of the pattern because the heavy plaid was more of a winter weight than a summer weight and long sleeves are more period-appropriate anyway. The shorter sleeve or sleeveless options are a good choice for summer dresses, and perfectly fine for the period:
Queen Regent Maria Cristina of Spain and her daughters, Infantas Maria Teresa and Maria de las Mercedes, late 1880s
I also chose not to cut the bodice on the bias. Yes, diagonal plaid is amazing. I own a few shirts and dresses cut on the bias. The look is lovely, but the way it twists as I move (especially if the stretch heavy favors one direction) drives me nuts. No child will probably ever were this dress, yet I refuse to make an annoyingly twisty bodice!
The dress went together rather quickly. The hardest part with getting a neat hem on those darn endless circle skirts! Each skirt had a 108″+ hem and there were TWO of them….with curved hems….
Yep, it took about 3 hours to press and sew. Not gonna lie.
Still, the flouncy effect is gorgeous and has great buoyancy that no other type of skirt can give without hoops and petticoats.
The plain dress is pretty on its own, but I wanted to deck it out.Sorry I didn't get many process shots:
Attaching the lace to the front
Planning the velvet trim. I had a hard time choosing where to put the thinner velvet since I only had one spool. I liked the look of the thin velvet along the hem. I would want to make all the hems match, however, and I just don't have the patience, money, or the masochism to handsew 220 inches of velvet ribbon. Nope, nope, nope! Ultimately, I opted to follow the original dress and just put double lines around the cuffs. I hoped I had enough lace for the cuff, too, but I barely had enough for the front.
Here's the "finished" dress:
It's actually not complete. It doesn't have a back closure and it still needs a bit more refining (like more black velvet ribbon), but I admit that I probably won't ever finish trimming it. Yet, I feel accomplished despite not crossing the finish line! It's a cute, simple pattern with a lot of possibilities for both costumes and modern wear. Multi-tasking patterns are always a welcome bonus for anyone. I still wouldn't consider myself an expert on sewing for kids. What I hope folks will take from this experiment is the basic principle of silhouettes. You don't need a specific pattern to approximate or create an interpretation of a historical style. Practice identifying common features and shapes and suddenly you'll find inspiration in places you would have never thought to look!
Costume Breakdown:
3 yards cotton plaid – $4.50, Walmart
Lace remnant – Free, but there's about $2.50 worth of lace there
Thin black velvet ribbon – $2.49, Walmart
Thick velvet ribbon for waist – $3.99, Hobby Lobby
Four antique mother of pearl buttons – Free! Thanks, grandma!
Pattern – $2.97, Walmart
Total: $16.45
I don't know what I'm going to do with this dress yet. I'll probably just squirrel it away or throw it at some unsuspecting 6 year old at the park like a reject fairy godmother.
Bippity Bobbity BWAHAHAHAHAHAHA!
A note if you plan to use this pattern for costuming or modern wear:
I followed the pattern instructions for a size/age 5 dress according to the envelope back, which is meant to fit a child with a 23 inch chest. It turned out really huge. I know most modern patterns have tons of ease built in, but, dang! The dress ended up being 26 inches wide–that's 3 inches of ease in the chest and over 5 inches in the waist! It's nearly large enough for me to wear as a (cute) top!
This may partially be due to me cutting it on the grain rather than on the bias. If it was on the bias, it would hang and stretch downwards, slimming it a bit. Kids need room to move, but I think you could probably size down in this pattern, depending on your child, the fabric you choose, and how she likes her clothes to fit.