What Have I Been Doing? Painting and Procrastinating.

I am so excited! Perhaps you remember this little fellow, my second attempt at portrait miniaturism:
Well, someone loved him enough to give him a new home! I am so giddy for both him and his new owner!
I have another handpainted portrait miniature in my shop now, this time a young lady: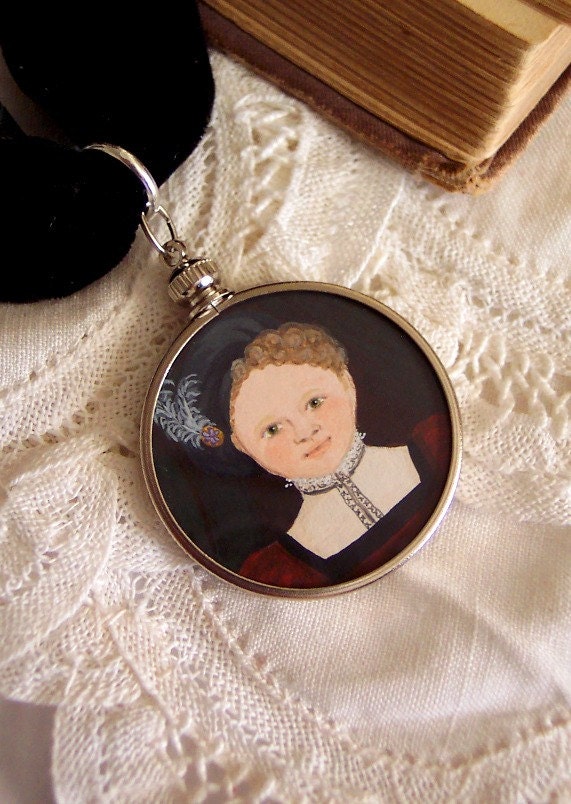 "Portrait of a Young Lady" is available in my Etsy store.
She's another imaginary character, but her attire has a mix of historical elements from different locales: her red and black gown is decidedly Italian while her plumed hat was inspired by the wild German hats in Lucas Cranach the Elder's portraits (her hat ornament was inspired by one found in the Museum of London). I'd place her style at mid-16th century, but she could pass easily with garb anywhere between 1550 and 1610.
I have been more motivated to paint than sew recently, so I made a few more little portraits to fill the time. I even bit the bullet and began painting portraits of real folks!
The first portrait is of my sister, a gift for her graduation (Sorry, Minnie, if you are reading this. Just act surprised when you see it!).
Staring contest with Mr. Roosevelt!
"Portrait of Amelia" in its pendant frame.
I based her portrait off of a photo I took for the 1840s headdress tutorial, but I changed the flowers and added details to her dress for an 1840s-1860s look.
The next two portraits were a gift to Becky, my mother-in-law, for her wedding anniversary:
A not-so-pretty-penny and a very pretty lady!
I did this portrait in an 18th century style for fun. I didn't have a reference photo, so I made it up as I went along. I really want that hat now, though!
Becky's husband, Billy, is in his modern black pearl-snap shirt. There are three things you don't mess with: rattlesnakes, Texas, and pearl snaps!
Blue backgrounds have been common in miniatures from the very beginning of the art. Blue compliments most skin tones, helping the facial features stand out. In this case, it also helped highlight Billy's eyes.
Though these were done as gifts for people I knew would love me even if I botched their likenesses, they have given me a little more confidence to work on more direct likenesses in the near future. They are much more work than imaginary people, though!
I haven't felt motivated to sew at all recently even though I have a stack of new patterns (99 cent sale at Hobby Lobby!) and plenty of new fabric. Nothing seems to "click" right now. I have great patterns, but none of my fabrics seem right for them, while I have tons of great fabrics, but no patterns I feel match them. In reality, I'm probably just a little too perfectionist, but it does put a damper on costume production. So instead, I will continue to focus on painting miniatures, re-stocking my Etsy shop, and dreaming/scheming up the next big project!
More of My Portrait Miniatures: