A Happy Hawaiian Holiday to You!
LOOK magazine cover, circa 1960
Hawaii became exceptionally popular during the 1950s. Hawaii hadn't become an US state just yet (that happened in 1959), but it was a bustling tourist destination. The unique culture and laid-back attitude of the isles appealed to mainland Americans, and the topical weather was especially enticing.
 1950s Americans loved Hawaii for it's hula, ukeleles, brightly printed shirts, and flowery leis. It all may seem pretty campy to us now (it was pretty campy even at the time), but the idea of Hawaii as the perfect tropical paradise was especially appealing near Christmas time. As beautiful as traditional wintery December evenings are, after weeks icy weather, who wouldn't dream of trading snowy drifts for sandy beaches?
If you couldn't afford to visit Hawaii at Christmas, you could always tune into the radio or take a trip down to the record store to catch a Hawaiian-inspired Christmas tune. The most famous Hawaiian Christmas song of them all is "Mele Kalikimaka" as sung by the one-and-only Bing Crosby:
Mele Kelikimaka isn't a translation from English into Hawaiian. It's more of an accented version (kind of like Americans pronounce the German "Wiener" with a "w" instead of a "v" sound).
"The phrase is borrowed directly from English but since Hawaiian has a different phonological system – Hawaiian does not have the /r/ or /s/ of English and its phonotactic constraints do not permit consonants at the end of syllables or consonant clusters – 'Merry Christmas' becomes 'Mele Kalikimaka'" – Wikipedia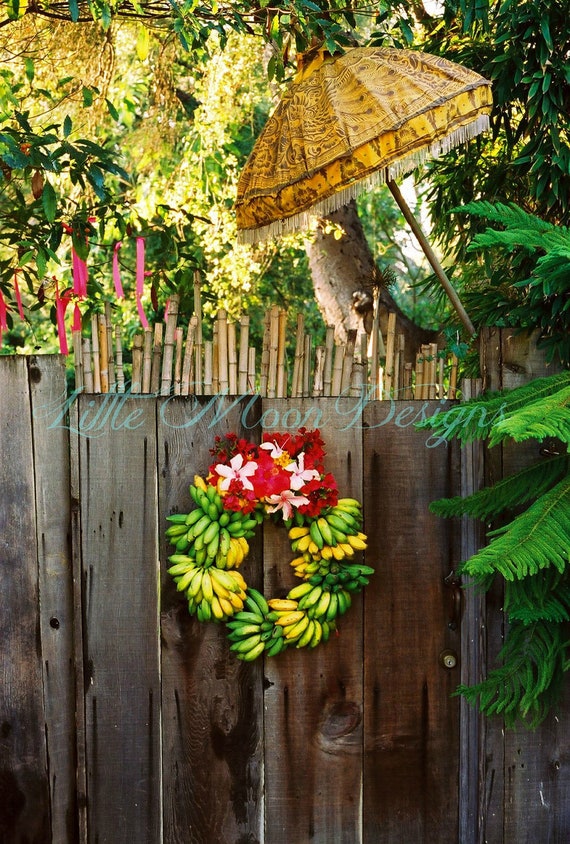 Add a Little Bit of 1950s Hawaii to Your Christmas
Embrace the kitsch of the 1950s holiday tradition! Here are some fun Hawaiian inspired items that will bring a touch of the tropics to any mid-winter  fandango.
(In Splurge/Save style! All of these finds are from Etsy.)
Bright Tropical Party Dresses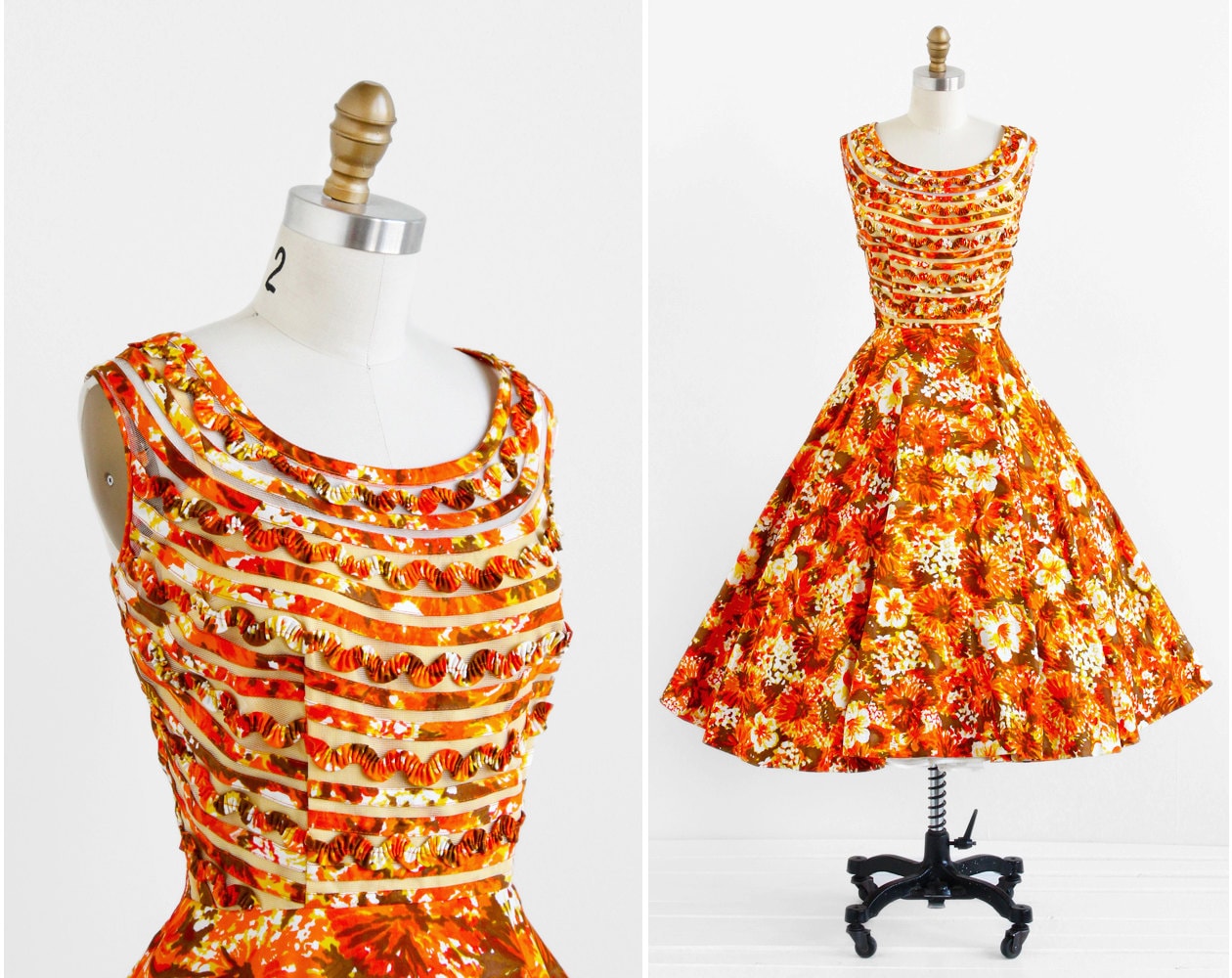 Tropical Orange Dress, circa 1950-60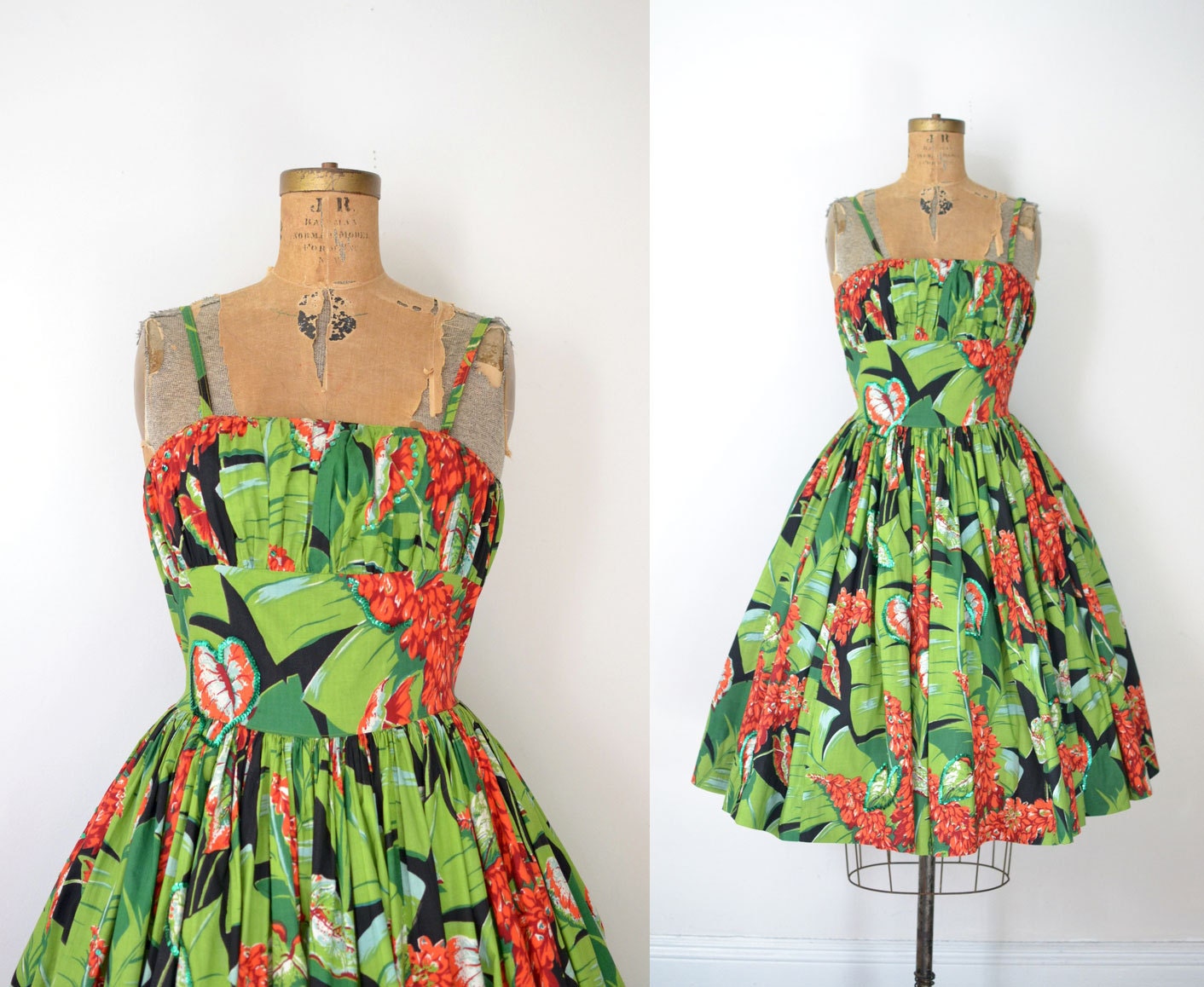 Tropical Green Dress, circa 1950-60

Charming Bracelets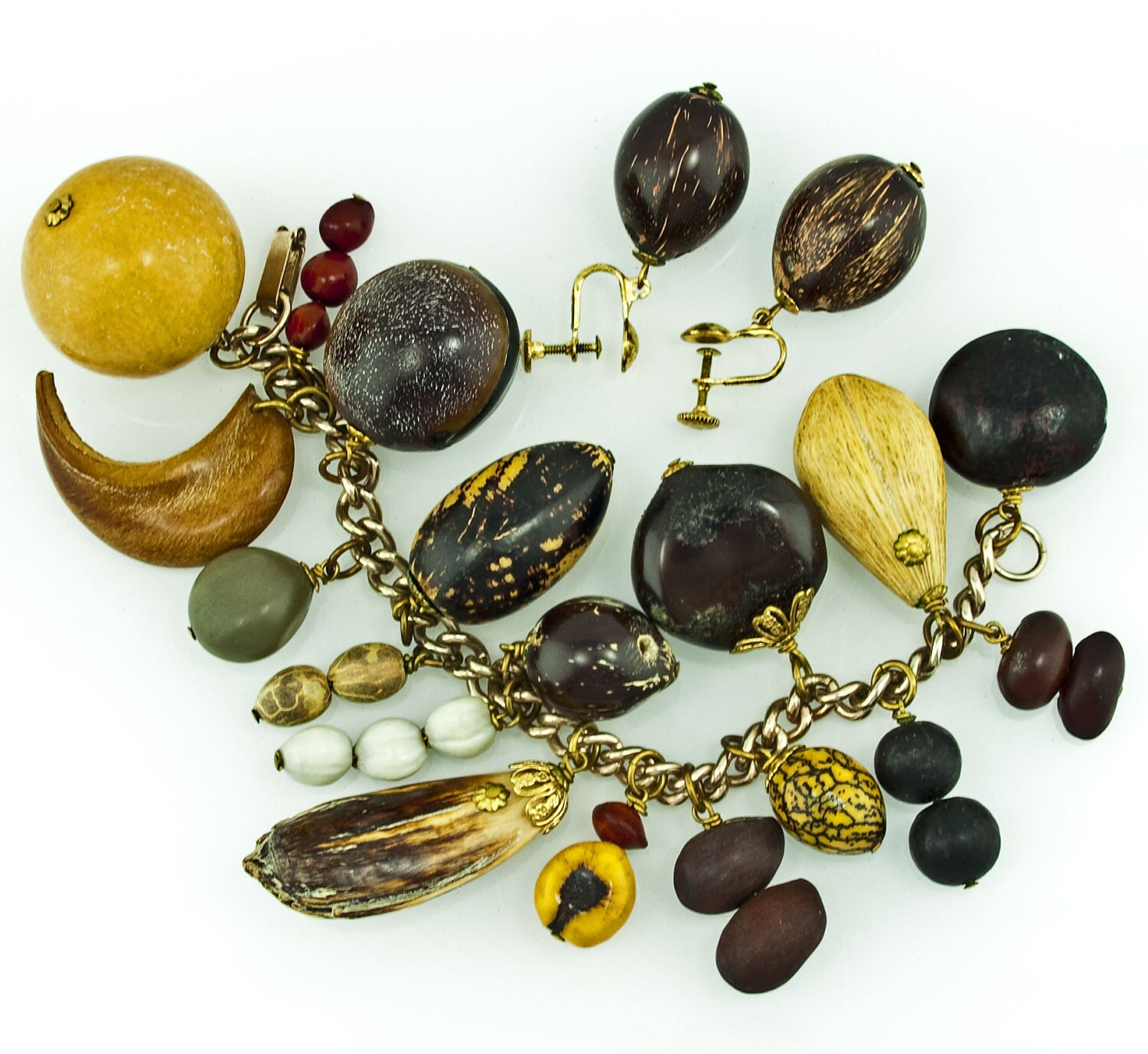 "Aloha" Natural Seeds of Hawaii Charm Bracelet, circa 1950-60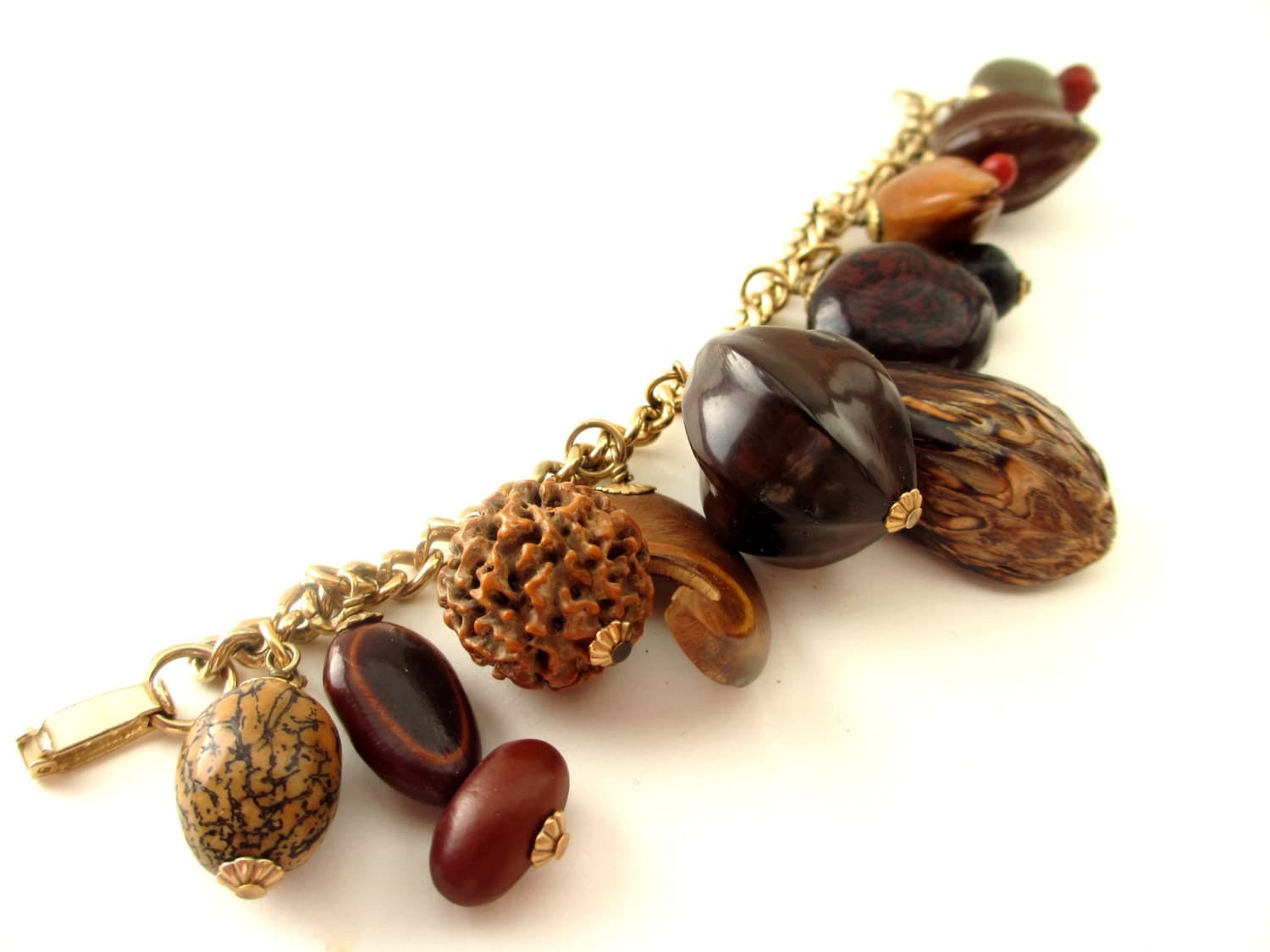 Vintage Natural Seeds of Hawaii Charm Bracelet, circa 1950-60
For the Holiday Hunk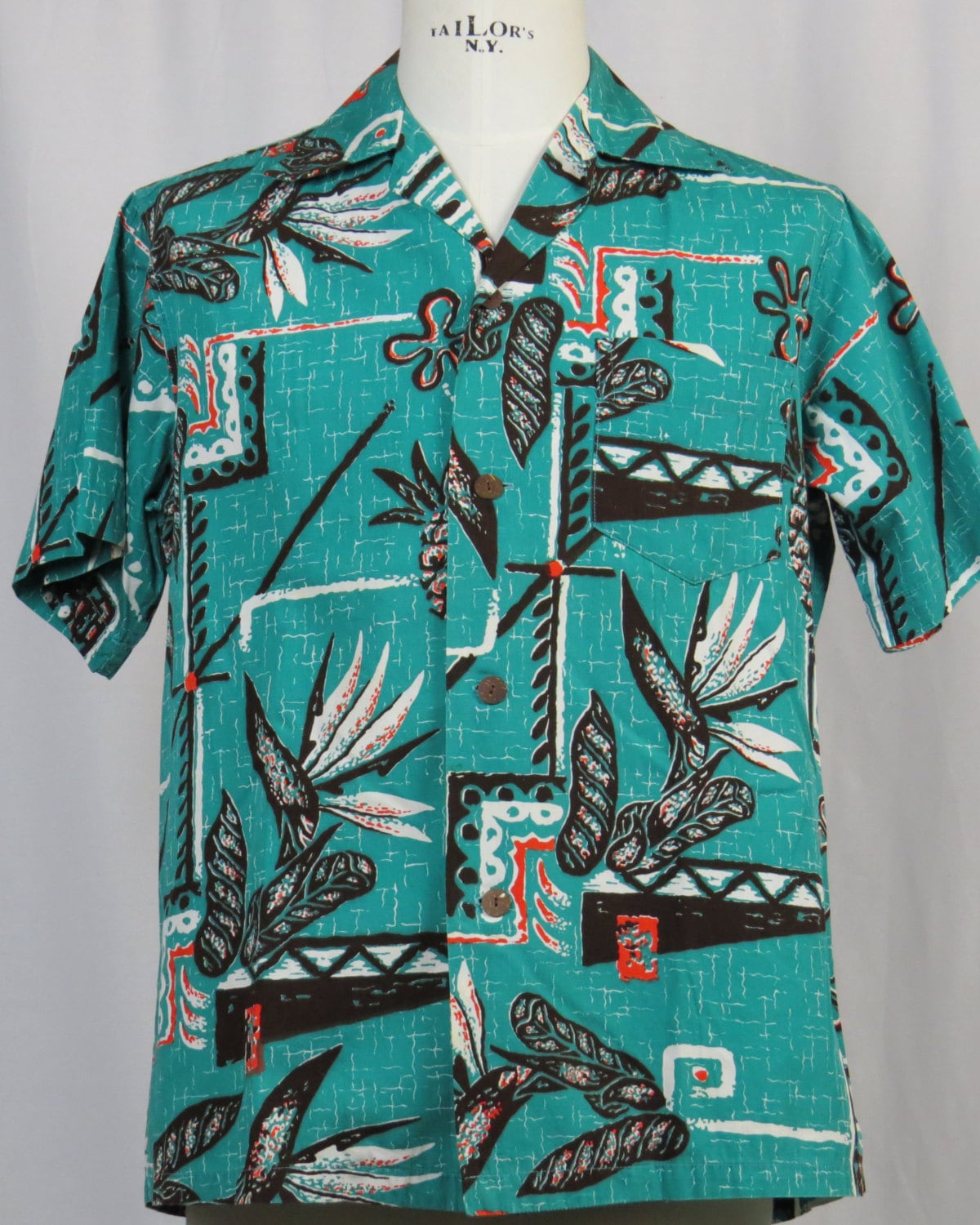 1950s Shaheen's of Honolulu Hawaiian Shirt, circa 1950-60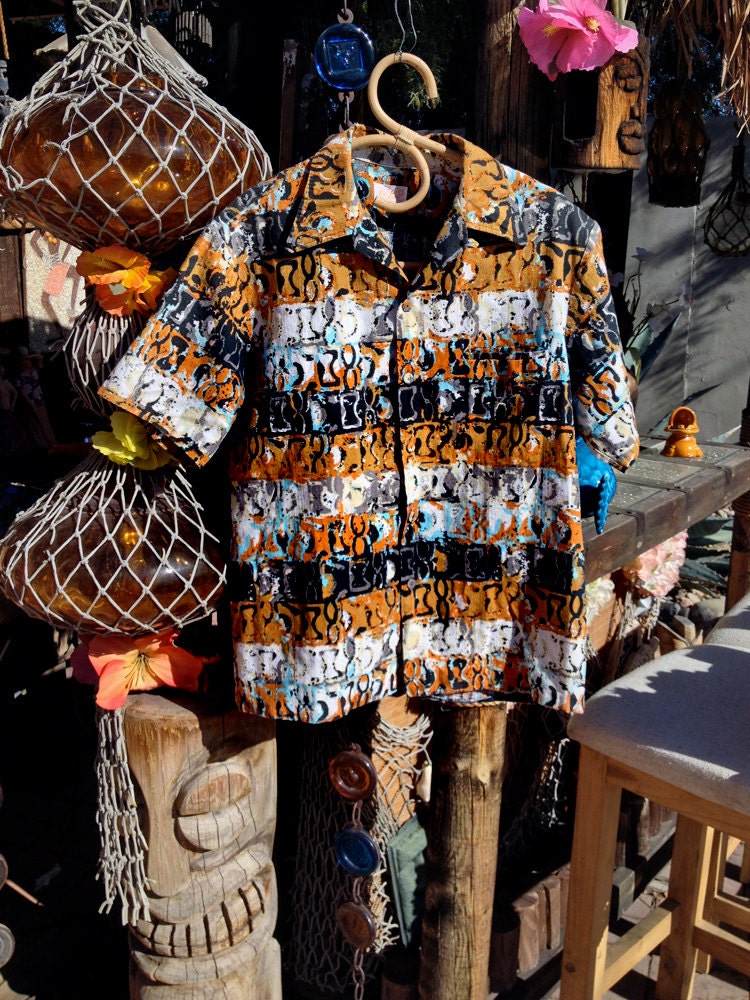 Vintage Men's Tribal Hawaiian Shirt, circa 1950-70
Welcoming Wreathes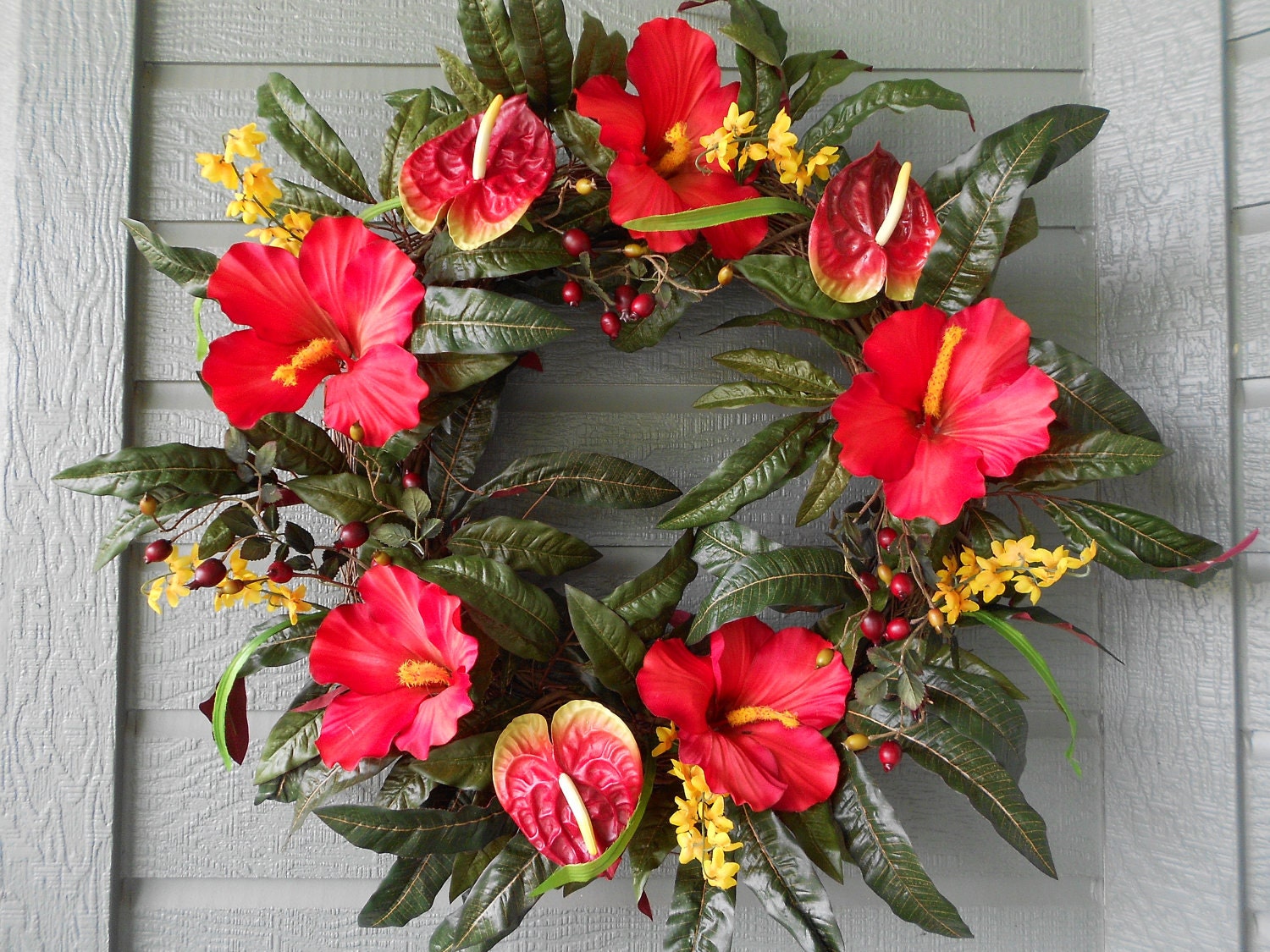 Custom Red Hibiscus Wreath
The hibiscus is the Hawaiian state flower. The native yellow hibiscus is the official state flower as of 1988, but hibiscus flowers of all colors have been used to represent the state since the 1920s.

Make Your Own Seashell Wreath (or Trees)
Seashell artwork of all sorts was immensely popular and was a clever way to display the shell picked up on vacation. Though the huge numbers of tourists makes beachcombing on many Hawaiian shores a challenge, the islands are home to many sea creatures with beautiful shells (here is a pictorial index of Hawaiian seashell types).

Topical Tastes
Macadamia Nut and Coconut Crusted Fish Recipe
Hawaii is the macadamia nut capitol of the world. During the 1950s, large macadamia nut producers increased production and made the creamy macadamia available to a wider audience across America.

Homemade Super Tasty Pineapple Pie from a 1950s Ad
Pineapples have become the symbol of hospitality, especially during the winter months. Plus, if you haven't tried some kind of pineapple pie, you're missing out. That stuff is delicious!

Fun and Games
Hong Kong Hula Hoopers: Lin Dai
Humans have swirled and twirled hoops since ancient time, but the hollow, plastic hula hoops we know and love were officially invented in 1958. They were named "hula hoops" because the twisting hip motions imitated basic hula swaying motions. The traditional Hawaiian hula dances are much more complex than just swaying your hips, but for a good bout of party fund, nothing beats a hula hoop! (Just make sure to move breakables out of the way if you're going to attempt hooping indoors!)
Sunburst Harmony Soprano Ukulele, circa 1950-70
Ukeleles are a Hawaiian version of a Portuguese instrument brought to the Islands by 19th century immigrants. Because they are small, easy-to-learn instruments, the ukelele has really picked up in popularity recently. Any song that can be played on guitar can be played on a uke, but there is plenty of vintage ukelele sheet music available, including this wonderful free-to-download collection and this cutesy free chord map for popular Christmas songs.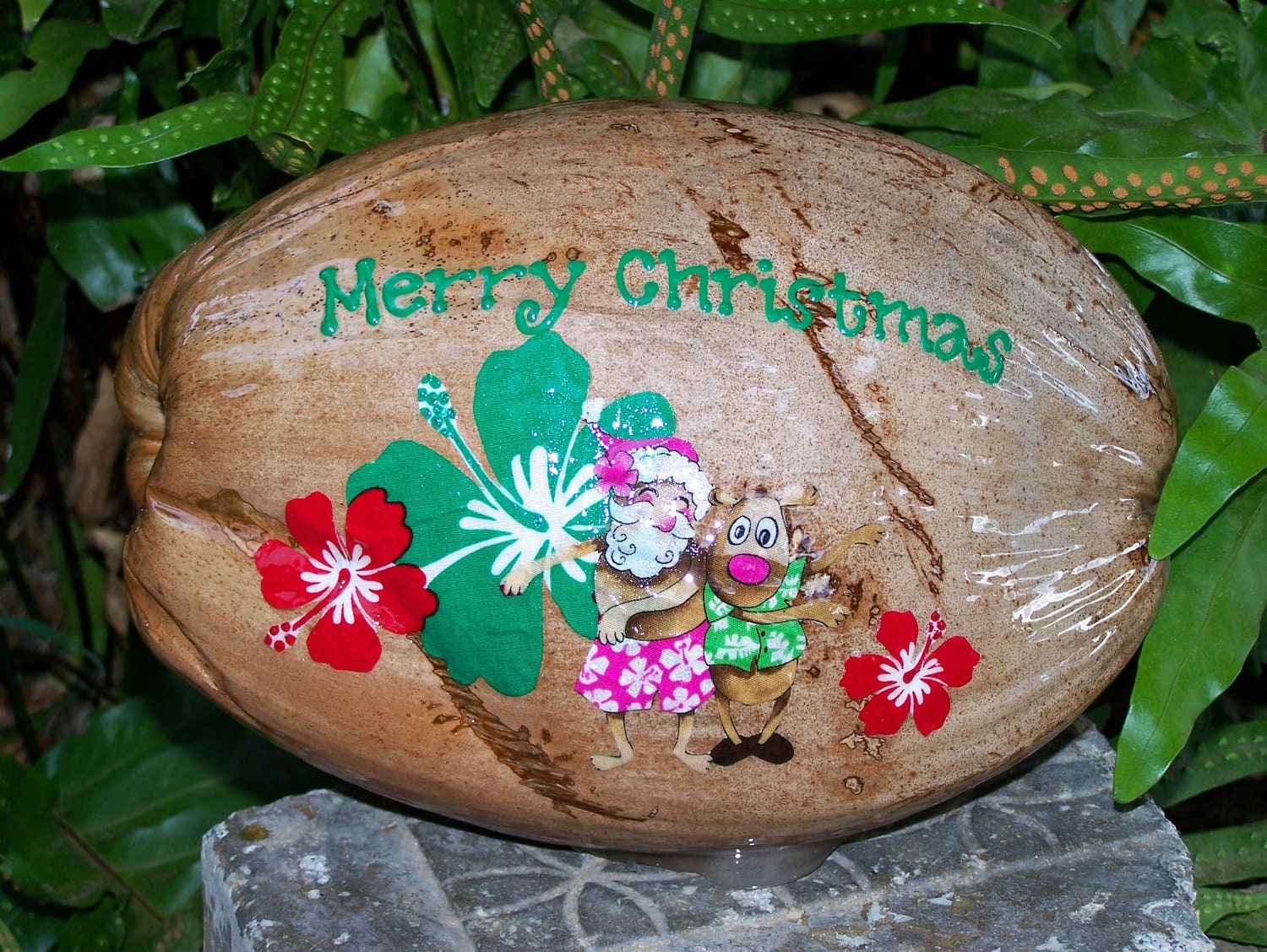 Merry Christmas Coconut Postcard
Oranges used to be considered exotic fruits and were common Christmas gifts during the 19th and 20th centuries. However, military men stationed in Hawaii would send home something quite a bit larger: coconuts! The US Postal service has a long list of things you can't mail, but even more impressive is the things they actually will. The Hawaiian post office will mail a dried, decorated coconut for you, no box required! Decorated "coconut postcards" are available from vendors pre-decorated (like the one above) or, if you are fortunate enough to find your own coconut on a Hawaiian vacation–you lucky duck!–you can decorate it yourself before sending it on it's merry way to an unsuspecting relative's PO box!
Mele Kalikimaka!