Coming to Terms with My Curvature

Everybody has their own hang-ups and frustrations, especially when it comes to their own body. I'm just starting to feel comfortable in my own skin which I credit to supportive family, friends, and a husband who loves me no matter how monstrous I look when I wake up in the morning. Since costuming is an intensely body-conscious hobby, however, I often find myself fighting against my shape rather than working with it.
For example, I have a very boisterous love/hate relationship with my breasts. They are not massive–37 inches around (34F)–but they are definitely large and in charge. This becomes painfully clear in my costuming endeavors.
Shuttup, Camille! Nobody asked you!
Most commercial patterns are drafted for a B cup, so even if you try sizing up to fit you bust measurement, the pattern will still fit strangely because the underbust (and often waist) will be too big. This leads to some of the most intense pattern slicing and dicing that even handy fitting guides cannot make less tiresome.
I make this face much too often…
Another big hang-up? Corsets. If you dress in historical clothing, you will need one, either by sewing your own or, if you don't have the skills or patience to make your own, buying one. Finding a historical corset is difficult on a good day, especially if you are on a tight budget (custom corsets run about $300-$800) and that trouble is compounded if you have a cup size larger than a C or so. However, I have managed quite well in my eBay corset almost precisely because it flattens my chest down. Why? Well, having a large, forward-protruding breast is decidedly modern and generally frowned upon in historical costuming. For example, a big no-no is princess seams on an 18th century court dress:
Under-boob Shadow = Bad
18th century stays should be funneling her torso into the famous cone shape. My eBay corset isn't exactly historical, but thanks to its B-cup and thus tight boob control, I can get the sexy Marie Antoinette V in a cinch, plus some appropriate cleavage as it scrunches my abundant boobage upwards:
Here's the shape my eBay corset gives me when it has an even lacing gap in the back. Not bad, right? Very smooth!
Cleavage = good
I altered this dress from a pattern that had princess seams that curved over the bust. I simply ignored the curve as I sewed the bodice together. Instant +50 pts. to accuracy! Still farbing it, though. A real pair of 18th century stays should fit like this.

Since my corset squishes my bust down from 37 inches to <35 inches in circumference, I also magically fit into modern patterns without having to make major alterations, a boon for my impatient side. By containing my boobs, my corset creates the standard proportions for most pattern sizes: a 7 inch bust-to-waist ratio and a 9 inch waist-to-hip ratio. Less boobs + less work = a win in my book!
But my heart isn't planted in 18th century rococo. It likes to scamper freely between eras, and lately, it has been wooing the late 19th century. Despite their corsets, many Victorian ladies were actually very modestly proportioned. Not everyone laced down dramatically or was blessed with natural curves: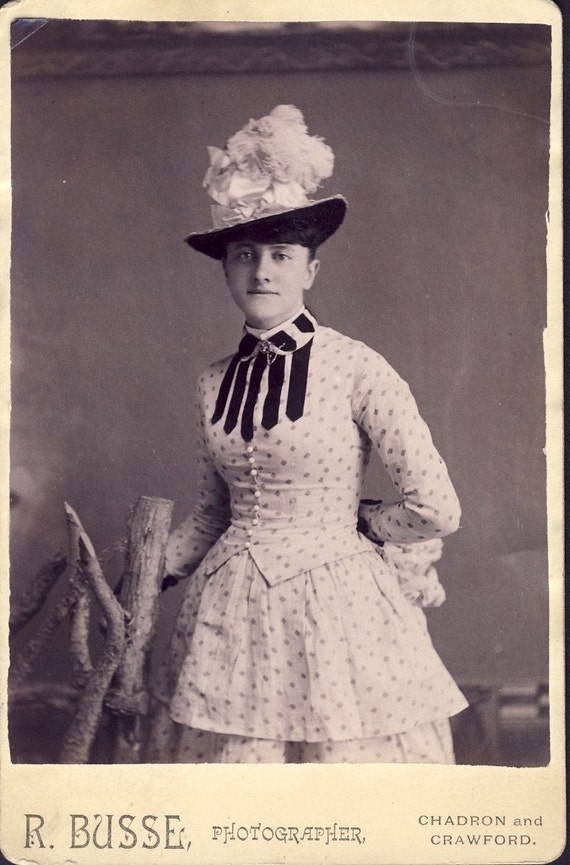 Woman from Nebraska, late 1880s from Etsy
In both photographs and extant garments, it's easy to see that while many ladies are indeed tiny, they are often proportionately so– bust and hips included. When you look at photographs and dresses, the curve of their corsets is still fairly conical, just like the 18th century but with a little more curve over the bust, especially during the 1880s and 1890s when the long, slim look was popular:
Fashion plate, circa 1886
Corsets from 1880-1900 ended about mid-bust (also called demi-bust). Many photographs, however, show ladies whose corsets are full overbusts, especially during the 1880s when tightly-fitted bodices were in vogue.
For a more in depth analysis of late Victorian and early Edwardian "standard sizes," click here. There's a brilliant chart and you'll see that most bustle-era women were only expected to be slightly curvier than modern women– a 9 inch bust-to-waist ratio instead of 7 inches. That's equivalent to the standard modern woman wearing a corset lightly laced down 2 inches, and is fairly close to my own natural measurements without a corset.
Still, there is the matter of my corset. I love how perky and slim it makes me look, but I am so tired of smooshing my boobs. They may be annoying, but they give my otherwise straight figure some pizzazz. My overly-cone-shaped corset totally robs my pizzazz! Here is my hilariously bad attempt to show you what I mean:
Left: Hamster in a shotglass
Right : Monkey in a turtleneck
Bad graphics aside, you can see my dilemma. The shape on the left is how my body fits into my current off-the-rack corset. The bust is flattened and it doesn't even touch my underbust. It appears "historical" enough that any passerby will notice how antique-looking my figure is since the bust is thrust up and the shape is very rigid. It's very similar to a dress form, in fact, which is why fitting a dress to a conical corset is a breeze. What I lose, however, is a lot of definition between my bust and waist. I have an 8 inch difference between my bust and underbust. Aside from that, I am very tubular.  An overbust corset that lacks properly gusseted cups will actually make me larger in the ribcage because it skims over my ribs instead of fitting to them.
This is a CS-411 from Orchard Corsets. It is the only OTR corset under $100 that is short enough to accommodate my stumpy torso.
Most OTR overbusts are 15.5 inches long, which is too long for me to sit comfortably in. My underbust, however, is very comfy and provides good curve. It gives the same silhouette as my eBay corset, but without flattening my chest. It is shorter, closer-fitting, and allows me more freedom of movement. It's also really easy to hide under modern clothes. When I pair it with my favorite sports bra or balconette, it also controls jiggle without squishing.
"Soutien des seine par une brassière" (Support of the bosom by a bodice), circa 1900
Underbust corsets (and even bras) became popular right around the mid-1890s–an era I love and am planning on costuming for, so I do not feel like I am sacrificing a terrible amount of accuracy by wearing one. But the amount of…erm…forward protrusion seems solidly modern. Surely our ancestors would have looked upon such a silhouette as vulgar…or did they?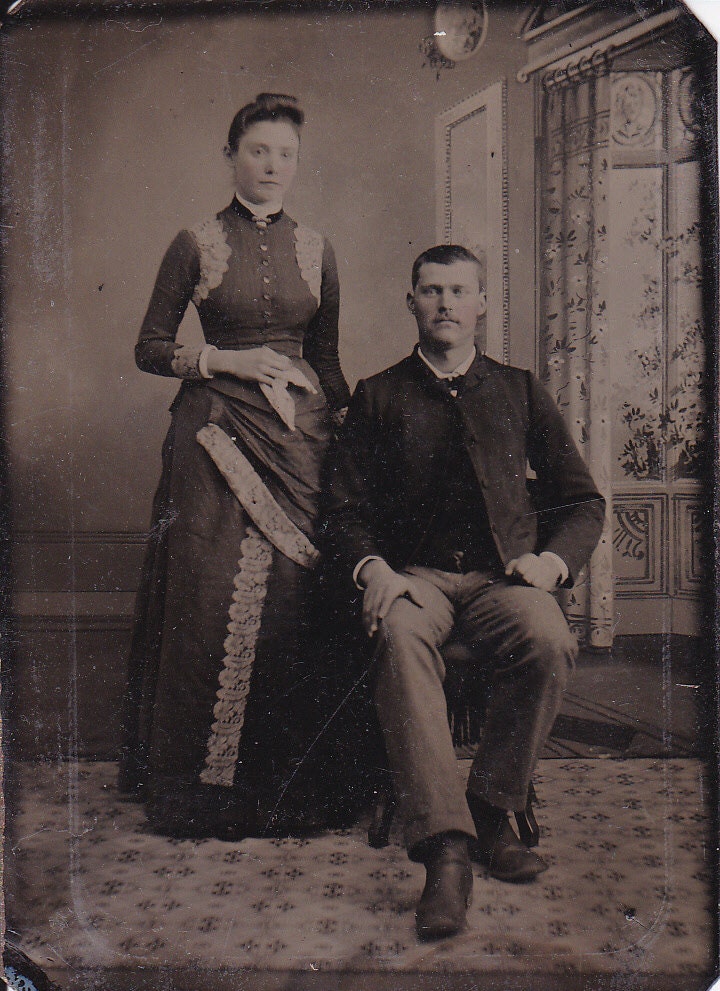 1880s Victorian Tintype Portrait of a Couple from Etsy
This lovely young lady is wearing a classic demi bust corset. You can see the outline of it through her dress. But notice how her corset and bodice are fitted around her breasts instead of straight over them.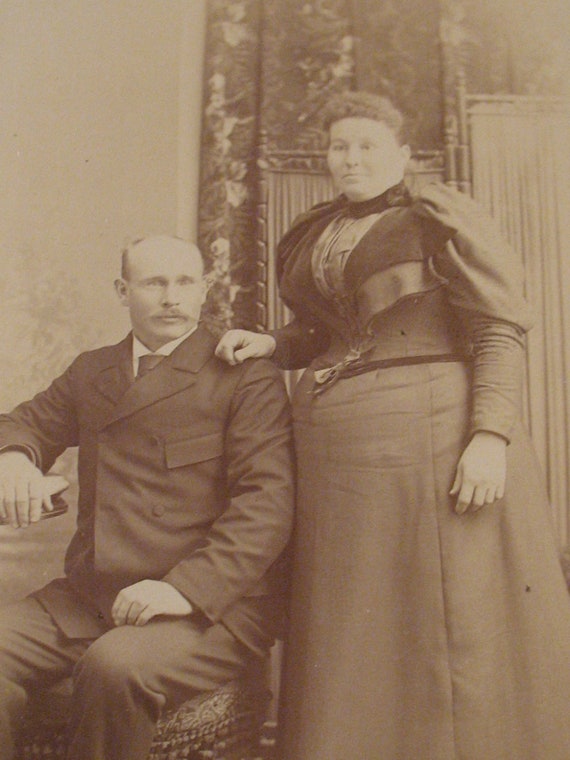 Portrait of a Couple, circa 1890s from Etsy
Sha-ZAM! Them curves! A very flexible busk at the front (possibly curved by design) gives this lady a slimmer line and more definition than a flat-front corset does.
The more I look, the more I find photos of women who are shaped like I am. And while picking through museum collections, there are even more crazy-curvy gowns:
Dinner Dress, circa 1878-80
Pastel Striped Silk Dress, circa 1885
Wedding Dress, circa 1889
The very first antique piece of clothing I ever purchased also has some pretty radical curves of her own:
Black Silk Bodice, circa 1889-95
This bodice measures 32 inches at the bust and 21 inches in the waist– a difference of 11 inches! Looks pretty wild, doesn't it? It's actually not too crazy. When I wear my underbust, my measurements are 37 bust, 26 waist– also 11 inches of difference! What makes this silhouette so dramatic is the extreme wasp waist fit which controls the ribs. Fashionable 1880s and 1890s corsets were rather tubular through the waist and flared dramatically at the bust, creating a "light bulb" shape.

What have I learned from all this?
Being a top-heavy Victorian is not a sin! Our ancestors came in all shapes and sizes. Many Victorian beauties corseted themselves at rather modest proportions, reducing their waists by only a few inches for a gentle, swooping curve. Others were very curvacious, both through corsets, padding, and genetics.
I'm not using that as an excuse to abandon my over-bust corsets forever to start prancing around in my push-up bra pretending it's historically accurate. Even those "light bulb" bodices are relatively smooth-fronted from the side and quite rigid. However, the realization that I can be top-heavy and still be acceptable gives me the confidence to work with what I have until I can procure something better.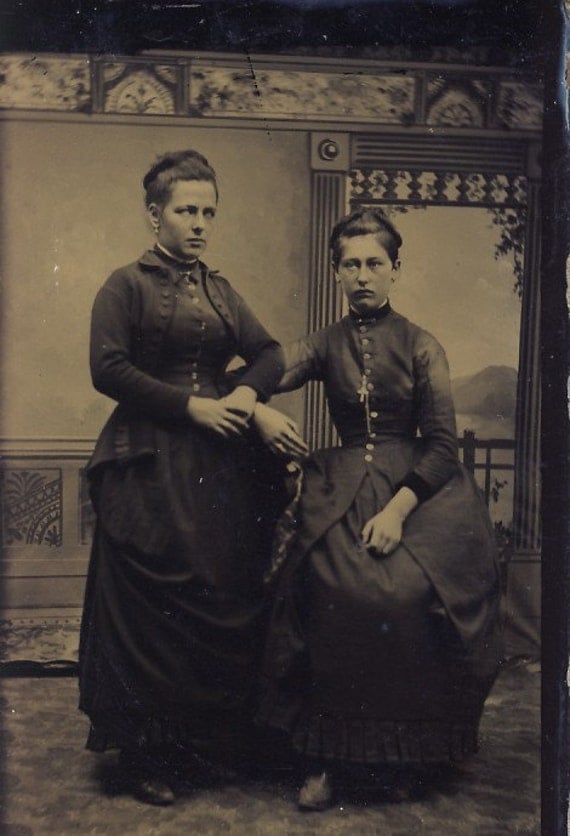 I am possessed by the spirit of possibility…
As for the "standard pattern problem," you just have to buckle down and learn some pattern manipulation. If you are worried about how a pattern will fit your body, make a mock-up. It's extra work and I hate doing it, but it saves so much misery later on! If you are concerned about how your alterations will affect the accuracy of the pattern, I recommend looking at photographs and extant garments rather than relying on fashion plates or paintings (for Victorian fashions. Earlier eras have other challenges). Pretty pictures are great for inspiration, but they are often idealized. Go for real instead!
American Corset, circa 1895
I'll take the one on the left, please!
If anyone knows where to buy a short, busty corset under $300, please share!
If you love a good treasure hunt, Ageless Patterns is a website filled with genuine Victorian patterns drafted directly from originals complete with original measurements! Looking through the website gives you a good idea of just how varied in size everyone was (and is). I've found many patterns that list my exact measurements. I'm curious to give them a try, but I have so many other projects right now that I don't need to keep starting new ones. I look forward to trying a pattern or two in the near future!