I'm not Dead nor Costuming Comatose…just more Penniless than Usual!

As embarrassing as it is to admit it, I am currently unemployed. Being such, I find that I have an abundance of time on my hands that any other normal, employed person would kill for. Plenty of time, therefore, to do whatever I please: sew, paint, collect, and the like. I have taken advantage of this time by painting a few more portrait miniatures and bolstering my small, but satisfying Etsy shops.
Vintage Renaissance style and antique Victorian jewelry for costumers, living history participants, collectors, and jewelry lovers, plus my OOAK historical handicrafts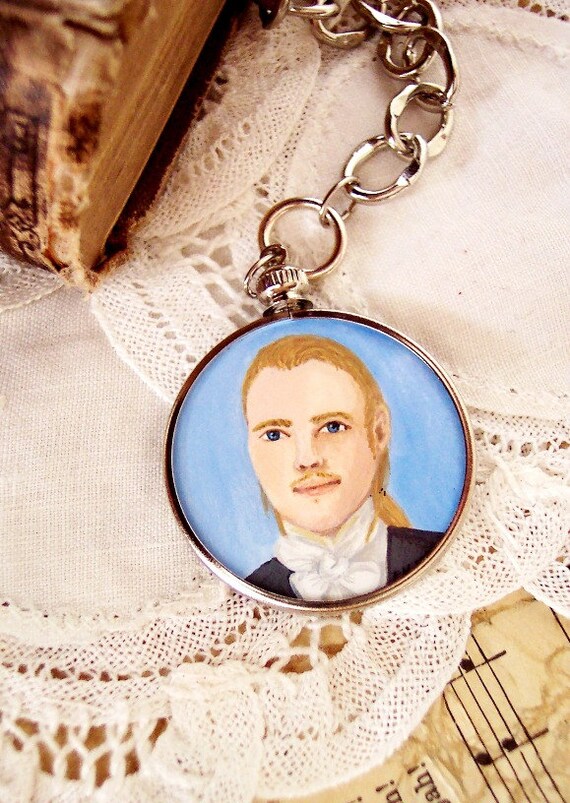 Raoul – Christine's Locket
A double-sided locket inspired by "The Phantom of the Opera"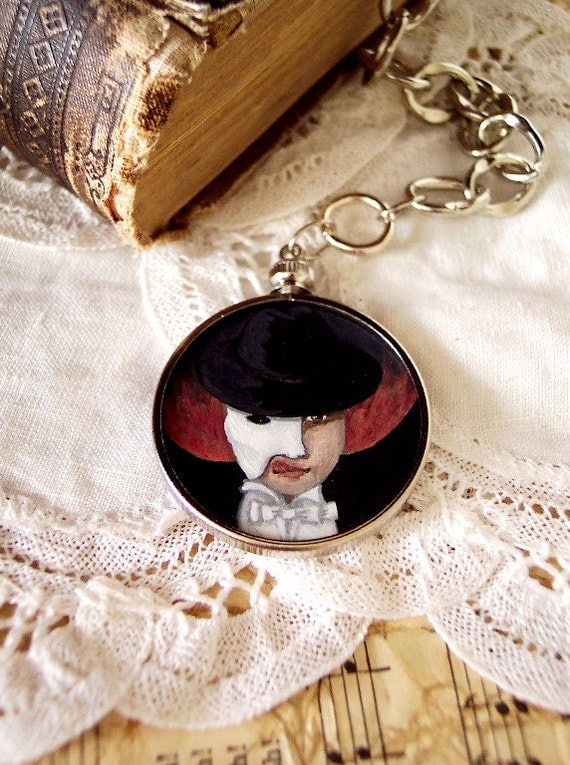 Erik, the Phantom – Christine's Locket
I've been filling the quiet house with a haunting sounds of the original 1986 cast recording, sewing along with it, doing dishes while singing, and finally being inspired to paint it!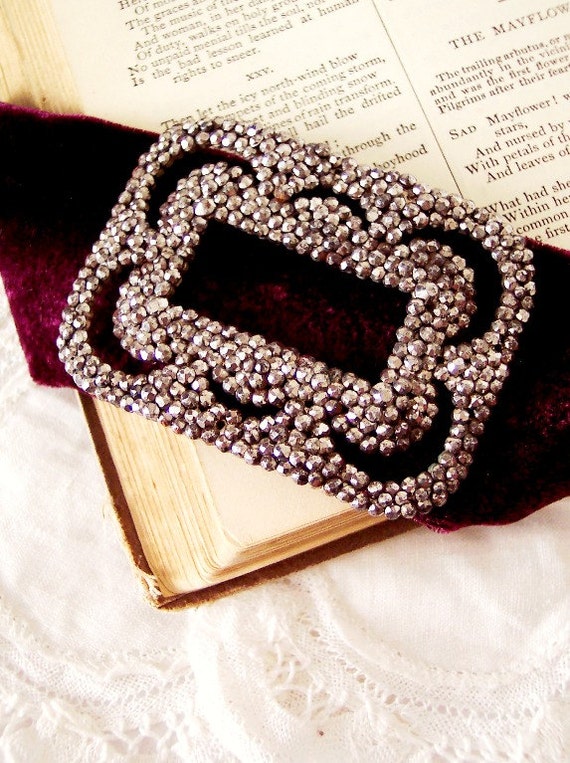 A Million Stars
Antique French Cut Steel Buckle in my Etsy shop: Tineseile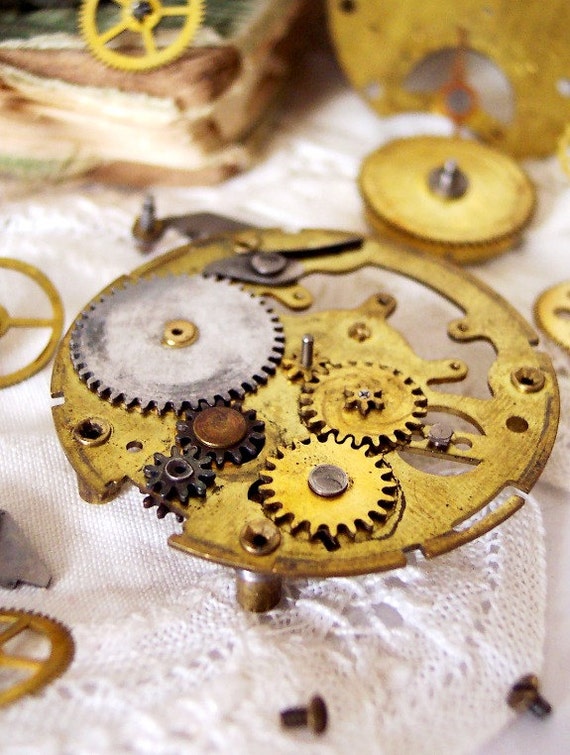 Vintage Pocket Watch Mechanism in my Etsy shop: Tineseile
Vintage jewelry, clothing, and kitsch from 1940-1980 (plus some interesting crafting supplies!)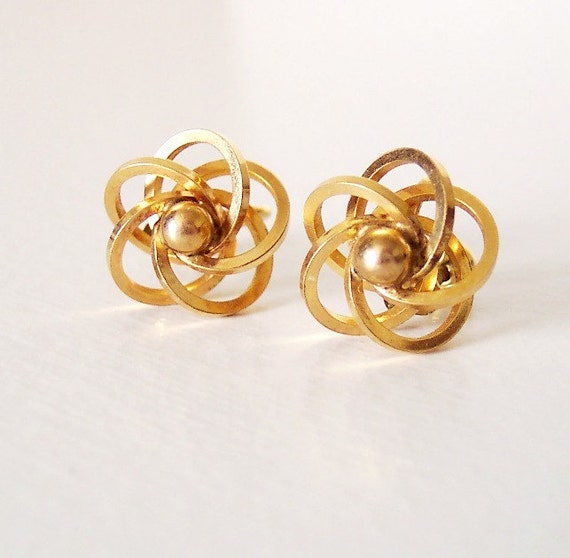 1950s Atomic Flower Earrings from my retro Etsy shop: Atomic Amelia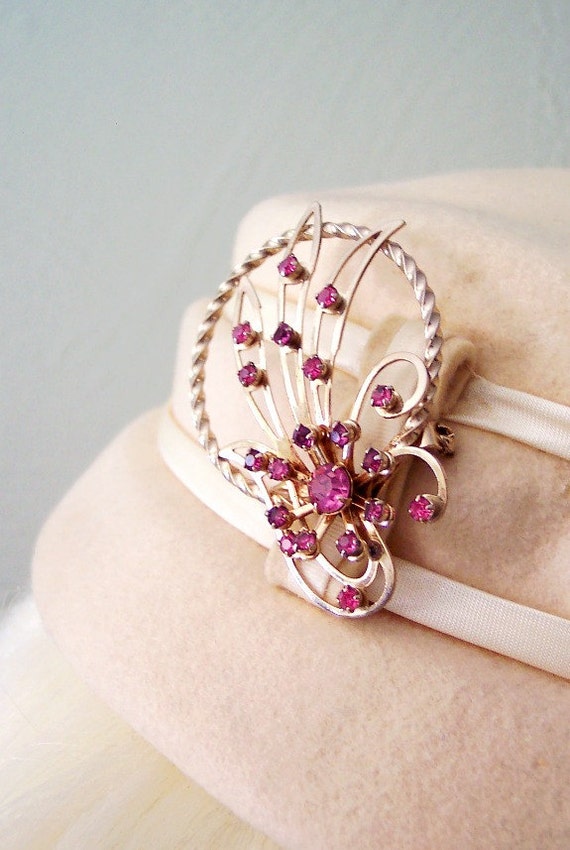 Retro Pin with Pink Purple Rhinestones from my retro Etsy shop: Atomic Amelia
It's been rather slow, mostly, I suspect, because like myself, everyone out there is struggling a little more than usual. If you find something you like, just enter PRAGMATIC in the code box at check-out for either of my shops and you'll get 10% off anything you desire! I usually don't like to use my blog as advertisement space, but my costuming and painting endeavors are funded solely on what I make on Etsy. Mama needs some new sewing machine needles and acrylics!
In reality, I have completed little of what I want to/should get done. I have an exciting project I've been plugging away at for over two months now, but I'm hardly as far through it as I should be. I'd drooled over Simplicity 4156 since high school. It's out of print now and horrendously expensive, but back in November, I managed to find a copy at a manageable price. Then I let it sit for two weeks, terrified of even unfolding it, afraid of soiling its rare, complex glory:
After reading an interview with the indomitable Andrea Schewe herself about this very pattern, I got the guts (or the gall) to finally dive into it–nevermind that it is the most complex pattern I have yet tackled alone! Here are a few various progress and construction photos:
My first toile. The first one I prematurely shortened and it didn't fit one bit! I have a "petite" torso, so most patterns usually need to have the distance between the bust and waist shortened. As later pictures show, it turns out the the bust on this pattern was actually already low enough, but the shoulder-to bust difference is what needed to be shortened.
The second toile. You might remember this photo thanks to this rant.
Surprisingly, I got the most "hate" mail I've ever gotten (indeed, probably the first quantifiable) about that post. Apparently, I am neither busty nor skilled enough for my problems to be worthwhile! However, I have dealt with both ill-fitting bodices and ill-intended messages before, and both were attended to as decorously as possible.
"Worthiness" of my bust-fitting issues aside, the construction of the bodice allowed me to add and subtract as needed easily (still not 100% satisfied, but I can at least close the front). This is a shot of my second toile that I have sliced and pinned in order to find out what pattern changed needed to be made. I didn't want to apply any alterations directly to the paper pattern since it's such a wonderful, rare addition to my collection!
After one last toile test, I felt comfortable enough to cut my fashion fabric. It's a cheap pink poly-something that cost $1 a yard at Walmart. Lovely hand feel, but as you can see, it's a little unruly. You can glimpse one altered bodice piece on the left that I cut out of white tissue paper so I could use it again in the future. The slate-blue piece is a skirt panel and just below it (and nearly as large)  is the balloon sleeve pattern!
Massive! I removed 6 inches after discovering they didn't drape well with my armscye alterations. They're still parachutes, though. Fabulous, fabulous parachutes!
Outer shell halfway complete. I couldn't find a velvet that was the right shade (though Linnie from Linnie Darling was kind enough to send me swatches), so I settled for an odd, but soft faux suede that Chris found for $3 at Jo Ann's. It's really thick, but it sews nicely.
Simplicity doesn't always print the clearest instructions, but I figured them out eventually! The collar pattern wrapped around the neck and closed at the side, but that left one side of the bodice unattached so it would need bias binding and snaps to be presentable. After sewing it, I realized it just wouldn't work for my neck, so I ripped it all out!
Using the original collar (which was fortunately marked with a center front and back), I drafted a center-closing collar like the one on my bright red 1890s blouse. This collar is very, very tall! Instead of using rigid boning, I cheated and used strips of commercial bias tape–which has a similar stiffness to horsehair canvas– and some *gasp!* iron-on adhesive to make soft vertical "bones" around the entire collar. It worked perfectly! I'm thinking about tacking the tips back for some added comfort and flair.

Right now, I'm working on the most complex part of the entire operation: those enormous sleeves:
BEHOLD! SLEEVE!
I decided to go with "Ol' Trusty," my favorite sleeve pattern, rather than the arrangement proposed by Simplicity 4156. There were too many interior seams in the original, but Ol' Trusty has only two pieces and mimics Victorian sleeves much better. I had to lower the height of the cuff, though. The pseudo-suede is just too thick to fit over the elbow comfortably. I'm not as enamored with the lengthened puff, but it will be much more comfortable!
One is already complete, but midway through the second one, my sewing machine went completely bonkers and now eats thread no matter what I do–like really eats it: the upper thread winds all around the bobbin housing. I've done everything from changing needles, to adjusting tension, to taking the bobbin case out, lint cleaning, re-winding the bobbin in every possible way, trying new thread, re-threading everything, different test fabrics…pretty much all the things that should fix it. Whatever the cause, it is now out of my range of expertise, so I might need to find a reputable sewing machine repair shop if I can hunt one down. I suspect that the timing may be off. I'm letting the machine "rest" for a while. It's amazing what a little time and a bit of fresh fiddling can fix!
Anyway, that's what's going in the Pragmatic workshop. I promise to get back to posting more regularly in the next week!