Turn a Frown into a Smile!
I have been lusting after an easy-to-wear Victorian event dress for years now. I wanted a dress that was simple, easy-wearing, and inexpensive– the Holy Grail of bustle era costuming! I don't have the time or money to buy a bustle pattern, but I have successfully used Simplicity 3723 to make dresses, so I thought it would be easy to whip up a dress in a few days for any last-minute spring events. I succeeded, but not in the way I wanted. You see, in my rush, I didn't take my time to make sure that the finished dress would fit me and guess what…it doesn't!
The same day I got the idea to make a bustle dress, I found the perfect fabrics right next to each other on the shelf! The main fabric was a polyester woven that's wonderfully drapey, but lightweight. It is a cool brown shot with threads of tan and olive and reminds me of smooth treebark, especially paired with the shimmery, deep green velour I found right next to it. I would not only have a bustle dress by noon the next day, but it would also be a Victorian dryad's dream dress!
My initial sketch. I decided I didn't like the front drape, so I got rid of it in favor of a single swag over the bustle.
I hate "wasting" expensive fabric on mock-ups, so I trusted my math and previous pattern alterations instead of making toiles: a huge, gigantic mistake! Or, in my case, a too-small, sausage-tube mistake. I thought I had the cat in the bag when I tried the bodice on without the sleeves, but as soon as I sewed the sleeves on, it became painfully obvious that while I had given myself enough room in the bust area proper, I had neglected to widen the area above it. It was not flattering. I would take a picture, but it is so intensely unflattering that even I am embarrassed by it. It's a shame because everywhere else fits so smoothly! There is no post-production cure for cutting the shoulders 2 inches too small, though, so after letting out the seams as far as I could, I made the agonizing realization that this dress would never ever not-in-a-million-years fit me.
I will admit, I was disappointed. Really disappointed. Bitter, even. It was a rough night that no amount of chocolate and fried food could make better. After being so excited about how well the project had been going, finding out I couldn't even wear the dress was a major blow to my confidence. I had put all this effort into making a dress that I actually was really, really looking forward to wearing, but I could not. What do you do with something you can't use, but love? I can put it away in my closet with all my other ill-fitting clothes that I love but can't wear. However, that just seems so cruel and I'd promised myself to stop keeping things I can't wear. The other option–throwing it away– hurt too much. Tossing all of that time, materials, and joy into the garbage is not an option!
Instead, I am hoping that someone out there is willing to give this dress a chance. I put it on my dress form and it looked so lovely, I snapped a few pictures and decided it deserved a new home. The listing for it is up on Etsy right now, so if you happen to be a 35-26-35+ gal with 16 inch or smaller shoulders, I know a pretty project dress in need of a friend like you!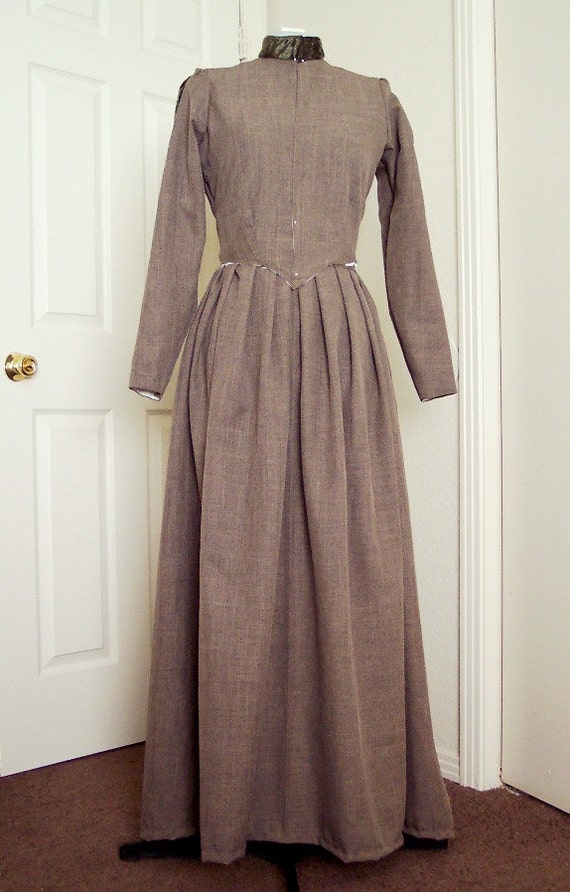 Front
Currently plain, but a perfect blank canvas for trims!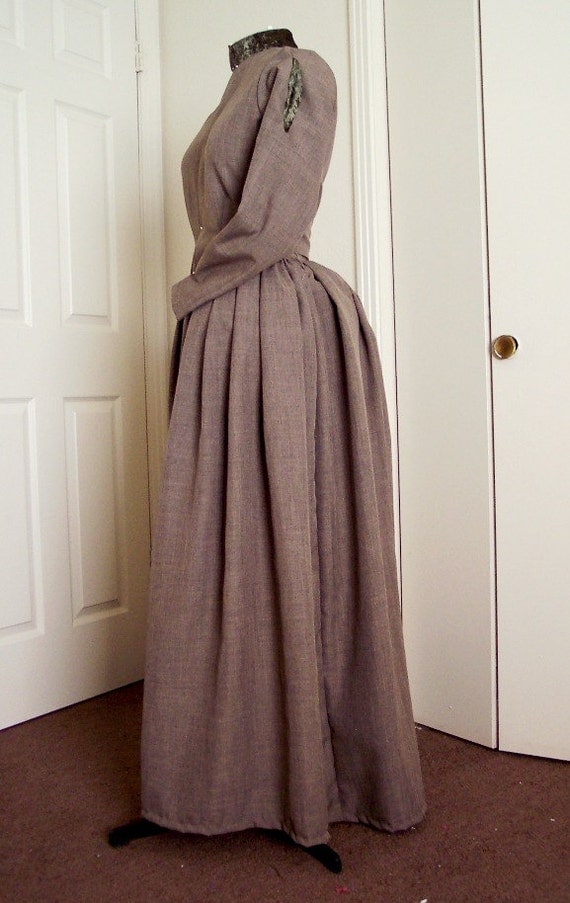 Side
This is how the skirt looks with a small pillow bustle. The skirt can also be worn without a bustle for a small train–perfect for an early 1890s look!
The dress is currently listed at $28 (plus shipping), which covers that cost of the fabric that went into the dress (I'm not a professional seamstress, so I don't comfortable charging for my time.). It is pretty much complete except for closures, the bottom edge of the bodice, and any trimming. For a little extra, I'm also willing to finish the dress for someone who wants it, but doesn't have the time to do it themselves.
Hopefully my failure can be someone's success! :)