Freezes, Failures, and Fun Times!
Once again, November rolled around, bringing with it the panic that I had absolutely nothing to wear to the DFW Costumers Guild's Georgian picnic! I, like so many, fall into the "new event, new dress!" frenzy. This is frequently– nay, inescapably–accompanied by extreme procrastination. Sure, you know about the event months in advance, but sewing for it? Pffft! If your dress isn't still in pieces at 2 am the night before the event, you are a better person than I!
As an added bonus, this year's weather decided that it had been too generous last year (temperatures had hovered in the upper 70s) and we deserved to be punished for our indulgences. The forecast called for wind, rain, fog, clouds, and freezing temperatures. Were we deterred? Almost. Did we sway? Heck no! We thrive on challenges!
I decided to give myself even more of a hard time by choosing to make Regency outfits for Chris and I. Neither of us are really built for the era, but I had been meaning to give Simplicity 4055 a try after picking it up during the 99 cent pattern sale. Regency isn't exactly known for being cold-hardy, either, but I already had the sheet to make the dress, so it was pretty much decided.
My original plan was to make Chris a tailcoat. It's the signature garment for Regency men, and is high-cut in front with long, swooping tails that reach the knees in the back. He'd worn breeches without complaint last year, so I felt that he shouldn't have to wear them again this year, especially in light of the poor forecast. I decided to attempt recreating this fashion plate for him:
Classic regency, but with loose trousers. Lots of Regency trousers tend to look like 1980s leather leggings that would make even David Bowie a tad self conscious.
Jenni of Historically Dressed was similarly inspired by this handsome design. The classic blue tailcoat was just what Chris needed to look the part of a Regency picnicker. I thought I could easily make the perfect tailcoat out of McCalls 7003: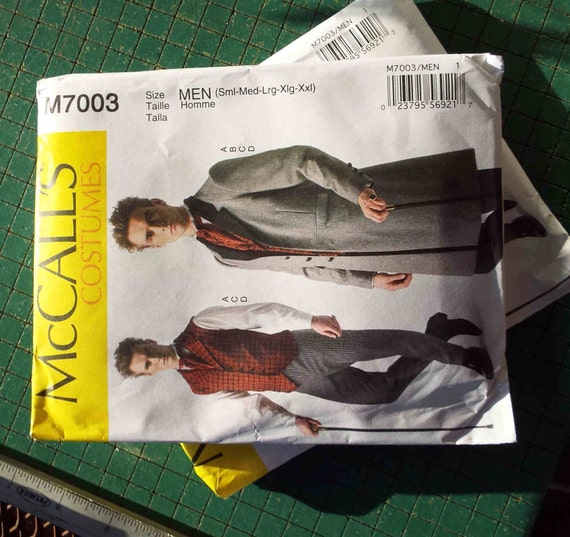 An easy job, right? Just cut away the front panel and leave off the pockets.
Nope, nope. and nope. The instructions are easy to follow, but it's made of way more pieces than it needs thanks to the waist-seam design. I thought the waist seam would come in handy when determining where to cut the coat front, but it turns out that it was way too high on Chris. Unfortunately, I didn't want to bother him with pin-filled hours of fitting time, so I wung it. As always, bad plan. I made an XXL because Chris is a size 52 and all of his coats are too short in the sleeves and bind across his thick, wide shoulders. The "finished" coat was, shockingly, too large in the shoulders and too long in the sleeves:
Taken Friday night after I finished the waistcoat. I was hoping I could pin the coat into submission, but there was no saving it. *sigh* Such a waste…
While it did look very close to the inspiration drawing–including the too-long sleeves and puff shoulders– it just didn't flatter him at all! In addition, my cotton duck didn't want to play nice with the lining and I accidentally ironed one corner of the velvet. So, basically, the coat was a fail. I'd wasted four days on it, so I was deep into Wednesday with absolutely nothing to show for it! Humph!
I toyed with the idea of using this tutorial to fudge a tailcoat out of a suit coat and even bought a jacket to try it out on, but never got around to it (I plan to try it out later). Instead, Chris and I shifted gears. He was never crazy about the tailcoat idea anyhow and he was going to need his heavy wool coat. It just so happened that right next to the blue tailcoat fashion plate on Historically Dressed there is a fashion plate of a jaunty gent wearing a big brown coat, sans tailcoat underneath! Perfect.
Fashion Plate, circa 1813
Bonus points for the waistcoat matching my dress fabric!

I returned to my trusty ol' Simplicity 4923's vest pattern and just chopped it off at the waistline marking. I made a size XL/50 (the largest size Simplicity patterns for in men's), and ended up having to add an extra two inches on each side to fit around his arms. The pattern actually runs a bit small, which is unusual for modern costume patterns from the Big 3. The good news is the waistcoat will pretty much carry through the majority of the 19th century. Men's clothes became pretty standardized in the 19th century and the coat/waistcoat/trousers combo has remained with us ever since. I love multitasking pieces!
To add a bit of bling, I made him a "watch fob" out of some charms I got at the Lobby of Hobbies for half price. He doesn't actually have a watch to attach it to, but the trousers we found at the thrift shop had a fob pocket, so I couldn't resist. It was fashionable to have fob charms in the Regency era and poorer folks wishing to imitate richer folks would sometimes wear watch fobs without a watch attached to them. Historical posers? I am all about historical posing! Especially when the result looks so darn fancy:
Dapper photo courtesy of Jen from Festive Attyre.
Christopher's Regency Outfit Breakdown
2 yards striped cotton fabric – $4, Walmart
2 yards cotton muslin for lining – $??, remnant of mysterious origins
2 covered button kits – $4.98, Hobby Lobby
Creamy cotton dress shirt – $3.99, Thrift Town
Light khaki trousers – $3.99, Thrift Town
Suspenders – $1.99, Thrift Town
Gauze scarf for cravat – $5, Walmart
Fob charms – $5.76, Hobby Lobby
Felt top hat – $22.39, eBay
Total: $52.10
 Friday night is a blur, but I did get my dress done in time! I used Simplicity 4055, which is a commercialized version of a Sense and Sensibility pattern. Remember when I said Regency isn't the best suited for my body? Most of that stems from the fact that I have a very low set bust and the ideal Regency bustline was almost at shoulder level!
Fashion Plate, circa 1813
Even stays only bring me up to the height which most women achieve with just a regular bra. You can modify the dress pattern to fit a modern bustline, but as low as my bustline is, the dress looked much more Edwardian than Regency and would require way too many pattern tweaks to fit right. So, to get the girls up to an acceptably shelf-like position, I sliced and diced a modern balconette bra and used my underbust corset to push everything up.
I felt like this lady:
Fashion Plate, circa 1802
 The sensation of presenting two grapefruits on a platter means you're doing it right, and once I hoisted everything up as high as it could physically go, I only needed to add two inches to the bottom of the bodice front to get it to fit.
Now, I've heard Simplicity 4055 View B described as a "Regency turtleneck." That's an uncannily apt description. Even after shaving an inch off the neckline, when I pull the drawstring up to gather the bodice, the neckline rises to my collarbone. I opted to forgo the waistline drawstring in favor of gathering, which gave me a little more control over how the fabric lay over the bust.
Photo courtesy of Festive Attyre
I used a very worn second-hand sheet for the fashion fabric. The lining fabric is actually nicer than the fashion fabric, yet I loved the stripe and drape of the ratty old sheet. It was labelled as a full size sheet by the thrift shop, but it turns out it was only a twin! Despite the shortage of fabric and one-way design, I was able to squeeze the pattern into it. I ended up having to sew a seam in the center front since I couldn't cut the bodice on the fold. Thankfully, the gathers hide it. I also set the sleeves in "backwards." When I sewed them together, they ended up (whether by design or my poor sewing) with a slight curve down the seamed side. If I put them on the way I was supposed to, the sleeves curved backward! So, I just flipped them, and it seems to be working just fine. Otherwise, the pattern was very straight forward. It goes together quickly. I got mine done in about five hours after I put my mind to it.
I accessorized with a string of coral beads, a vintage velvet beret, a shawl made from two Walmart scarves sewn together (inspired by Jen's Regency Shawl Hack), vintage gloves, and leather kitten heels I found at Goodwill.
I also pinned the portrait miniature I painted of Christopher in his 1730s outfit from last year's picnic to my dress using a straight pin (and didn't get poked once!):
Photo courtesy of Festive Attyre
To keep out the chill, I borrowed Jay's idea for making cloaks out of polar fleece and made myself and Becky slapdash capelets. Not the most attractive of garments, but they definitely did their job!
While it didn't rain on our picnic, it was overcast and windy and everyone was huddled up in coats, shawls, cloaks, and spencers.
Photo courtesy of Festive Attyre
Photo courtesy of Festive Attyre
Photo courtesy of Festive Attyre
Still, we had a good time and when we finally grew tired of the chill, we trooped over to La Madeline for coffee, quiches, and warmth!
I decided to get a few more pictures of my outfit later in less-chill surroundings a home with tamer hair and a bit of makeup:
Lizzie's Regency Outfit Breakdown
Worn out full/twin size striped poly/cotton sheet – $1.99, Thrift Town
White cotton sheet for lining – $1.99, Thrift Town
Linen tape for drawstring – $1.99, Hobby Lobby
1 yard polar fleece – $2.97, Walmart
2 scarves for shawl – $10, Walmart
Coral necklace – $6.50, eBay
Vintage velvet beret – $4.99, Thrift Town
Vintage embroidered gloves – $3, Veteran's Thrift Store
Leather kitten heels – $7.99, Goodwill
Total: $39.43
On an entirely different note, I got a job! Huzzah!
I am going to be working at the city library part-time as an aid. I start training today, and I'm so nervous I can barely type! My father jokingly called it my "Hobby Lobby fund." I don't know my schedule yet, so I don't know how much it will cut into my blogging time. If things get sparse around here, just know that I am busy encouraging literacy elsewhere!