For 10 long sewing-skill-and-weight-gaining years, I had been beguiled by bake-shop beauty Simplicity 4244, the infamous "hip-croissant" Victorian wedding dress pattern: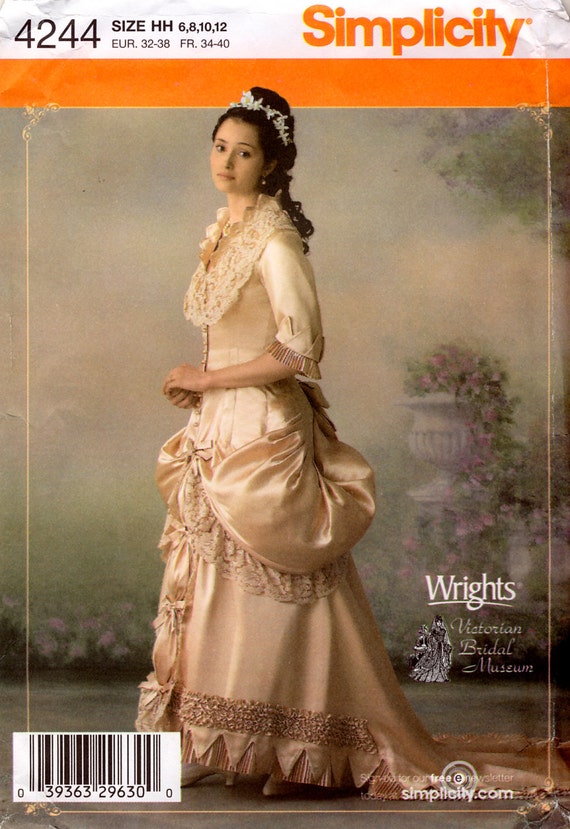 "You promised the bread jokes were over…"
I LIED.
While the build-up took nearly a decade, the actual sewing itself took only about four weeks to make a double batch of dresses: one week to work up the gumption to cut the pattern, one week to fiddle with the mockup, one week to sew the ballgown for Tiaras and Toe Shoes, one week to turn the mock-up into a real dress for Bustles and Bullets the following weekend.
Though it was begun second, I finished the ballgown version first:
Simplicity 4244 Evening Gown Cost Breakdown
8.4 yards rayon/nylon fabric – $27.66, Hancock Fabrics
1 king sized grey cotton sheet (dress lining) – $4.99, Thrift Town
1 twin size polyester sheet (bustle lining) – $1.99, Thrift Town
1 spool thread – $2.49, Walmart
17 hooks and eyes – $3, Hobby Lobby
Total: $40.13
Yes, my tiara is on crooked. I took these pictures on a whim 20 minutes before I had to transform back into my regular librarian form for work, so my hair is a mess, too. Don't care! Still fabulous! If I were real royalty, I might just start a jaunty-tiara trend.
I fondly think of it as my "Ariel" dress because halfway through sewing it together, I realized the shimmery–and impossible to sew– material is similar to Ariel's modern Disney princess dress:
2013 Princess Ariel Redesign
I didn't really have time to really roll with the theme, but I did give a little nod to her with my mermaid-tail bustle:
The bustled train and pleated chevrons are the same fabric as the body of the dress. The right side used for the accents is very shimmery and iridescent. It's very pretty, but I thought a whole gown of it would be kind of overwhelming and not so historical looking. So for the main body, I used the "wrong" side of the fabric which is lighter and not so shiny.
You may be getting the feeling that there's something else different about this dress. It seems to be missing something….
Oh! I know! To make a ballgown version, I left off the sleeves:
To slow off my toned-by-ten-hours-of-typing-a-day upper arms, of course. Why pretend to look rich if you can't flaunt your sedentary lifestyle?

Fashion Plate, 1880
Well, that is true: my version is missing the sleeves of the original, but that's not quite what's bothering you?
Hmmmm…
Is it the plainness of the design? I did leave off all the trimmings except for the pleated chevrons on the skirt. Indeed, my ballgown is rather plain compared to the original pattern design and other fancy gowns of the era. I started it only a week before the event (a bad habit I've developed, I know!), so I didn't get to add all the extra bits that would really make it ball-worthy. I did try to glam it up with a glittering golden floral spray I found for a steal on eBay:
Jealous? Don't be! Get one for yourself (or two) here!
I always expect eBay jewelry to be a little less pretty in person than the professional photos show, but this floral spray is just as gorgeous in person as it is in the picture.
Besides, I didn't want my dress to outshine my glorious eBay tiara!
If you need a princess crown on a pauper's budget, this tiara was only $25 with shipping!
It's good quality and the seller I purchased from is in the US, so if you live in the States and need a tiara quick (like I did), I highly recommend this shop.
What? I'm STILL missing something?!
Well, let's look at the original again: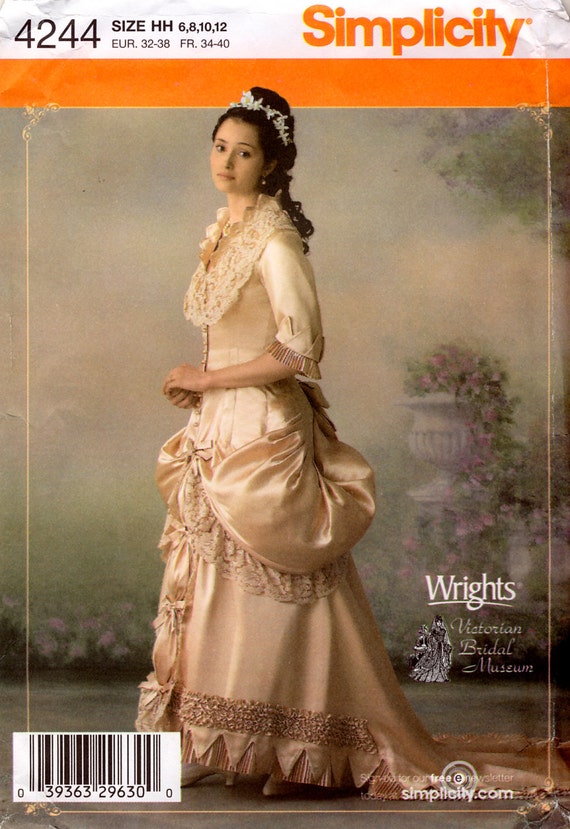 Ah! I've got it now! You've noticed that my ballgown is COMPLETELY GLUTEN FREE!
No breakfast foods in sight! It is a dinner dress, after all.

I am aware of the letdown this must be. After all, the whole reason everyone is so fascinated by this pattern in the first place is the handbang-sized puffs ballooning out of the side, but I SWEAR I have an excuse!
Simplicity 4244 calls for 14 yards of fabric to make according to the directions (not including all the bias binding and pleated trim). The shimmery teal fabric I chose was one of the bargain bin closeout bolts at Hancock Fabrics (*weeps silently*), so I only had 8.4 yards to work with. As I revealed in my post about constructing this gown, the pannier swags at the hips are formed by two very long polonaised bodice pieces:
Pattern pieces #1, #1A, and #3 become the swags.
With only 2/3 the fabric I needed to make the pattern as designed, I had to choose between these fabric-hogging swags and the full, luscious bustled train I desired. For the sake of my time, sanity, and design sense, I chose the full bustle.
My sacrifice (*more silent weeping*) does have an upside besides a swanky mermaid bustle: it shows the most basic structure of Simplicity 4244 and how easily you can change the design to suit you or your fabric. To do away with the overlay, I just cut pieces #4, #5, and #6 (the bodice lining, front and side skirt pieces) as one. That made the full front without the need for the polonaise layer over the top.
It also proved that the identifiably Natural Form Era lines of the dress are not dependent on the panniers. Since the pattern pieces themselves are historically accurate, the Victorian framework is already there for you to work with.
Lessons learned: The bare minimum amount of 45″ wide yardage to make an 1870s dress from this pattern is about 8 yards, and the design is not dependent on the panniers for the historical look.
Also, every women needs a tiara!

Rest assured, friends, I did not neglect the fluffy polonaise croissants entirely.
Baking bread and latent ideas are two things you don't want to neglect.

Before I made the ballgown, I made a mock-up. Since my initial half mock-up for this dress had gone so well, I decided to make my full mock-up a wearable mock-up. A wearable mock-up is one that you finish just like a regular gown, essentially a full garment. It was still an experiment, though, so I didn't want to waste money on fabric if it wasn't going to work. I chose a cheap $1-a-yard plaid cotton gauze from Walmart and used a king-sized cotton sheet for lining. Since I had the full 14 yards–well, 13.75 yards as there were some mangled sections– of fabric, I was able to make the polonaised front sections and even have enough fabric left for long sleeves and pleated trim around the hem!
BUT…
I did not make the croissants as directed!
I guess you could say that instead of full, fluffy French croissants, I made Pillsbury crescent rolls. I pleated the polonaise down the entire length of the side and skipped the rear swag entirely.
Here is the result:
There she is!
I know, no delicious hip pastries, but the construction of the front remains nearly the same. The bottom of the polonaise front "floats" over the lining beneath:
Since I made the mock-up with the ballgown in mind, the square neckline is a little too…ahem!…sexy for respectable daywear, especially for a old married missus like m'self! So I accessorized it with a fabulous micro-pleated cotton collar I hacked directly off an old button front blouse I'd found at Goodwill three days prior. I thought the shirt was hideous, but something in my mind nagged me to take it home. Glad I listened! The collar slips over my head like a scarf and is just the right size to keep me looking proper:
The bows were made from the very last bit of ribbon left over from my 1850s bonnet. I used this amazing bow tutorial from The Ribbon Retreat to make the two big bows.
My dress form is a little wonky and no where near my shape, so the fit of the bodice and booty isn't the greatest on her, but you get the idea. This dress isn't designed to be worn over a full bustle. Instead, the bustle ties inside and my ancient tablecloth bum pad give it the right amount of fullness. Despite reducing the size of the train, it still ended up rather sizable for a walking dress. I can walk in it, though, and walk I did– around the Fort Worth Cowgirl Museum with the DFW Costumer's Guild!
Photo by Jen Thompson of Festive Attyre
(with some help from an obliging gentleman in the lobby!)
Photo by Jen Thompson of Festive Attyre
Photo by Jen Thompson of Festive Attyre
I love this picture because I actually wrangled my hair into a passably suitable hairstyle despite being hair illiterate!

Photo by Jen Thompson of Festive Attyre
We had a wonderful time together dressed as 1880s city folk and turn-of-the-century country cowgirls! As you can see, I was the "oldest" of the bunch, just eking over the 1880 mark. There are more photos of our outing in Jen's Cowgirl Museum album on Flickr and if you'd like to play dress up with us, check out the DFW Costumer's Guild website for a list of events!
Simplicity 4244 Plaid Day Dress Cost Breakdown:
14 yards of plaid cotton gauze – $14, Walmart
1 king sized sheet – $4.99, Thirft Town
Hooks and eyes – $2, Hobby Lobby
1 nearly-full spool of thread – $2.49, Walmart
Ruffle collar stolen from blouse – $4.29, Goodwill
Navy ribbon – $4.75, eBay
Total: $32.52
Alrighty! Review time!
Let's take off the rose colored glasses and get going.
This gown is tricky for me to review because while all the techniques and the pattern pieces themselves are all fairly straight forward, the sheer amount of fabric and the fitting requirements make it unsuitable for a beginner.
If you forgo the trimming, as I did, I think a confident (or stubborn) intermediate seamstress could tackle this project with good results. I consider myself an intermediate seamstress, and I was challenged, but not frustrated, by this pattern. I would NOT try to make a ball gown out of it in a week as I did! Take your time and go slowly. You will need to be willing to work with your body in order to get the smooth fit over the torso required to make this pattern shine, so be prepared to practice making lots of darts! There is a fair amount of hand finishing: facing the neckline, sewing hooks and eyes or buttons, and sewing on the bows. If you choose to do a proper hand-sewn hem instead of a machined hem, be prepared to spend a few hours to sew the 100+ inch length (depending on your train). The large pattern pieces require lots of space to cut and assemble and can be unwieldy around the sewing machine. However, I feel the work is well worth the result you can get. The accuracy is spectacular and, as a base, the pattern offers plenty of opportunities for customization.
I had fun making this pattern and will likely make it again in the future–perhaps this time with all the carbs included!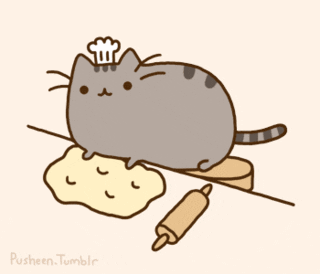 _______
Part I: Researching Simplicity 4244
Part II: Making Simplicity 4244
______
Sadly, this pattern is Out of Print (OOP), so it can only be purchased through private sales. If you want a copy, check online auction and craft sites. I think it's a good candidate for a re-issue by Simplicity. Maybe if enough of us "Conquer the Croissants," they'll consider re-printing it so everyone can more easily get a copy to play with!