Hairstyling is not my strong point, but over the years, I have slowly figured out a few tricks to make historical hairstyles work for me. When I made my Game of Thrones dress, I knew I would need a hairstyle to go with it. McCalls 6940 is based on Kings Landing fashions from the earlier seasons of the show. The hairstyles varied depending on the character wearing it (personality, prestige, all that jazz), but there were some basic features that seemed fairly universal: half-up, braided, and loose waves.
Cersei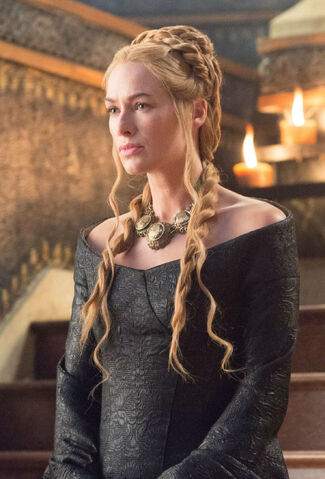 Cersei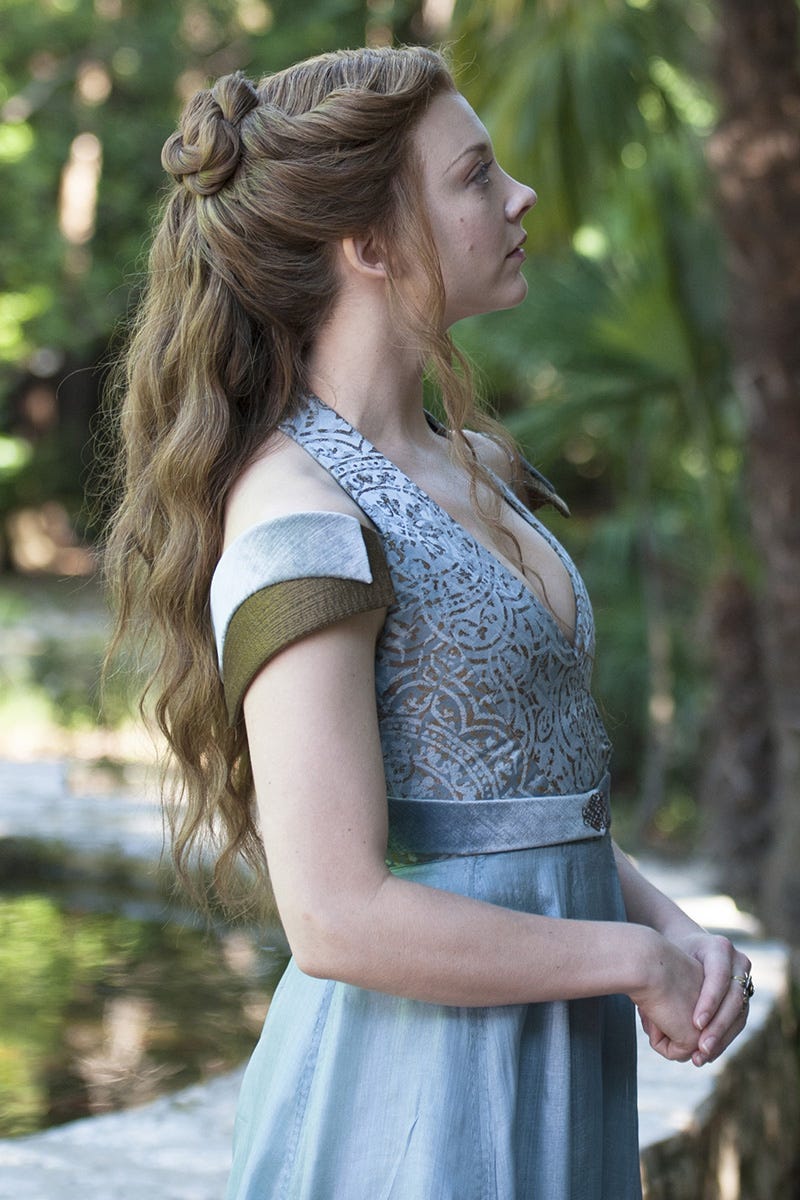 Margaery
Margaery
Sansa
Sansa
As luck would have it, the styles aren't too far off from an era I've already tackled hair for: the 1870s!
My basic 1870s hairstyle. You can click here for the tutorial.
In fact, here's an original 1870s hairstyle "how to" that, if you stopped before the last step and just left the hair loose in back, would make a perfect Westeros style:
As you can see in the original 1870s tutorial above, hairpieces are almost always necessary to get the right look, even if you have fairly long hair. The secret to costume-perfect hair is the magical "curl loaf."
For my Game of Thrones hairstyle, I wanted a very full look, a mix of Margaery's overabundant curls with Cersei's and Sansa's braided buns. Even though I have hair past my shoulders and my fab-o curl loaf, for a properly fantastic noblewoman's hair-do I needed MORE HAIR. My curl loaf is from from "Hair World by Jamie."  I usually buy from their eBay store because it's usually a few dollars cheaper, but they have a regular website, too. I was so pleased with the color and service that I ordered a matching clip-on ponytail from their eBay store. The clip is HUGE and secure, so it's easy to wear. I am pretty pleased with it!
RAWR!
To make the crescent bun shape, I use the clip sideways. I gathered it into a ponytail with ribbon and made two braids: only large, one small.
I have difficult hair to match because the roots are naturally much darker than my ends which are more reddish to boot. You can see what I mean in the pics below where my natural ends peek out from under the hairpiece. When I do a regular bun out of my natural hair, it looks almost fake because my ends are such a different color! I  match hairpieces to my roots for that very reason. It looks more natural that way. These two hairpieces are both #10s on the  HWBJ color chart and are a perfect match for my roots. My ends are closer to a #15.
Together with my curl loaf and just four bobby pins, I was able to create this hairstyle:
It looks complex, but it's deceptively simple! First, I put my hair half up. Then I clip the ponytail on sideways, bobby pin the braids how I like them, clip on the curl loaf to hide the ribbon in back, and I'm done! I made a little illustration chart to explain it visually:
I color coded it for enhanced clarity: Yellow is your natural hair, red is the clip-in ponytail, blue is the thick braid, green is the little braid, and hot pink is the curl loaf (which I made pink because it totally looks like a tiny brain in my drawing!).
When you make the ponytail on the hairpiece, use ribbon, not a hair-tie. Modern elastic hair-ties add a lot of thickness and spring and are very obvious/hard to hide. Ribbon lies smoothly and if you choose a raw silk one that is similar in color to the hair, it hides so much more easily! I've discovered that much of the struggle I have styling historical hair comes from overly-bulky elastic hair-ties. It's amazing how much difference styling with ribbon or twine can make!
This hairdo looks super complex, but it only takes about 15 minutes to do and is really easy to wear!
The ponytail is a bit heavy, but it doesn't pull or pinch my scalp, plus the braids can be rearranged in a variety of ways to change the look. If you don't have curly or wavy hair, curl your natural hair before putting on your hairpieces for extra volume or choose a straight hairpiece instead of a curled one.