Dresser-top Duchesses
I love dolls, especially fashion dolls. I love costuming them just as much as I like costuming myself! Dolls are one of the most ancient toys and have been made in just about every material possible. Before the 20th century, fashion dolls were made of wood covered in gesso (a thick, white paint) and were used less like little girl's playthings and more like mini mannequins that showed off the latest fashions, called "pandoras." Other dolls were made from cloth, like this rare 16th century pandora in Stockholm's Royal Armory with embroidered features and real human hair!
Pandora fashion doll, circa 1585-90
Today, fashion dolls have evolved. There are many types of fashion dolls made in a wide variety of hard materials like resin, thermoplastics, and porcelain. However, the fashion dolls made by Hally Levesque are made of meticulously sculpted fabric with delicately painted features, just like their antique counterparts! Hally's dolls have such a charming, friendly elegance about them and I fell in love with her Etsy shop the moment I found it! Every doll she creates is thoroughly researched and has a personality all her own. I am especially impressed with how perfectly scaled all of the trims and accessories are. Here are some of her stunning creations:
Anne (c. 1530)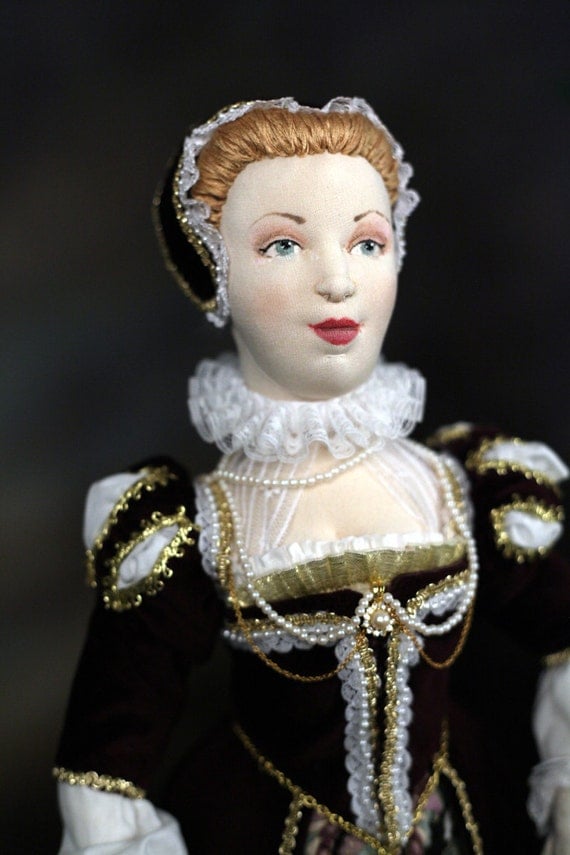 Margaret (c. 1560)
Hally doesn't limit herself to a single era, but rather explores the costumes of many centuries and countries. For example, the cloth doll that originally piqued her interest was a medieval princess in a book on cloth dollmaking. Her own version is quite stunningly dressed in a houppelande and imposing gold escoffion: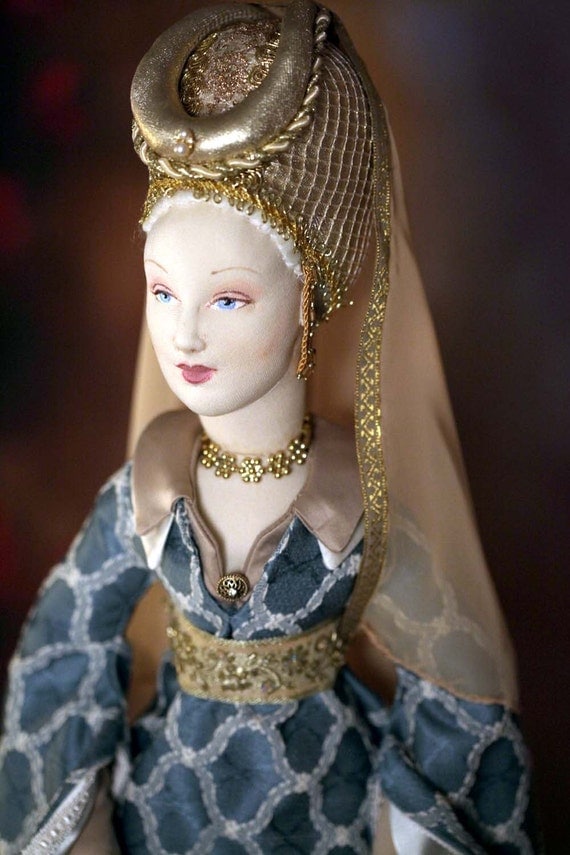 Felice (c. 1440)
And any Georgian woman would be envious of this lovely Georgian beauty out for a springtime stroll in her lovely polonaise: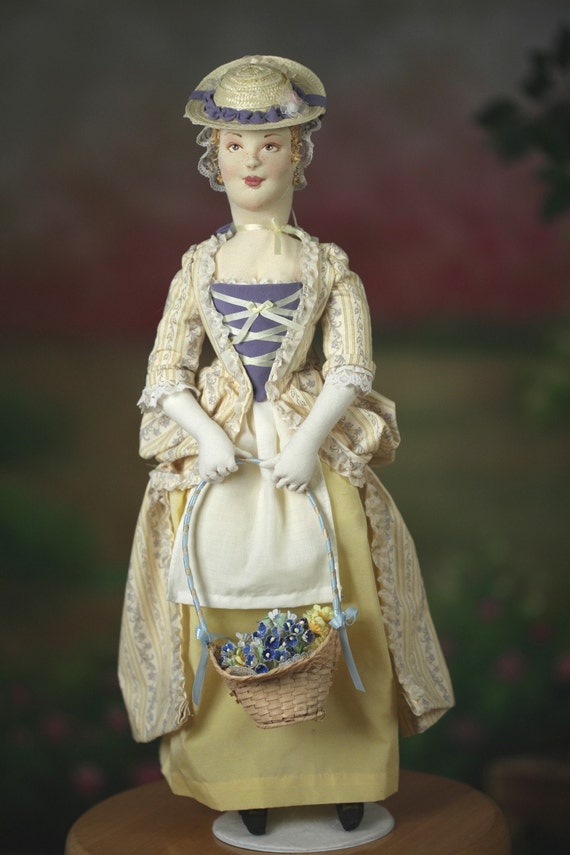 Susannah (c. 1779)
What impresses me most about all of Hally's dolls is that she takes the time to carefully research and design their outfits and personas. According to her online bio, just as a human-sized costume looks best over proper support garments, each of Hally's dolls are "costumed from the inside out (meaning that the undergarments are also constructed according to historical records)."
I was so dazzled by her level of skill and dedication, I asked her a few questions about her creative process and she was kind enough to oblige!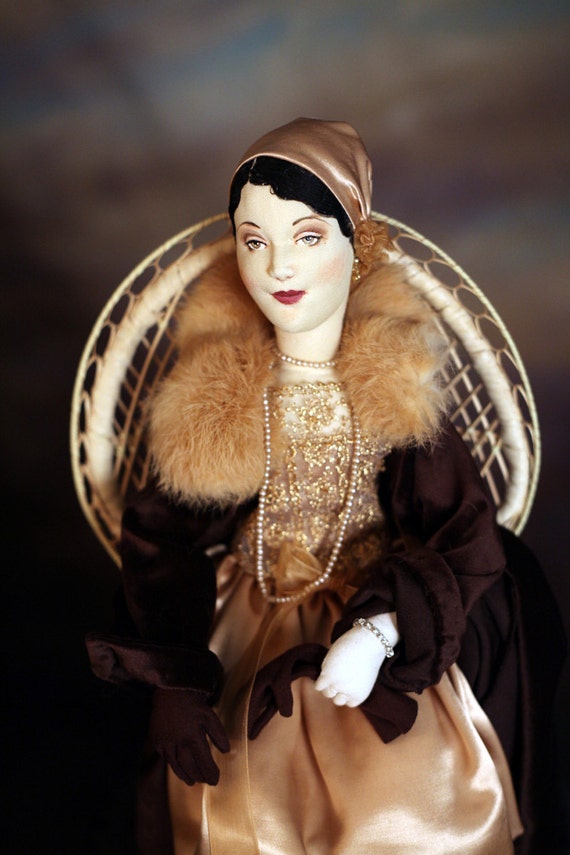 Maxine (c. 1928)
Question: What made you decide to focus on historical dolls? Do you have a favorite era of history that you like to draw from?
Hally Levesque: Well, I've always had a love of history – in fact, it was my favorite subject in high school. I believe it all began with reading my mother's collection of historical fiction novels by Jean Plaidy. I quickly became fascinated with British history and particularly the medieval and renaissance periods. In fact, I still can't get enough when it comes to reading about the romances and tragedies that plagued the royal houses of England – very few can outdo the Plantagenets and the Tudors on that score! My main passion; however, has been dolls and so it seemed perfectly natural for me to gravitate towards making dolls that represent my other interests. Besides being a history buff, I also enjoy sewing and was curious to find out how clothing from other periods was constructed and just what was going on under all that material!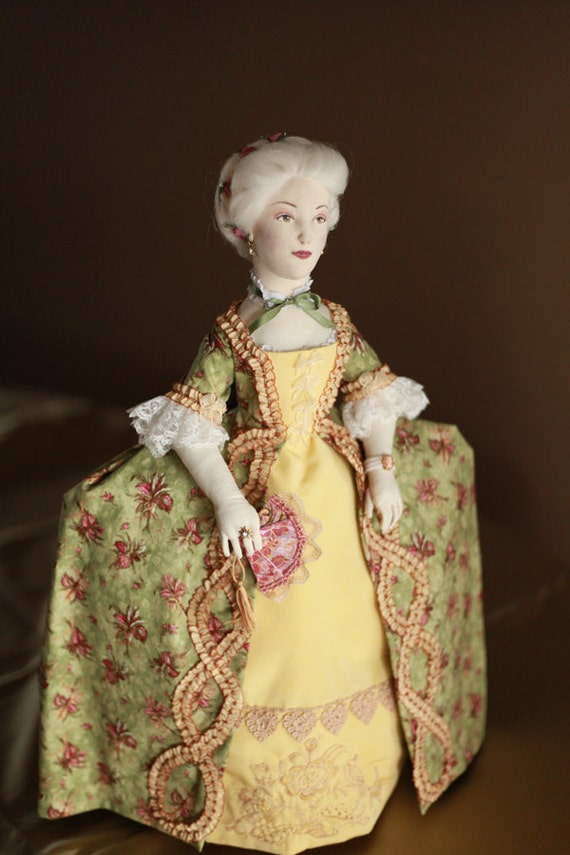 Marie Claire (c. 1755)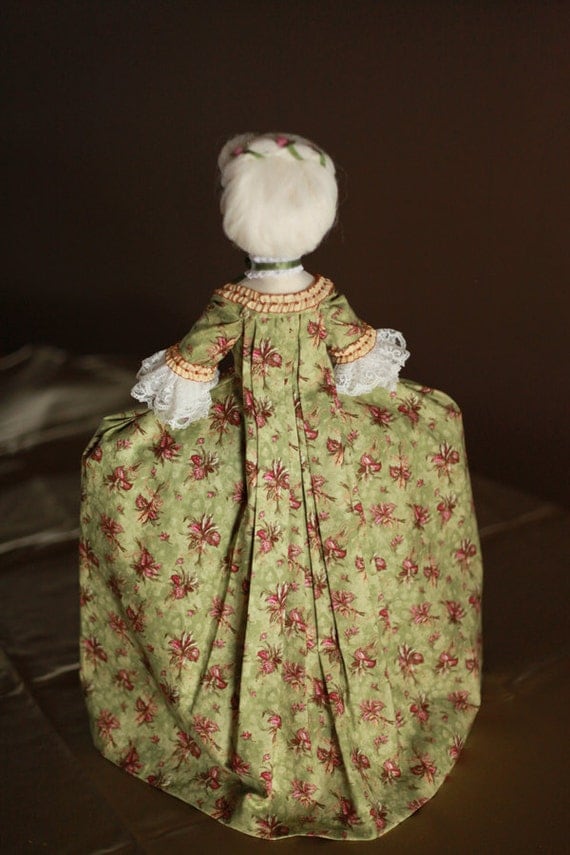 Question: I admit that I'm a "chaotic creator"– I usually follow my latest fancy wherever (or whenever) it goes, so I often find myself getting "lost" in projects: either I have too many at once or I get frustrated, burnt out, or just can't find the inspirational spark. How do you decide what you are going to make next and how do you stay the course?
Hally Levesque: I wish that I could say that it's easy for me to stay focused but it's not and I think that it comes with the territory of being a creative person. I get distracted all of the time. I am constantly inspired by other doll artists and there seems to be no end to the different types of dolls that I would like to make. Quite often ideas for other dolls will flow while I am working on a project and I have to allow that to happen. It's all part of the creative process. At one time I would finish one doll project before starting another, but now I have no problem with setting a project aside temporarily to start on something new that really intrigues me.
However, to avoid having a bunch of unfinished dolls waiting in the wings, I do make a deal with myself to the effect that it's okay for me to start another project providing that as soon as I get to a certain stage, I will go back and finish the other. For instance, I have started making an Elizabethan cloth doll and two mixed-media dolls (one's a pirate and the other I am making for a doll almanac that will be published later this year), but had to set them aside to make a medieval doll for submission to a doll challenge and to make some primitive-style cloth dolls for an arts festival. In the meantime, I am just beginning to play with ideas for a new series of dolls.
Now I've had to make a "deal" with myself that I can't do any more work on the new doll series until the mixed-media dolls are completed. As for the Elizabethan doll, she will probably have to wait a while longer. I've joked with my husband that sometimes I wish that I could clone myself so that I could bring to fruition all of the ideas for dolls that I've already started and the new ones that are still swimming around in my head.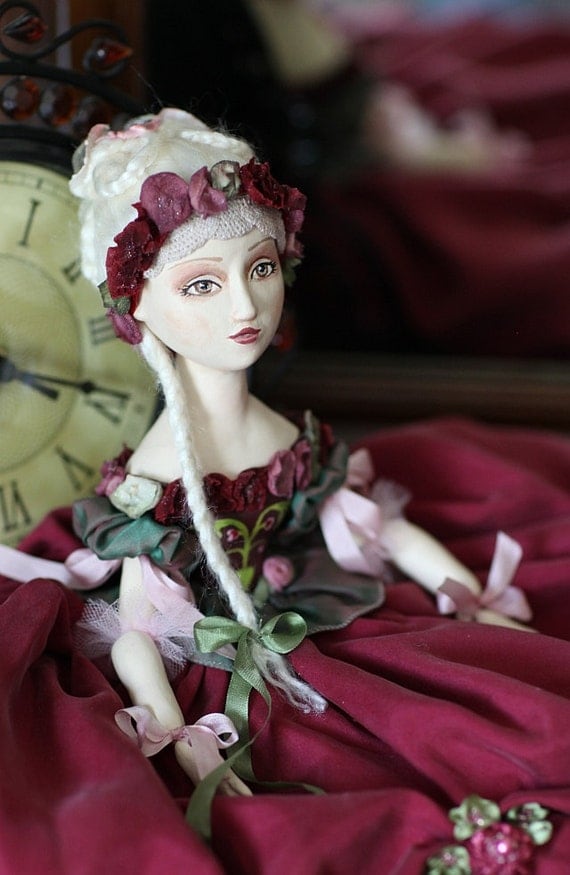 Tatiana – The Russian Ballerina
One of the hand-sculpted dolls from Hally Levesque's mixed-media series.
Question: Where do you get your inspiration from? Are there any books, websites, or techniques you recommend?
Hally Levesque: I get my inspiration mostly from historical illustrations and movies. I was fortunate in that I worked at a university with access to a vast library. Over the years I have accumulated a pile of information on historical costuming, but the majority of it has been photocopied (this was back before copyright became such a huge issue) and so sadly I don't have the names of the books from which they were taken. However, when it comes to making Tudor clothing there is an absolutely superb book called "The Tudor Tailor: Techniques and patterns for making historically accurate period clothing" by Ninya Makhaila and Jane Malcolm-Davies. I came across it at a library and absolutely had to have a copy of my own. I used this book in making "Anne" and "Catherine". Another great book is "Period Costumes for Stage and Screen" by Jean Hunnisett, although the instructions can be a bit daunting as they are intended for the highly experienced sewer. I have plans to make an Elizabethan doll at some point and will be using her book as a guideline. A website that I have referred to many times in the past for information is the Costumer's Manifesto.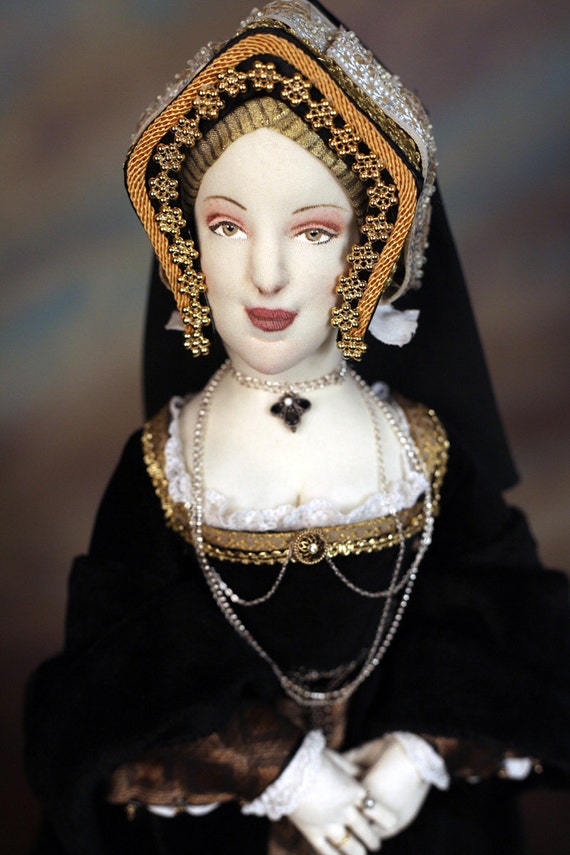 Catherine (c. 1536)
"A lady of the royal court, Catherine's high station is evident in her composure as well as the richness of her dress. This is a woman accustomed to being obeyed, but with a quiet authority and goodness of heart that earns her the love and admiration of all."
Be sure to check out Hally Levesque's Etsy Shop, Creative Doll Works to see more of her stunning art dolls! She is also working on a doll project for Cult of Doll (you can see a sneak peek at her entry here).

Don't be afraid of art: share it!
If you know a deserving artist, support their craft any way you can: word of mouth, social media, donations, purchases, or even just a kind word of encouragement! Art keeps the world beautiful.

A big THANK YOU to Hally for creating such inspiring work and graciously taking the time to answer my questions!