The title of this post says it all! This is the easiest way to decorate a hat ever—it's so simple I'm a little embarrassed I didn't think of it sooner!
I love hats, but for whatever reason, I struggle to decorate them. I can never seem to get the feathers to fluff, flowers to sit just so, or bows to stand properly. However, I was wandering the cavernous aisle of the the local "At Home" ("The-Home-Store-Formerly-Known-as-Garden-Ridge") looking at Christmas ornaments…in August…during a 105°F heat wave…
Like Hobby Lobby, At Home always goes Christmas Crazy early. This photo is from an article written in August of last year.

I was looking at the Christmas ornaments and vulturing around the Halloween merch hoping to catch an earlybird sale of some type. Alas, no sales on clip-on Christmas birds yet! I got a whole flock a few years ago and now I always keep my eye out for them. They are perfect for perching on late Victorian hats:
Deprived of a deep discount on feathery friends, I was about to leave the store when I saw two giant displays of faux flowers. At Home is full of fake greenery, so I had ignored these displays on my way in. However, planted beside the plastic potted petunias was the most glorious seasonal bloom in the whole of the store: the RED LINE CLEARANCE SIGN!
A photo of a treasured red blossom of the 50% off variety.
Redline Clearance in At Home usually means either 20% or 50% off the tag price, but thanks to the brazen commercial exploitation of one of the most beloved holidays of the year and the need to fill the shelves with glitter-crusted burlap Santas before school's even started, all summer floral was a whopping 75% off! And while I was high on the rush of sudden sales and the heady smell of ten-thousand different air freshener packets from the next display over, I was suddenly struck by the need to buy wreaths wreaths wreaths because FLOWER CROWNS:
I probably could have bought all the wreaths in the world— heaven knows my heart was screaming YAAAS GURL! YAAAS! as I thrust my arms elbow-deep into a glorious pile of polyester roses—but I am strapped for cash and really don't have any more room to store stuff. So, I settled on a few choice pieces:
I spent less than $20! It's a miracle!
I found two wreaths in light, more spring-like colors, and while I was loading them into the cart, I was struck by another sudden epiphany: IF A WREATH FITS ON MY HEAD, IT WILL FIT ON A HAT!
Edwardian hats are huge, drowning in waterfalls of curled ostrich plumes, cascades of silk ribbon, and sprays of flowers. They are opulent to the maximum and, up until my fateful faux flower find, they were well beyond my hat-decorating comfort zone.
My style is usually a bit more restrained, but looking at the piles of bargain wreaths mounded up like a magical hillside from a fairytale, I knew what needed to be done!
You see, I have this wonderfully wild 1980s straw hat:
It's perfectly shaped for 1900-1910, but that zebra crown isn't the most period-looking finish. So I took one of the wreaths I'd bought on clearance…
When choosing a wreath, it's wise to pick one on the fuller side. The more dense/bigger the blooms, the more lush your hat will look (and the better it will hide any *ahem* idiosyncrasies).
…plopped it over the brim to hide the the crown…
Sushi-roll hat!
…and voilà! An instant Edwardian hat, no millinery skill required!
There was no agonizing over color scheme, no tedious arranging and rearranging of every single flower, and no waiting! It's like the Jiffy mix of hats!
My attempt at an autochrome-esque photo.
Another bonus? Instant restyling options! If you have only one hat, you can just switch the wreath instead of having to get a new hat base. The original full price of the wreath was $15, which is still a bargain if you consider the number of flowers you get for one price and the fact that it came pre-color coordinated!
If you are dedicated to decorating a particular hat, I recommend taking it with you so you can fit the wreath over the crown before buying it. The wreath I fell in love with as a tad too small, but by clipping the wire holding it together, I was able to resize it to fit.
I used nail clippers and re-tied the ends in place with a stripped twist tie.
If you need to spread the wreath more than an inch or two, you can fill in the gap with a big ribbon bow or a matching bloom. My wreath fits snugly enough that it stays on securely, but if you are happy with your hat and want to keep it just as it is, hot gluing or sewing the wreath in place will keep it from falling off in the wind or when you bend over.
Edwardian Hat Trick Cost Breakdown:
Wide brimmed straw hat – $4.99, Thrift Town
Floral Wreath – $3.75, At Home (Huzzah for clearance sales!)
Total – $8.74
—– Other Hat Posts ——
Hat Trick: Turn a Placemat into an 18th Century Hat in Three Steps
Flower Pots and Romanticism: The 10 Second Poke Bonnet
_______
Update!
Her hat looks just like mine!
No need to pop tags cuz there ain't none!
I thought dollar stores had disappeared. After all, inflation is a real life issue. Even many of ye olde quarter machines at the local grocery stores raised cheap plastic snakes and keychains from 25 cents to 50 cents (and even 75 or a dollar!). Could you even buy something cool for a dollar anymore, much less something useful?
Enter Dollar Tree! When I walk through those automatic doors and smell the aroma of $1 potpourri, I feel alive! There are no price tags on the shelves. Every item in sight (except some smaller items) is $1! That box of brillo pads? $1. That potato masher? $1. Rolls of Christmas wrap? $1. A set of child-sized "spaceman" armor? $1! In fact they have a whole section for "Dress-Up and Pretend Play" filled with fairy wings and foam swords. None of it is super high-quailty, but for $1, it's a kid's dream come true!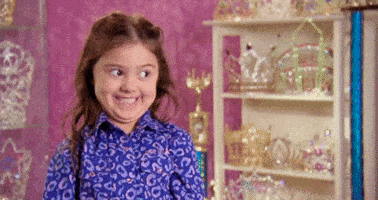 I've never actually won a pageant in my life. These are all from Dollar Tree!
But that's besides the point. Dollar Tree as cheap, awesome stuff for costuming, but it's not all cheesy kid's stuff. If you can pry yourself away from the wall of $1 gift bags, there are some great hidden gems.
1:  Stockings
I used to ignore this section of the store because socks are important daily-wear goods that need to be durable. There's no way a $1 pair of socks could be any good. Boy was I wrong! I found my favorite pair of ivory knee-high stockings at a Dollar Tree a few years ago and they are still kickin'!
They also sell sheer black trouser socks which are a classy addition to a dark colored ensemble. I found them especially handy to complete my 1880s evening gown. Black stockings have always been fancy, but in the past they were expensive. Now, they're cheap! Woot!
2: Hair Accessories

Being hair illiterate, I love those mesh donuts that you slip over a ponytail to make a fat bun! Walmart sells single donuts in a pack with a few bobby pins and a hair tie for about $3, but at the Dollar Tree, I found the donut by itself for $1, a pack of 20 bobby pins for $1, and an enormous pack of hair ties for $1. So for the same price, I got extra bobby pins and hair ties! Plus, Dollar Tree has cute, tiny hairbrushes that fit perfectly in a travel bag or pocket. I'm notorious for forgetting my brush when I travel or losing it along the way, but with these cheap ones, I don't have to worry about it.
2: Make-up
Me, 20 minutes before the event begins…
I'm not a make-up maven. I love playing with the stuff and I wear it regularly to work, but I'm not buying $20 lipsticks or even $20 foundations. I usually buy my everyday powders/concealer/etc. from mainstream brands like CoverGirl. However, I found a tube of "Light #1" BB cream hanging in the Dollar Tree personal care aisle one day and I thought it might work well for pale 18th and 19th century looks. It was awesome!
This is my face with nothing on it but the BB cream on the left.
It may look stark compared to the un-covered half of my face, but my face is very ruddy compared to my body. Putting on the pale BB cream actually makes my face match the rest of me! I apply it over my lips as well so when I apply lipstick, it blends in rather than having a very sharp, modern outline.
It gives a very pale, dewy finish that reminds me of Korean make-up more than the powdery matte look most Americans strive for. The dewy look is in line with the makeup our ancestors wore, so it's perfect for historical applications! You can see it at work in the photo of me showing off my black stockings above. Since I am shiny enough on my own, I sometimes tone it down to more modern tastes with a little pure white eyeshadow (also a Dollar Tree find) to mattefy the look.
For Georgian Picnic I wore the BB cream with the white eyeshadow (which is very translucent) all over.
I haven't tried it for daily wear yet because it's  less-concealing than a brand-name BB cream and a bit on the greasy side, but I do like how hydrating it is. It makes my skin feel soft even after I take it off. Plus, it stays put–seriously stays put–especially if set with a powder. I wore it all day and it hardly moved! Susanna has a wonderful full breakdown of the ingredients and application on YouTube. Dollar Tree often stocks ELF brand products, too, which are cheap on their own, but at the Dollar Tree, they are even cheaper! I adore their brushes and lipstains.
Dollar Tree also stocks lots of holiday decorations for cheaps which can work out perfectly for decorating hats and making themed costumes of all sorts, but these three things are my costuming staples for almost any outfit.
Holla for the Dolla Tree!