I don't have any kids myself, but after posting about the 1860s child's dress I found a few months back, I've gotten a few questions about making Victorian clothing for children. Usually, my lack of experience with sewing for children leads me to recommend asking someone else, especially if someone is asking for strict historical accuracy. However, I am not one to shy from any project. The 1880s are a popular costuming era thanks in part to lots of recent movies set in the era and the rise of Neo-Victorian fashion. I have a whole bunch of lovely fabric pieces that are too little to complete a full project for myself, but a child sized dress? Certainly!
Children's dresses in the 1880s were drop-waisted with full or pleated skirts with fairly straight bodices.
Cotton Dress for a Girl Aged 5-7, circa 1886-88
Silk Lace Dress, circa 1885
Wool Dress, circa 1880-90
This basic shape remained popular into the 20th century, especially during the 1920s, 1960s, and the 1980s. I was originally going to use one of the plentiful, adorable 1960s or 80s patterns like these to craft a dress: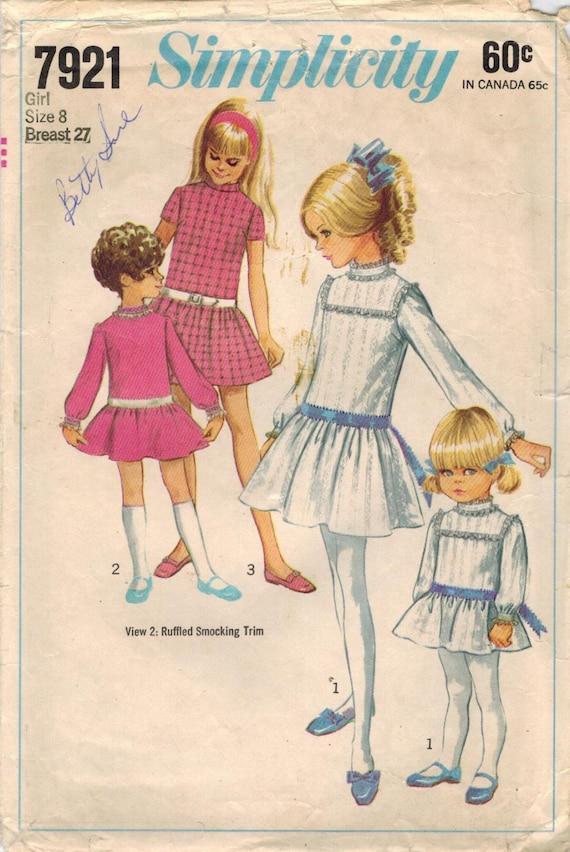 1960s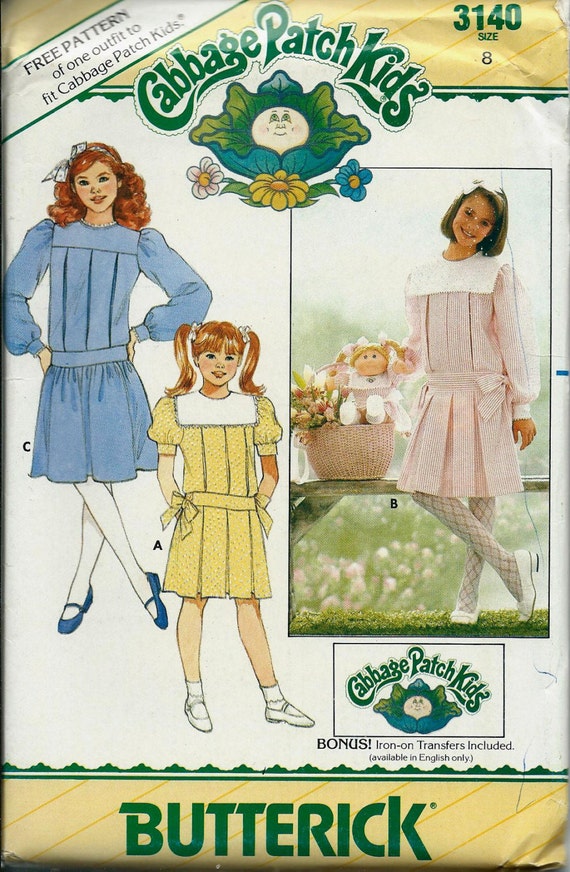 1980s
This is a bit more 1890s in shape than 1880s. The 1890s saw the bloused front come into fashion full swing.

I just couldn't settle on a pattern, though, so I just kept collecting them in my favorites on Etsy. Then, I was browsing in the pinnacle of American capitalism (aka Walmart) when I found this pattern:
New Look A6319: Child's Bias Dress and Jacket
Cute plaid? Adorable silhouette? Just the right amount of yardage needed? WE HAVE A WINNER!
The skirt construction is two giant circles, so probably not as historically accurate as pleats or gathers, but the amount of flare it creates is impressive.
The silhouette of the New Look pattern, though not perfect, reminded me of this antique dress I'd pinned earlier:
Child's Dress, circa 1880-90
I love plaid and it's pretty darn vintage looking in most cases, plus I had 3 yards of woven green cotton plaid that, though fairly thick, I thought would make a great dress. I also had some other scraps of lace, some ribbon, and a few button options that could work:
I ended up choosing the cotton net lace and the big, antique square buttons (a gift from my grandmother). Taking a cue from my 1860s child's dress, I decided to trim the dress with black velvet ribbon, too.
I followed teh pattern directions exactly except for the zipper in back and the sleeves. I left the zipper out since I planned to close it with hooks and eyes instead (though buttons would be a better option). I used the long sleeve pattern from teh jacket portion of the pattern because the heavy plaid was more of a winter weight than a summer weight and long sleeves are more period-appropriate anyway. The shorter sleeve or sleeveless options are a good choice for summer dresses, and perfectly fine for the period:
Queen Regent Maria Cristina of Spain and her daughters, Infantas Maria Teresa and Maria de las Mercedes, late 1880s
I also chose not to cut the bodice on the bias. Yes, diagonal plaid is amazing. I own a few shirts and dresses cut on the bias. The look is lovely, but the way it twists as I move (especially if the stretch heavy favors one direction) drives me nuts. No child will probably ever were this dress, yet I refuse to make an annoyingly twisty bodice!
The dress went together rather quickly. The hardest part with getting a neat hem on those darn endless circle skirts! Each skirt had a 108″+ hem and there were TWO of them….with curved hems….
Yep, it took about 3 hours to press and sew. Not gonna lie.
Still, the flouncy effect is gorgeous and has great buoyancy that no other type of skirt can give without hoops and petticoats.
The plain dress is pretty on its own, but I wanted to deck it out.Sorry I didn't get many process shots:
Attaching the lace to the front
Planning the velvet trim. I had a hard time choosing where to put the thinner velvet since I only had one spool. I liked the look of the thin velvet along the hem. I would want to make all the hems match, however, and I just don't have the patience, money, or the masochism to handsew 220 inches of velvet ribbon. Nope, nope, nope! Ultimately, I opted to follow the original dress and just put double lines around the cuffs. I hoped I had enough lace for the cuff, too, but I barely had enough for the front.
Here's the "finished" dress:
It's actually not complete. It doesn't have a back closure and it still needs a bit more refining (like more black velvet ribbon), but I admit that I probably won't ever finish trimming it. Yet, I feel accomplished despite not crossing the finish line! It's a cute, simple pattern with a lot of possibilities for both costumes and modern wear. Multi-tasking patterns are always a welcome bonus for anyone. I still wouldn't consider myself an expert on sewing for kids. What I hope folks will take from this experiment is the basic principle of silhouettes. You don't need a specific pattern to approximate or create an interpretation of a historical style. Practice identifying common features and shapes and suddenly you'll find inspiration in places you would have never thought to look!
Costume Breakdown:
3 yards cotton plaid – $4.50, Walmart
Lace remnant – Free, but there's about $2.50 worth of lace there
Thin black velvet ribbon – $2.49, Walmart
Thick velvet ribbon for waist – $3.99, Hobby Lobby
Four antique mother of pearl buttons – Free! Thanks, grandma!
Pattern – $2.97, Walmart
Total: $16.45
I don't know what I'm going to do with this dress yet. I'll probably just squirrel it away or throw it at some unsuspecting 6 year old at the park like a reject fairy godmother.
Bippity Bobbity BWAHAHAHAHAHAHA!
A note if you plan to use this pattern for costuming or modern wear:
I followed the pattern instructions for a size/age 5 dress according to the envelope back, which is meant to fit a child with a 23 inch chest. It turned out really huge. I know most modern patterns have tons of ease built in, but, dang! The dress ended up being 26 inches wide–that's 3 inches of ease in the chest and over 5 inches in the waist! It's nearly large enough for me to wear as a (cute) top!
This may partially be due to me cutting it on the grain rather than on the bias. If it was on the bias, it would hang and stretch downwards, slimming it a bit. Kids need room to move, but I think you could probably size down in this pattern, depending on your child, the fabric you choose, and how she likes her clothes to fit.