I AM ADDICTED TO "SECRETARY" CLOTHES.
It seems that everywhere I go thifting these days, I find Edwardian-esque bits and pieces. I guess my eyes have just gotten so attuned to looking for costume stuff that I nearly forget to look for modern clothes for day-job-me to wear!
I've been using vintage blouses to make Edwardian outfits forever, but back in January or so, I found this late 1970s Sears dress on eBay, and it just screamed mid-teens:
I found the same style of dress listed on Etsy  just today! That one's listed as 1950s, but this dress looks more like late 1970s to me. Little polyester "secretary" dresses with elastic waists and puffy sleeves were very popular in the late 1970s and early 1980s, so they are readily available in lots of style, colors, and sizes.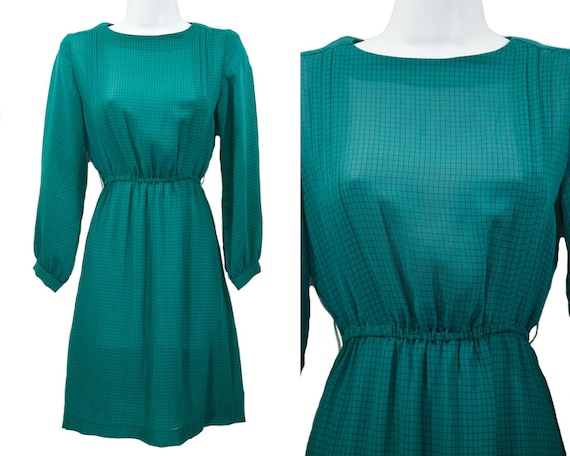 Another 1980s cutie from Etsy with great color.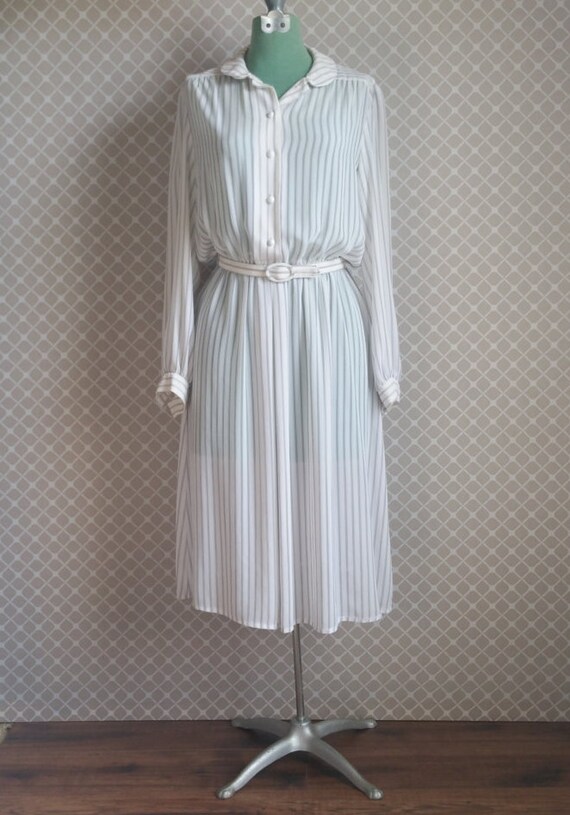 This one would look great with a red underskirt and a rose-covered hat!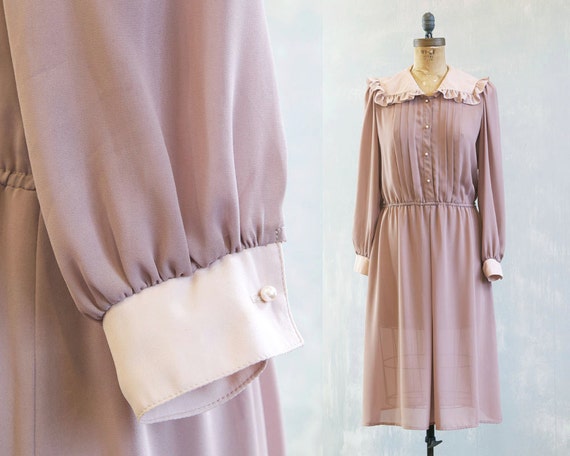 The collar on this dress is so ADORABLE!
I…I may have an obsession…
Most are too short to wear as Edwardian costumes on their own, but with a long, fitted underskirt added, they're smashing for 1912-1914 outfits! In those years, having a tunic or peplum look over a fitted skirt was extremely popular:
"Costume Parisiens," circa 1912
"Costume Parisiens," circa 1913
Fashion Illustration, circa 1913
"Fashion Plate No. 561," circa 1914
I was in the midst of another Edwardian project when I realized the navy skirt would perfectly match this striped dress I'd bought months before. Add in a serendipitous pair of 1980s Goodwill shoes…
…a Thrift Town hat…
…and I had an outfit!
1914 Outfit Breakdown:
Vintage dress – $12.43, eBay
Brown felt hat – $5.99, Thrift Town
Navy "lace-up" heels – $7.99, Goodwill
Navy cotton sheet ("underskirt") – $1.99, Thrift Town
Total: $28.40
You'll notice that the navy blue "underskirt" has a flappy panel that looks a bit odd with the outfit I have on. It's because I'm actually wearing this over 3/4 of another dress, but I'm not done with it yet! It still needs sleeves and finishing touches, like the kick-pleat which, right now, is nothing but a scandalous open seam:
If Angelina Jolie was a suffragette…
When I'm done with the other dress, I will buy/make a columnar navy maxi skirt to underneath my striped secretary dress. Either way, though, it's an easy-to-make and easier-to-wear costume that looks pretty authentic for being a polyester remnant of the disco era!
Minka was jealous that mama was getting all the camera time. What a ham!