I AM ADDICTED TO "SECRETARY" CLOTHES.
It seems that everywhere I go thifting these days, I find Edwardian-esque bits and pieces. I guess my eyes have just gotten so attuned to looking for costume stuff that I nearly forget to look for modern clothes for day-job-me to wear!
I've been using vintage blouses to make Edwardian outfits forever, but back in January or so, I found this late 1970s Sears dress on eBay, and it just screamed mid-teens:
I found the same style of dress listed on Etsy  just today! That one's listed as 1950s, but this dress looks more like late 1970s to me. Little polyester "secretary" dresses with elastic waists and puffy sleeves were very popular in the late 1970s and early 1980s, so they are readily available in lots of style, colors, and sizes.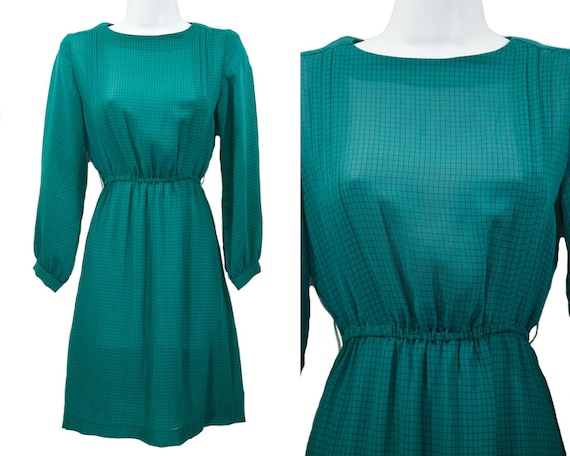 Another 1980s cutie from Etsy with great color.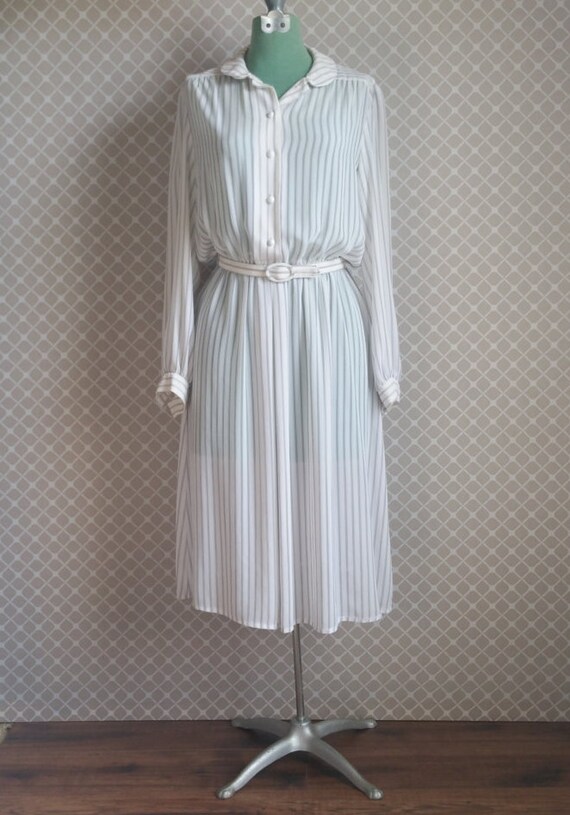 This one would look great with a red underskirt and a rose-covered hat!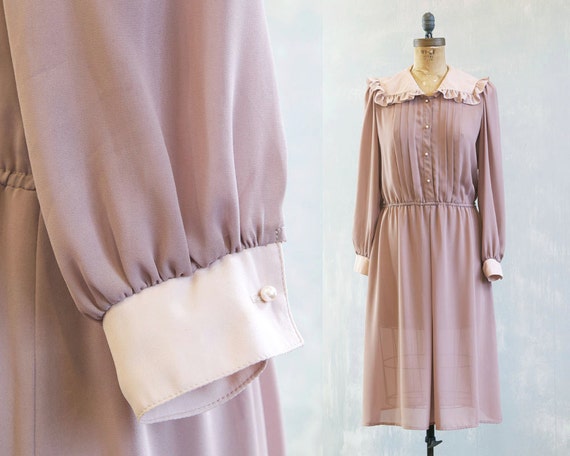 The collar on this dress is so ADORABLE!
I…I may have an obsession…
Most are too short to wear as Edwardian costumes on their own, but with a long, fitted underskirt added, they're smashing for 1912-1914 outfits! In those years, having a tunic or peplum look over a fitted skirt was extremely popular:
"Costume Parisiens," circa 1912
"Costume Parisiens," circa 1913
Fashion Illustration, circa 1913
"Fashion Plate No. 561," circa 1914
I was in the midst of another Edwardian project when I realized the navy skirt would perfectly match this striped dress I'd bought months before. Add in a serendipitous pair of 1980s Goodwill shoes…
…a Thrift Town hat…
…and I had an outfit!
1914 Outfit Breakdown:
Vintage dress – $12.43, eBay
Brown felt hat – $5.99, Thrift Town
Navy "lace-up" heels – $7.99, Goodwill
Navy cotton sheet ("underskirt") – $1.99, Thrift Town
Total: $28.40
You'll notice that the navy blue "underskirt" has a flappy panel that looks a bit odd with the outfit I have on. It's because I'm actually wearing this over 3/4 of another dress, but I'm not done with it yet! It still needs sleeves and finishing touches, like the kick-pleat which, right now, is nothing but a scandalous open seam:
If Angelina Jolie was a suffragette…
When I'm done with the other dress, I will buy/make a columnar navy maxi skirt to underneath my striped secretary dress. Either way, though, it's an easy-to-make and easier-to-wear costume that looks pretty authentic for being a polyester remnant of the disco era!
Minka was jealous that mama was getting all the camera time. What a ham!
For the Embroidery Illiterate such as Myself…
As I have confessed multiple times, sewing and embroidery are not my strong points (You can see one of my better attempts here). However, I am stubborn and enjoy conquering challenges no matter how gnarly my stitchery may be! The challenge for HSF this go-'round is titled "Under It All" and since I had been planning to make a set of garters for about a year now, I figured this would be the perfect opportunity to spur myself to action.
"Femme en Robe à la Polonoise" circa 1778
18th century garters came in many different forms from simple ribbons to tasseled, elaborate bows that close with clips,  but I wanted to make something half-way between the two. The garter collection in the Museum of Fine Art Boston is fantastic! While the fancy ones are lovely to look at, my favorites are the deceptively simple looking ones like this:
French Embroidered Silk Garters with Motto, 18th century
American Geometrically Embroidered Garter, 18th century
English Embroidered Garters, circa 1784
The first pair of garters has an embroidered motto. Many 18th century garters of this type had sayings, mottos, or couplets embroidered on them ranging from sweet to scandalous. Others portrayed messages through symbols like Cupid's arrows and roses. Most of these are lovingly hand-embroidered, but the look can be replicated with the right sort of ribbon.
This method isn't as fancy or historically accurate as embroidering one yourself, but it's a good starting project that can be done in less than 10 minutes!
How to Make an 18th Century Ribbon Garter
You will need:
At least 20 inches of Decorative Ribbon (1 inch to 2 inches wide)
 2+ yards of plain Silk Ribbon (same width as your decorative ribbon)
Needle and Thread
While finding a proper, historically-acceptable ribbon to mimic embroidery can be a challenge. If you can find an actual embroidered piece, kudos to you! Otherwise, a jacquard woven pattern can do in a pinch. Here are a few ribbon types and motifs that work:
Hearts and Florals
Cross-stitch
Sari Borders
You can trim some sari borders down to the correct width. You'll need to secure the edges, though, to keep them from fraying. Thin bias tape or simply folding the edge back and tacking it down with a simple handstitch is usually enough to tame fraying. Many 18th century garters were also beaded (especially with silver spangles/sequins) and sewn with gilt threads, so other beaded trims will work as well.

Geometric and Zig-Zag Patterns
Step 1: Decorative Ribbon
Note: Cotton, silk, wool and other natural fibers will grip historical stockings more securely. I ordered this ribbon online and while it is lovely and very good quality, it is mostly polyester, so it does not grip stockings enough to support them. Despite their polyester content, however, my garters work well with my modern thigh-highs and on bare skin (I will drive historians mad by wearing my garters with shorts and no stockings)!
Your decorative ribbon choice should be 1 inch to 2 inches wide. Once you've chosen your ribbon, measure the circumference of your leg just above or just below the knee–depending on where you wish to wear your garters– to determine how much ribbon you will need.
Historically speaking, you'll want decorative ribbon around at least half the circumference of your thigh, but no more than three-quarters around (you want to leave room enough between the ends to tie a bow).
For example, I settled on a design that went about two-thirds the circumference of my leg. I have ridiculously scrawny 16 inch thighs, so I measured out 10.5 inches of decorative ribbon.
Step 2: Adding Ties
The ties of most 18th century garters are made with silk ribbon. Pick a silk ribbon that matches or compliments the color of your decorative ribbon and is the same width or smaller. I chose ribbons that are both 1.25 inches wide.
"RIEN/NE/PEUT/E/GA/LER" (Nothing can be equal) Garter, circa 1790
This garter is just over 2 inches wide.

Cut two sections of silk ribbon 10-15 inches long. For bigger bows or to wrap it twice around your leg for more hold, make your ribbons longer–around 18-24 inches (there are historical examples over 50 inches long, so don't be miserly with the ribbon).
Put the "pretty" side of your decorative ribbon against the silk and fold the edge of the silk over the back so the decorative ribbon is sandwiched in the middle, like this:
Use a backstitch to make a strong seam that goes through both layers of silk and the decorative fabric.
No matter how ugly your stitching may be at 11 o'clock in the evening, the backstitch has got your back! The ribbon will rip before that seam will.
Repeat with the other side of the ribbon.
Another way to attach ties is to sew your decorative piece applique-style onto one continuous piece of silk ribbon (add 12-18 inches to your thigh measurement to get the length of the ribbon you'll need). This requires more ribbon, but if you are using a polyester decorative ribbon like me, the silk backing helps improve grip!
Voilà!
You've just made an 18th century garter!
My finished 18th Century-ish Garter. :)
For more about 18th Century garters, check out these links:
"Late 18th Century Garters" by the ever-fabulous Aristocat– She hand-embroidered hers and gave them springs for tension and hook closures.
"18th Century Garters" on larsdatter.com – The best Renaissance database on the web offers 18th century sources, too!