I wasn't feeling too keen on celebrating my birthday this year, but my sister decided to pay me a visit! She'd never been to a Renaissance Fair and Scarborough Fair in Waxahachi, Texas is only an hour and a half from where I live. So to Fair we decided to go!
Last year I wore my Game of Thrones inspired dress:
However, we would be going the last day of the final season and it just seemed odd to be wearing it out and about when most Thrones fans would be at home celebrating/mourning the end of an era. Honestly, I didn't really feel like getting caught up in a discussion about the show…I just wanted to wander and enjoy hanging out with my sis and my husband. Plus, it's a cool dress looks-wise, but it's not a cool dress temp-wise!
I owe my life to that hand fan!
This was taken before I added the neckline trim and got the belt I originally wanted.

After tackling one of my childhood dream-dress patterns, Simplicity 4244, a few years ago, I had gotten all nostalgic for the other patterns that had set my heart aflutter waaaaaaaaay back when.
Many of them happen to be Andrea Schewe's Renaissance patterns from the late 1990s and early 2000s:
I remember coveting all the patterns in this catalog. My sister and I played the "Wishbook" game with it: "That one's mine!" "Well, this one's mine, then!"
The star of the Renaissance collection was the "Ever After Dress," which, for those of you that have been missing out on a slice of fairytale wonderland, is based on the dresses from the movie "Ever After:"
The original trailer in all it's 1990s cinematic glory! This was my favorite movie to watch at my Nana's house when I was a kid.
The costumes in the movie aren't Historically Accurate™, but they are based on late 15th and early 16th century dresses, mostly Italian despite being set in France, but once again, they were aiming for ✨Historical✨, not Historical™, so don't stress over it too much. Frock Flicks has a nice overview of the film costumes if you're curious.
"Thou art welcome to direct your gaze hither, Sire."
Isabella of Naples Duchess of Milan, wife of Gian Galeazzo, by Raphael, 1480-90
"Verily, sir, I am here for naught but the food."
Portia and Brutus, circa 1486-90
The movie had fantastic costumes–most famously the "Just Breathe" masquerade dress (and my favorite, Rodmilla's green gown):
Simplicity, already high on the peak of the Renaissance Fair pattern boom, leapt at the opportunity. Andrea Schewe was commissioned to recreate the look for a pattern which soon became one of the most famous costume patterns from the Big 3:
Oh, how I pined for this perfect princess dress!

The Simplicity Ever After dress pattern was really popular for wedding and fair gowns through the early 2000s and it turns out this pattern has not one, not two, but SIX versions that have been printed over the years…each with a totally different pattern number! The design itself, however, remained unchanged.
In the Misses' sizes, the first release was Simplicity 0657 then 8735. It sold so well that Simplicity asked Andrea Schewe to sew new samples for the re-release's envelope front, Simplicity 3812:
The re-release cover. I like Views B and C much more here. I never cared for either in the original samples, but in the new fabrics, the details really show up and I love the gold version of View B especially!
These patterns only went up to the largest standard Misses' size, either 18 or 20 depending on the release. But this pattern was so immensely popular that Simplicity did something so rare and wonderful that it's basically a unicorn and I think it deserves a sparkle effect: EXTENDED SIZED PATTERNS UP TO SIZE 32W!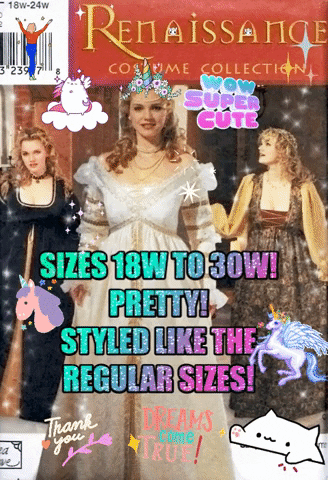 This is an accurate pictorial representation of my brain when I discovered 9228 and 5294 on eBay.
(Made with Gify)
Besides the regular Misses' sized patterns, Simplicity released 9228 and later 5294, both of which were available in sizes 18W to 32W. That's up to a 54″ bust measurement! One of the constant troubles with costume patterns from the Big 3 is that they do not offer larger sizes. I was so excited to find not only did this pattern get offered in larger sizes, the samples they made were styled to look like the Misses' size envelope as well (so often "Plus Sized" versions of things are styled completely different from the regular sized things instead of adapting the design to be proportional to the increased size while maintaining the original look).
Sadly, all these patterns are Out of Print, so the envelops are only available second hand. However, Simplicity has recently added the Misses/Regular size version to their Print-On-Demand service as EA381201…but not in the extended sizes.
So, if you want one of the extended sizing patterns, you must scour the 'net if you weren't lucky enough to pick up a copy when it originally was in stores. Because they're out of print, they can be kind of spendy, but I found a copy of 5294 in the 18W to 24W range for a reasonable price. I immediately snapped it up! It was worth the investment 100 fold!
This is the back so you can see the glorious measurement chart! Also the yardage….holy cow, the yardage! The few older online reviews I found mention this dress is a fabric and trim hog and they were all 110% correct! The dress is worth it, though, IMHO.
Pattern in hand, I set out trying to find a suitable fabric.
Now when I say suitable, I'm not talking suitable for a Screen Accurate Reproduction® or Historically Accurate™ dress. While lovely, I didn't want to make it out of taffeta or velvet. When I say suitable, I mean suitable to survive the blazing Texas heat! Bonus points if I could also combat the heinous humidity that's been plaguing us during an abnormally wet spring.
Linen would have been the HA™-ish solution. While not exactly court gown material, it's wicking and the most breezy of all the fabrics which is why it has been favored in hot climes for centuries. But, I had neither the cash to buy the stuff nor the patience to deal with its tendency to wrinkle more than a raisin at the slightest provocation.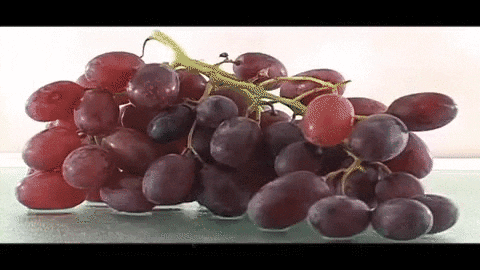 After squishing my skirts into a hot, humid car for an hour and a half (which would set the wrinkles like a nice, steamy iron), I would certainly emerge looking not unlike these grapes or a crumpled paper ball…
Instead, I decided to make the dress out of cotton because it's breathable, but also cheap, comes in a wider variety of prints, and wrinkles waaaaaaaay less. I wanted to find a brocade or embroidery-esque print to mimic the wild silk fabrics I saw in paintings. I was especially keen to find a nice mustard yellow. Yellow's not "my color" (being a pale dishwater blond), but I love it! And the patterns I found were just fabulous!
Visitation (Detail, from Tornabuoni Chapel, Florence) by Domenico Ghirlandaio, circa 1485-90
Portrait Of Giovanna Tornabuoni by Domenico Ghirlandaio, circa 1488
Found another History Sister and she's wearing a bangin' brocade! I decided to copy her look a bit, minus the spaniel-ears. I save that look for my early 19th century dresses.
Ritratto di Gentildonna (Portrait of a Gentlewoman) by Leonardo Boldrini, circa 1490s
However, most of the colors we associate with the Renaissance period are rich jewel tones like wine and navy. I found tons of beautifully patterned fabrics, but only in darker colors like emerald or black. I had just about caved to a black and gold design until science gently placed its practical hands on my shoulders and shook me back to sanity: I needed something light colored and less likely to absorb heat and cook me alive.
Then, I found this nifty fabric online:
It doesn't show well in photos, but the dots and outlines are metallic gold.
Minka giving my new fabric the Cat Butt Blessing.
And it reminded me a bit of Eleanora di Toledo mixed with medieval heraldry:
16th century…a bit late for my dress's style.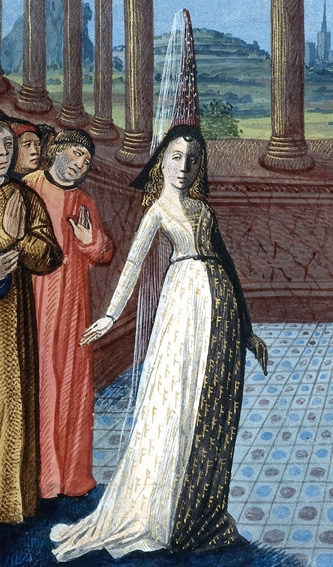 Early 15th century, a bit too soon for my dress's style.
(PS, I found this image on a great Hungarian blog about hennin)

Mash 'em together, average 'em out, and you get roughly the correct era for my dress (1490s), right? Right?!
Cheap it wasn't after shipping, but not any worse than a quilting cotton from a certain chain fabric store beginning with J–about $7 a yard. It's a great cotton, though, lighter than a standard quilting cotton, but thick enough not to be sheer.
The envelope recommended 5 1/4 to 5 3/8 yards of 52″ wide fabric. I had 6 yards of 45″ wide fabric…with a one-way design…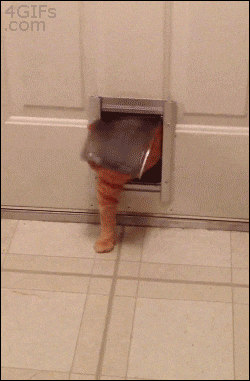 It was a very, VERY tight fit.
I had to reduce the skirt width a bit to get the enormous gored skirt pieces to fit on the fabric. I thought about ignoring the gores and just using the full rectangle yardage, but I didn't know how that would work with the pattern's peaked front. In the end, I made it work. THANK HEAVENS. The slight reduction didn't seem to affect the drape of the dress too much.
If you want to make this dress out of 45″ fabric, you will have to reduce the width of the skirt pattern or piece your fabric because the pattern pieces are wider than 45".

This dress in general takes a lot of fabric and trim. Each skirt is 4+ yards and the huge sleeves are over a yard each on their own:
Giving my 1890s sleeves a run for their money in the poof department!
Shoutout to Mistress of Disguise for graciously offering her help selecting a complimentary fabric. I thought about using the cream organdy sari for the underskirt as well as the sleeves, but after cutting the sleeves out, I didn't have enough left. Fortunately, the original mustard color doesn't look too bad on me despite my pastiness.
I was so proud of myself: I got the dress to a wearable state well over two days in advance of the event! So much better than my usual method of "Wait until the day-before to do everything and let the panic inspire you!"
Yes, those are my DnD Barbie dolls in the background. Yes, I have weirder nerd hobbies than rage-sewing ✨Historical✨ costumes. Yes, I do own a vacuum and wastebaskets, I swear!
At that point, it was mostly untrimmed. Kinda boring. The basic dress shape of this pattern is nice, but it is really the trimmings that elevate it from nice to WOWZA. Trimming took quite a bit of time getting everything placed just so– almost two days. Altogether, it took a week of four-hour sewing sessions to get the dress to its current state. I admit I was still sewing when my sister got here, but I got it done enough for Sunday's Scarborough trip!
Still need to make the tie-on sleeves at some point.
The previous day was rainy and we were sure the ground would be soaked and sloppy, especially the parking area which is just an open field. I wore my not-so-pretty boots in anticipation but to our amazement, the sun had dried out most of the muck. The sunshine also meant that my choice of a light-colored cotton fabric paid off! I was warm, but not uncomfortably so. It was the perfect blending of science and fairytale with a Happy Ever After ending!
To keep cool, I took a fan and, most helpful of all, picked up an $8 paper umbrella from Hobby Lobby's party section. 100% would recommend! Between the parasol and marinating myself in sunscreen, I didn't even get sunburned!
To hide my modern necessities, I got a cheap little faux-leather book case for my phone and made a simple drawstring purse from scraps. A few other little accessories like my favorite braided gold necklace, antique brooch, and a decorative bun-roll (made last minute by wrapping trim scraps over one of those tubular mesh hair rollers) rounded everything out:
My sister wore the teal version of Amazon's "Renaissance Dress" which is a good option for anyone looking for a fast, inexpensive costume that's easy to wear, plus it's flattering on a variety of body types. It has ties in front and back for an adjustable fit and comes in a huge selection of colors. It costs about $50. She was quite pleased with the quality. I made her a flower crown to go with it as a belated birthday gift.
Flower crowns are beautiful, easy to make, and fun to wear. You just need some flowers of your choice, a hot glue gun, and a wide fabric-covered headband!
Chris even got in the festival spirit of his own accord! He wore his punk-rock kilt, grabbed a cap and belt, and even joined the dulcimer lady for an impromptu public duet!
We took in the hilarious shows, the magical musicians, ate overpriced-but-tasty food, and cheered for the jousters (I'm kicking myself a bit for not getting a picture with the slightly villainous knight Sir Joseph, whose colors I happened to serendipitous be wearing). The fair was fab and there were lots of fairies and tieflings and elves running around for Fantasy weekend.
Great sewing pattern, great fun, great family–it was a good way to spend a belated birthday!
For a more technical (ish) review of Simplcity 5294, click here to read my write-up about it on PatternReview.com