How to Smell like Kings and Queens
Have you ever been stuck next to someone who had put on too much perfume? The experience can be either highly pleasant or highly intolerable depending on how the scent works. Modern perfumes are categorized by their "notes," or scent types mixed together to create a full-bodied scent:
Top/Head notes: The scents that are perceived immediately on application of a perfume. Top notes consist of small, light molecules that evaporate quickly. They form a person's initial impression of a perfume and thus are very important in the selling of a perfume.
Middle/Heart notes: The scent of a perfume that emerges just prior to when the top notes dissipate. The middle note compounds form the "heart" or main body of a perfume and act to mask the often unpleasant initial impression of base notes, which become more pleasant with time.
Base notes: The scent of a perfume that develops as the other scents dissipate. The base and middle notes together are the main theme of a perfume. Base notes bring depth and solidity to a perfume. Compounds of this class of scents are typically rich and "deep."
17th and 18th century perfumes fell into two general categories: floral and musky. Floral scents of the time were made from flower oils or waters distilled from blooms such as roses, orange flowers, and jasmine. These scents float near the top of the modern note range. Musks are base notes– heavy yet subtle at the same time. They are often animal-based and were favored by both sexes because they blend well with the natural human scent, itself a musky note. In an age of inconsistent bathing practices (some bathed often, other did not), perfume served as a popular odor equalizer in the merchant and noble classes. During the 17th and 18th century, there was very little difference between men's and women's perfumes. A man might wear a wash of rose water to fresh his skin while a lady might don a heady amber toilet for a candle-lit dance.
He: "My, don't you smell heavenly, dearest! Like orange flowers and vanilla"
She: "And, you smell, too…of leather and spiced liqueur."
He: "Ah, so you've caught me stealing your perfume again, then…"
Perfume was important and perfumers guarded their secrets well, but today we have access to some of their revered recipes. Some perfumes were as simple as distilling the scent of popular flowers. Rose water, popular since ancient times as both a scent and beauty treatment, was wildly popular in the 17th and 18th century. You can actually make your own rose water at home, if you are up for a little perfuming experimentation!
Rose Water being Distilled
Other 17th and 18th century perfumes are much more complex. Take, for example, this recipe for "Aqua-Mellis, or The King's Honeywater," which, as Madame Isis points out, contains not a drop of honey!
Coriander seeds

An herb, with a citrusy flavor.

Marjoram

An herb with a citrus and pine flavor.

Calamus Aromaticus

A water plant

used as a substitute for ginger, cinnamon and nutmeg

Yellow sandalwood

Aromatic tree. A common ingredient in scents.

Orange and Lemon peels

Nutmeg

Spice

Clove

Cinnamon

Pimento

Can mean a red pepper, but usually Allspice, the dried fruits of the

of the Pimenta dioica plant

Cassia

Sometimes called Bastard cinnamon. Has less taste and rougher texture than true cinnamon and is therefore cheaper.

Storax

the resin

of the oriental sweetgum (amber)

Gum Benjamin

or Benzoin resin

Labdanum

A resin

Venellios Tonka bean

A

substitute for vanilla

Spirit of Musk

Derived from the glands from various animals, like musk deer. Today synthetic musk is almost exclusively used. Probably the most common base note in perfumes.

Spirit of Ambergris

A waxy substance that comes from the digestive tracks of Sperm whales. Prepared, it smells wonderful and has been used as fixative and base note in perfume for a long time.

Lavender oil

Bergamot essence

From Bergamot orange. Used to flavor Earl Grey tea.

Rhodium oil or Rosewood oil

Orange flower water

Rose water

Milk
What an exhaustive list, and all for one perfume! The process combining them is just as exhaustive and well worth the read. Such complex perfumes were popular amongst rich nobles. Nearly every lady received a toilet/vanity set as a wedding gift and with it, a few large flasks for precious, ostentatious perfumes such as the one mentioned above.
Pair of Silver Perfume Flasks, circa 1671-72
"Toilet services were traditionally given as wedding presents by a wealthy husband to his new wife for use in her bedchamber. They usually included a mirror, boxes for ornaments, jewellery and cosmetics and perfume bottles. These flasks were dug up in Parliament Hill Fields (between Hampstead and Highgate) in 1892 by an inquisitive child and sold to the V&A for a modest sum by his father." – V&A Museum
Perfume came in a variety of consistencies: alcohol-based (perhaps the most familiar to modern audiences), oil-based, water-based, and wax-based. Alcohol and oil bases are what we traditionally consider perfume and would have been applied from a bottle using a dauber or a fingertip. Water-based fragrances were usually floral and used as face tonics. Wax-based perfumes are solidified and easy to carry in pomanders. Scent pendants were very popular, especially considering the putrid reek of muck in the streets that a fine lady had to contend with! A little scent in a handkerchief or on a locket at the end of a chain was invaluable. On that note, perfumes were not just applied to the body. Anything and everything that could hold a scent was perfumed, from gloves and rouge to garters and hair powder! In fact, gloves and perfume went so hand in hand (pardon the pun!) that in 1656, the Guild of Glove and Perfumers was formed. Perfumed gloves weren't just worn on the hands, but could be tucked into waist sashes and hatbands. A lady might send her beloved a delicate glove soaked in her perfume just like we might send a perfumed love letter.
Lady's Glove, circa 1610-20
Always a welcome gift, unless they are laced with poison!

If you are a lover of perfume, by all means indulge yourself even when in costume! Finding a modern equivalent for a 17th or 18th century scent can be difficult, unless you know what to look for. Stick with natural scents or even make your own! A good, oil-based organic perfume can be quite expensive (just like back in the day). For the scent scientist, there are plenty of authentic historical recipes online that you can experiment with.
There was as much scent variety in the past as there are today. People could choose floral, citrus, sweet, spicy, or milky fragrances. My favorite modern-made-ancient perfumes are base notes. They work best with my natural chemistry and fit my taste. 17th century perfumes tend to contain more musky base notes, so my preferences fit right in with my favorite era! I have two modern favorites that I like to wear when in character:
Shanghai Rose Solid Perfume in Amber
This amazing little fragrance tin (10g) is warm, earthy, slightly sour, and very musky. It mellows as you wear it, blending with your own scent. It smells very similar to a sample of 18th century cologne I had a chance to savor at the a museum presentation. The slight sour note may sound off-putting, but it keeps the perfume grounded. Many modern ambers are just too sweet smelling. I would equate it with the sourness of an unripe plum. Another fragrance in this line, Marine, is equally pleasant, but on the higher end of the note scale with a hint of ambergris and blossoms. I would call Amber androgynous and Marine a feminine perfume by modern standards. For historical presentations, however, they are perfect for either gender. The tins are more widely available in the UK, but I found mine stateside in World Market for the bargain price of $5! Since this is a fairly solid wax perfume, it is best applied directly to the skin. The best place for it? The bosoms. No court lady is complete with out a lovely, scented chest!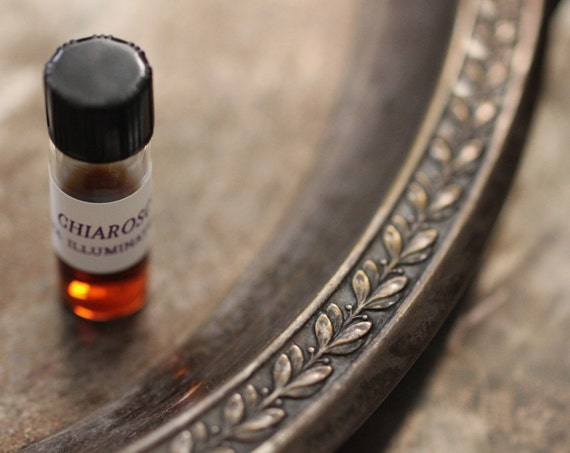 Chiaroscuro by Illuminated Perfume on Etsy
I recieved a tiny vial of this as a gift. It's quite magical! I have only worn it twice because it is so precious to me, but the scent is beautiful– I enjoy smelling it from the bottle. The ingredients remind me of many of the perfume recipes I have read from the 18th century. The seller's description speaks better than I can:
"Chiaroscuro as a liquid perfume begins quite dark and indolic laced with notes of roots and camphor. As you journey through the night in the deep moist woods a clearing of jasmine is illuminated with the light of myrtle. The robust fragrance features a very unusual scent evolution by moving from dark to light with deep, warm notes that linger like a dreamy lover. The perfume is sweet and dark, naughty and nice. The sweetness of the jasmine is amplified by myrtle and spice contrasting against patchouli and jatamansi (spikenard)."
True perfumes such as this one react with your natural body chemistry and while they have a "basic" scent profile, your own body transforms it. On me, the floral is a little too heady, but on my sister, it smells like blossoms and warm autumn. I wore a dab on my neck the first time, but I like the scent much better on fabric. I dabbed a bit onto my neckline and it kept truer to the scent out of the bottle, which I love!
For more information about historical perfume and cosmetic recipes:
"Madame Isis' Toilette" – A wonderful blog dedicated to exploring the world of historical beauty from perfumes to hair powder!
"How to Make Your Own Rose Water" – I linked to this earlier in the article, but making rosewater, while challenging, is more fun than just buying a bottle!
"Traces of Marie Antoinette, Caught in a Phial of Perfume" on The Washington Post – Creating a perfume France's most infamous queen would approve of