So besides not keeping up with my blog, I have not been keeping up properly with my projects! Oops!
Even Brittany's like "Really? You did it again? Dang, girl! Get it together!"
Many many moons ago (2015), I offered to make my sister a dress from Butterick 5832.
Butterick 5832 is based on dress style from about 1838-1841. It has the rounded waistline of the 1830s paired with the pleated-down sleeves of the early 1840s. It is based on a gown in the British Nation Trust Museum, which, unfortunately, doesn't have a good large picture of the gown available anymore…only this small image of it:
Printed Dress, circa 1835-40 (National Trust Collections)
Here are some other examples of dresses from the same period: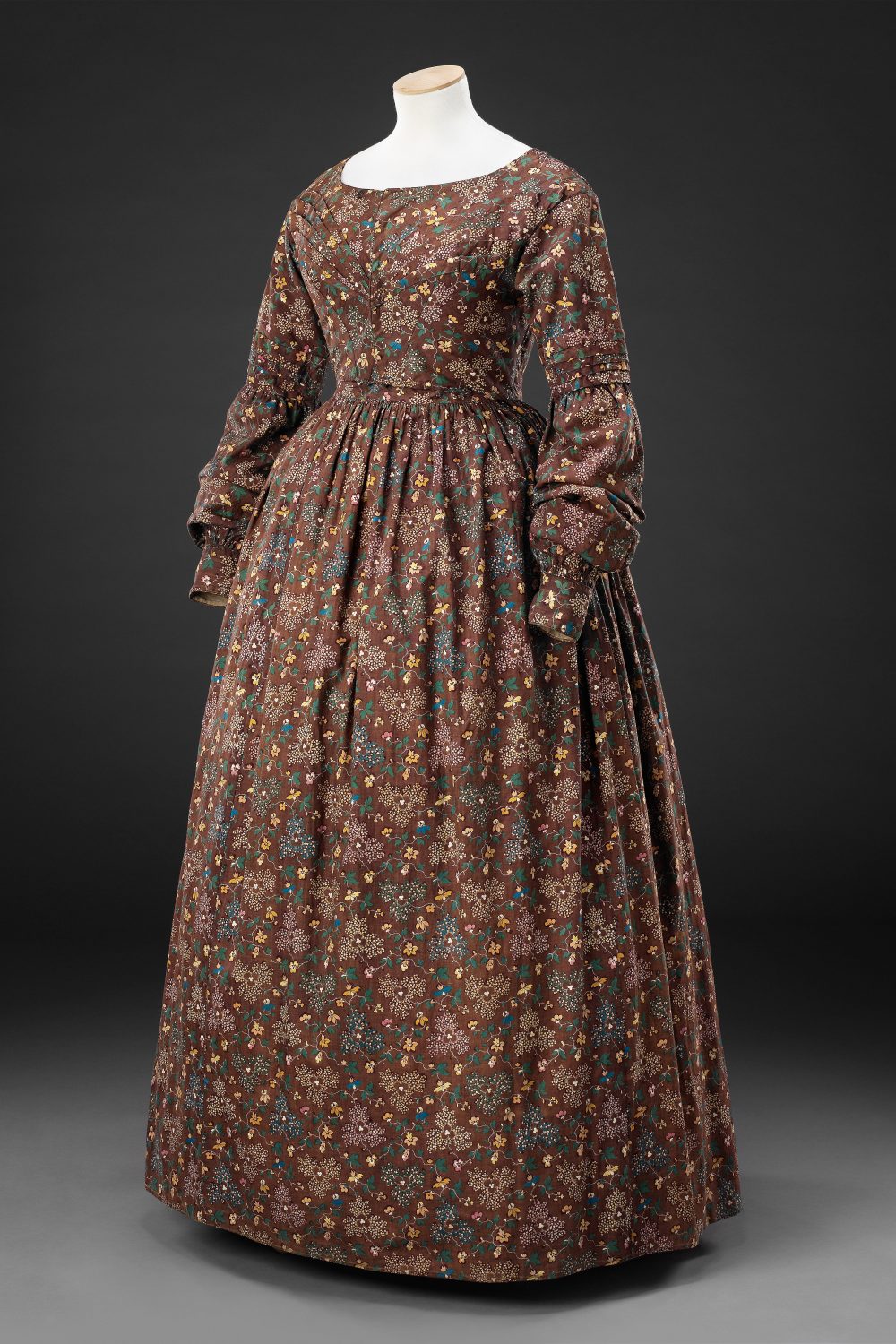 Print Dress, circa 1840 (John Bright Collection)
Print Dress, circa 1840 (Les Arts Décoratifs, via Tumblr, unfortunately)
Print Dress, circa 1840 (National Gallery of Victoria)
Dresses were worn off the shoulder or nearly-off-the-shoulder with wide "portrait/boat" necklines decorated with fan pleats. The 1830s are famous for enormous balloon sleeves, but during the last half of the 1830s, sleeves began to deflate and by 1840, puffs had been replaced by fancy pleated and ruched sleeves like Butterick 5832's.
Fashion plate, circa 1841 (Iowa State University Library via Tumblr)
This fashion plate shows the transition styles perfectly and is a good representation of how fashion doesn't have "hard-stops" in style. A mix of old and new could be found together. For example, the lady on the left still has the puffy sleeves of the late 1830s, the lady in the middle has the extreme version pleated/ruffled/ruched sleeves that were currently in vogue, and the lady on the right has a more plain, modest version of the ruched sleeve.
My sister didn't want busy, puffy, or ruffled sleeves at all because she felt her shoulders already looked plenty wide, so I used the sleeve lining pattern pieces to make plain sleeves. Instead, she decided to add pizzazz to her dress with exciting fabric. She picked this bright floral cotton from Walmart.
Bright cotton prints were super popular in the 1830s and 1840s. The fabric isn't exactly HA, but still perfectly lovely, especially with the slight 18th century vibes which were super popular in the 1840s (many rococo era gowns were taken apart and refashioned during this period).
I made the bodice in 2015 while my sister was in grad school in Colorado and I was in Texas, so we almost never got to see each other. I was incredibly nervous about getting things fitted properly. I got to try the bodice on her once, and the nice, flattering fit surprised me since she has exceptional shoulders (19″ wide) and the bodice needed no alterations at all to fit there (so if you are making this pattern and you have smaller shoulders, you may have to adjust the pattern considerably to fit you. Most women have 15″ shoulders, which means that pattern is probably really loose there for many folks). In fact, the basic bodice pattern's fit is very flattering and nice all around.
However, she went back to school and I went back to Texas, so the unfinished bodice and excess fabric got tossed in the UFO bin.
I finally picked it up again the day after Thanksgiving this year. My sister was visiting and I was curious if the dress would still work for her. The bodice was complete except for closures, so all I had to do was add a skirt to it. The skirt is gathered really tightly which added some bulk to the waistline, making me even more apprehensive about the fit. However, it looked pretty good on the dummy… 
My sister is almost 6 feet tall, though, so when I made the skirt, I had to lengthen it considerably. My dummy is set for my 5′ 6″ self, so the skirt is puddling on the floor in this picture.

Turns out that I freaked out over the fit for nothing. I made the bodice straight from the size 14 pattern pieces in 2015 and even with the bulky skirt gathering, it still fit my sister perfectly 3 years later! I am so jealous! Usually it takes 5 or 6 mockups just to get my fit right, but with my sister? It fit right out of the envelope! No fair!
Ta-da! Pardon the wild hair and bad phone photos. She stopped by my house to pick up the dress and we had just enough time to put it on her and snap a few pictures before she had to be on her way. She was such a good sport and wore it outside in public so I could get some pics of her in it! While snapping photos, we noticed how well the print blended in with the fall foliage– hence the "camo" dress title!
Feeling inspired by success, I even whipped up a 1-hour bonnet for her using one of those modern half-brimmed sun hats, some scrap fabric, and spare floral sprays I had around (oh, and 3 sticks of hot glue, lol!).
A matching bonnet makes every outfit feel more complete (plus it's great for hiding modern hairdos!
FINALLY– after over 3 years!– she was able to take the completed dress home with her!
It was a great way to wrap up Thanksgiving and a great surprise success to a project that was long overdue. Plus, now she HAS to go to events with me since she no longer has the "I have nothing to wear!" excuse anymore! *wink! wink! nudge nudge!*